Man in Afghan army uniform shoots, kills 3 Americans on base
---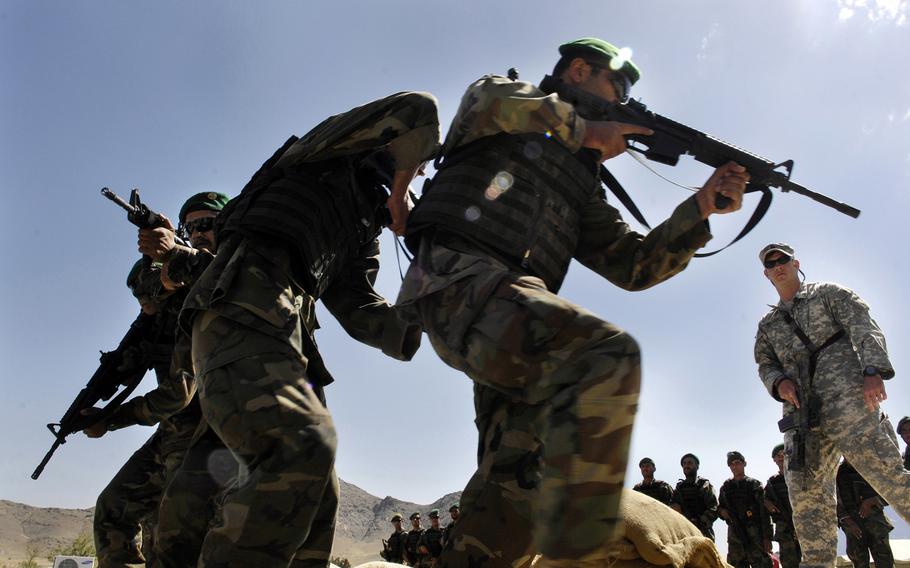 KABUL – Three Americans were killed Saturday when a man in an Afghan National Army uniform turned his weapon on them, capping a bloody two days for international forces in Afghanistan.
The attack happened in eastern Afghanistan and the shooter killed two U.S. troops and an American civilian, according to the NATO-led International Security Assistance Force. The shooter was killed and another man was arrested in connection with the incident.
The Associated Press, citing a statement from the provincial governor's office, said that an argument between the Afghan soldier and his trainers appeared to have led to the attack on an Afghan National Army base in Paktika's Kher Qot district. The Afghan soldier opened fire during the argument, killing the three foreign trainers and wounding three others, according to the governor's statement, the AP said, which also reported that the Afghan soldier was killed.
Another international servicemember was killed in a separate attack Friday in western Afghanistan. The attacks come on the heels of a bombing that killed seven Georgian soldiers and injured nine more Thursday when a suicide bomber blew up an explosives-laden truck in the southern province of Helmand.
Insider attacks, when Afghan troops turn their weapons on their international counterparts, reached crisis levels in 2012, accounting for more than 60 coalition deaths. While the frequency of attacks has decreased in 2013, there have been several incidents, and violence tends to increase in the summer, the traditional Afghan fighting season.
The Taliban has made infiltrating the ranks of the Afghan security forces a priority and such attacks have shaken trust between Afghan and international troops at a crucial stage in the war, though ISAF officials say many of the shootings are caused by personal disputes. The Afghan soldier involved in Saturday's attack had no known connection to the insurgency, AP reported.
Coalition deaths overall have been down this year, as international troops begin withdrawing from the country, but there remains regular fighting, with more than 80 troops killed in 2012 and the months that traditionally see the most deaths still to come. The latest attacks bring the number of coalition troops killed in June to 16, while 39 were killed in the entire month in 2012.
druzin.heath@stripes.com Twitter: @Druzin_Stripes
---
---
---
---