Killing of civilians likely to increase tension between US, Afghan forces
by
Martin Kuz
March 12, 2012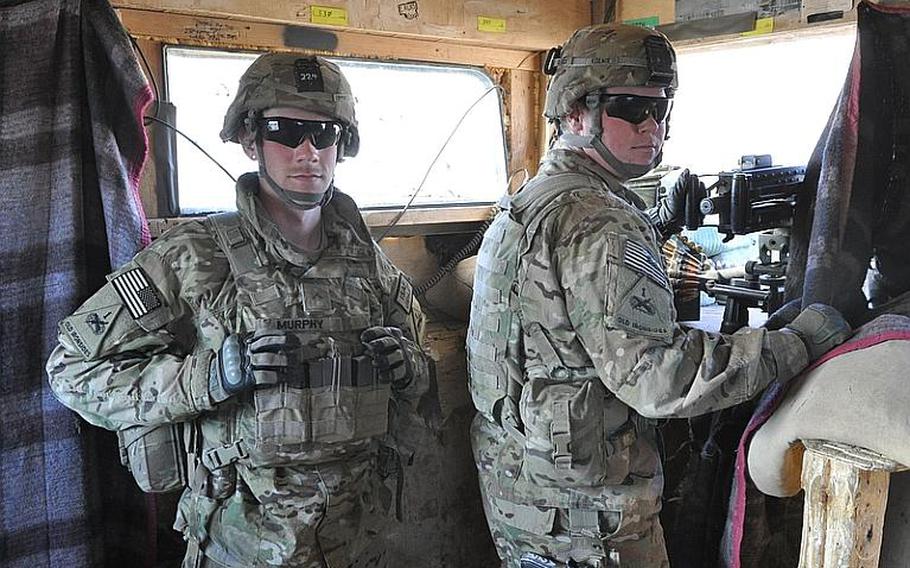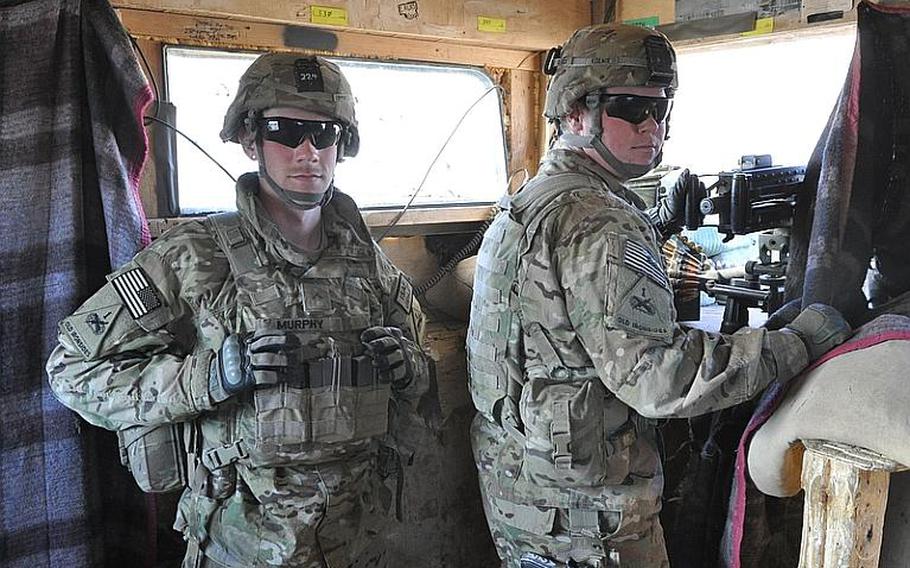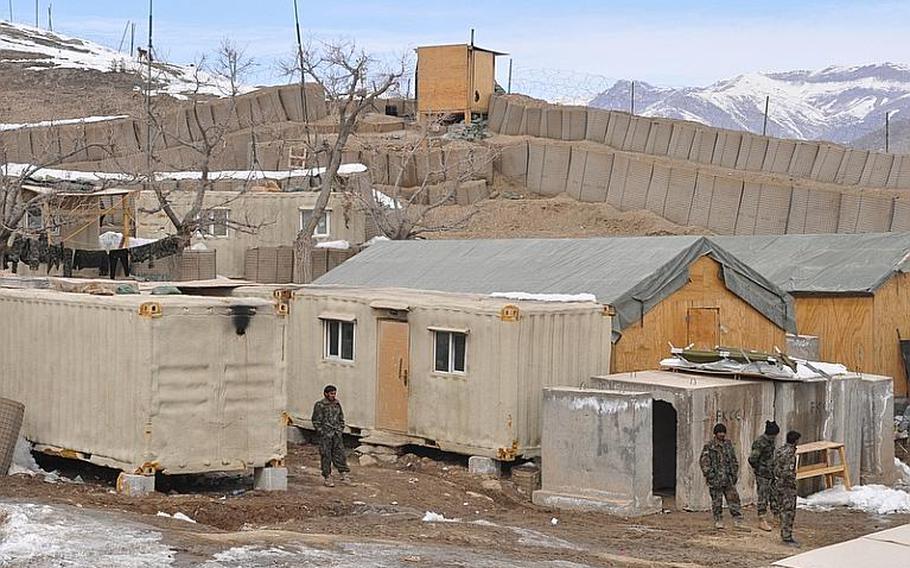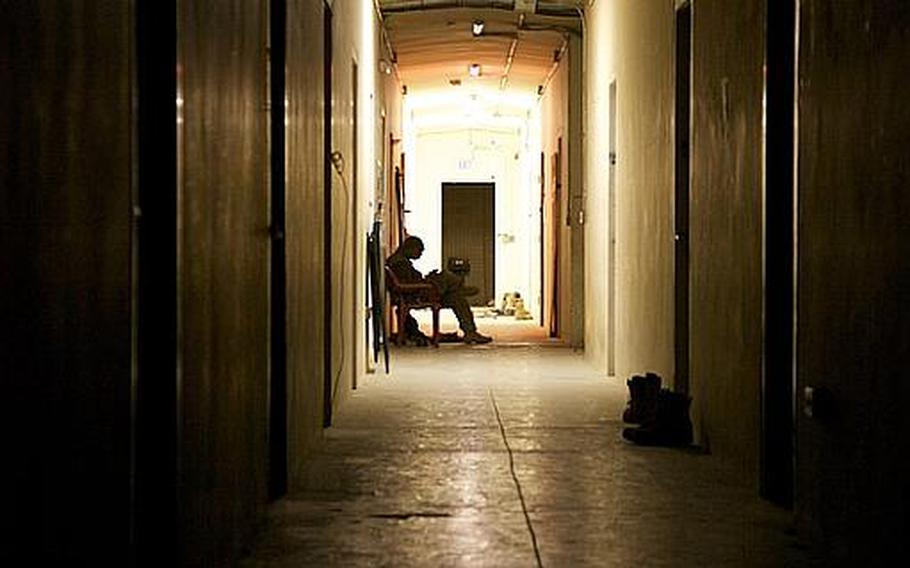 NERKH, Afghanistan — Pfc. Erik Koenig carries a knife with an eight-inch blade in a sheath attached to the front of his armored vest.
"Nobody can miss it," he said, tapping the knife's black handle, visible above the sheath. "It sends a message."
Koenig, 20, of Merced, Calif., already wore his automatic rifle when walking around Combat Outpost Nerkh in Wardak province, 40 miles southwest of Kabul. He added the knife about three weeks ago as a warning of sorts to Afghan soldiers and workers on the base.
"We kept our guard up before," said Koenig, who belongs to Company A of the 1st Battalion, 41st Infantry Regiment. "But now you're even more aware."
Tension had existed on bases shared by U.S. and Afghan troops after a recent series of shootings in which Afghan personnel killed six American servicemembers. The attacks followed reports last month that U.S. soldiers at Bagram Air Field burned several copies of the Quran.
Yet the unease is almost certain to deepen after the reported killing Sunday of 16 Afghan civilians, including nine children, by a U.S. Army staff sergeant.
The soldier walked off a base in southern Afghanistan's Kandahar province before sunrise and opened fire inside three homes in a nearby village, according to Afghan and U.S. officials.
The massacre prompted U.S. political and military leaders to express regret to Afghan officials for the second time in less than three weeks.
In a statement released Sunday, President Barack Obama said, "This incident is tragic and shocking and does not represent the exceptional character of our military and the respect that the United States has for the people of Afghanistan."
Obama, who previously apologized to Afghan President Hamid Karzai for American soldiers defiling copies of the Quran, called Karzai to offer condolences for the killings.
Secretary of Defense Leon Panetta also spoke to Karzai and told him that an investigation into the shootings had begun.
Anticipating a backlash against Westerners in Afghanistan, U.S. Embassy officials in Kabul warned of "a risk of anti-American feelings and protests in coming days."
Riots that flared across the country last month over the burning of the Qurans left 30 people dead and hundreds wounded. Most of the casualties resulted from clashes between protesters and Afghan security forces.
As the strife festered, a handful of Afghan military personnel, apparently angered by the destruction of the Muslim holy book, gunned down six American soldiers in three separate incidents.
The "green on blue" shootings, as the U.S. military refers to such attacks, and the furor over the Quran desecration, created a palpable wariness on jointly occupied bases.
"Since the Quran stuff, they've been more distant," said Spc. Jesse Esterline, 23, of Tucson, Ariz., referring to Afghan soldiers at COP Nerkh, named for a nearby village in northern Wardak province. "They know we weren't involved, but they know it was Americans who did it."
His unit shares the outpost with about 50 Afghan National Army soldiers, along with a dozen Afghan security guards and base workers employed by private contractors. The U.S. platoons also take turns manning a joint security station with Afghan troops in a village five miles away.
The American soldier's alleged killing of civilians on Sunday figures to widen the divide between U.S. and Afghan troops, and the specter of retribution worries some Americans serving in the longest war in the country's history.
"It does scare me a little," said Spc. Keith Gipulan, 21, of Los Angeles, as he prepared to hike through ankle-deep snow to an observation point a quarter-mile above the joint security station. "We go out on patrols with (Afghan soldiers) and we have to trust them with our life. You're always keeping your eyes open."
At Camp Salerno in Khost province, the mood among U.S. troops was tense.
"It's basically like we're waiting on them to do something now to retaliate," said Pfc. Jessica Young, 23, with the 725th brigade support battalion.
Spc. David Bradley, who provides security for the 419th Agricultural Development Team, initially thought the shooter had targeted Afghan soldiers.
"But when I found it was (mostly) women and children … to me, it was like he's a homicidal maniac," said Bradley, 37, of Portage, Ind. "Definitely guys will get killed over it."
Cultural and language barriers have complicated U.S. efforts to build an Afghan fighting force of 350,000 troops.
Afghan soldiers at the joint security station in northern Wardak, while insisting they trust their U.S. counterparts, admitted that discontent has grown within the Afghan military.
"There are police and soldiers who are very upset with the Americans," Abdul Qayum, a 30-year-old soldier from southern Wardak, said through an interpreter. "We hope there is not more violence. But things are not so good right now."
Beyond security concerns, the recent upheaval has provoked questions among U.S. troops about continuing the war against the Taliban-led insurgency.
"It's been 11 years," said Pfc. Stephen Rader, 19, of Milford, Ohio, who's with the 1-41. "Is it worth it to have a war this long with the number of people killed, the amount of money spent? Probably not."
Pvt. James Murphy echoed the misgivings.
"I don't think it's ever going to change here," said Murphy, 22, of Valencia, Calif. "We should leave, but America can't keep its nose out of anyone's business."
Before the upheaval over the burning of Qurans, one U.S. soldier and one Afghan security guard were posted in watch towers at COP Nerkh. A second U.S. soldier has since been added.
"The threat is always there," said Capt. Ben Kim, 28, of Columbia, S.C., the company commander here. "Now you're just being that much more vigilant."
U.S. units posted at joint bases elsewhere in Afghanistan have taken similar precautions.
At the Afghan air force base in Kabul, U.S. soldiers must wear body armor when on the Afghan side, despite a policy that bars most Afghan troops from carrying weapons there.
Company A of the 509th Infantry Regiment, stationed with an Afghan Border Police battalion at a base in the eastern province of Paktia, instituted an around-the-clock guard for all of its barracks.
"There's no indication here that the ABP would have any reason to harm us," said Sgt. Randall Smith, 24, of Hickory, N.C. Nonetheless, he added, "I think overall it does make everyone feel better that there's someone" standing guard.
Stars and Stripes reporters Heath Druzin and Matthew Millham contributed to this story.
Twitter: @martinkuz