Karzai supports calls for UN mediation on presidential ballot
---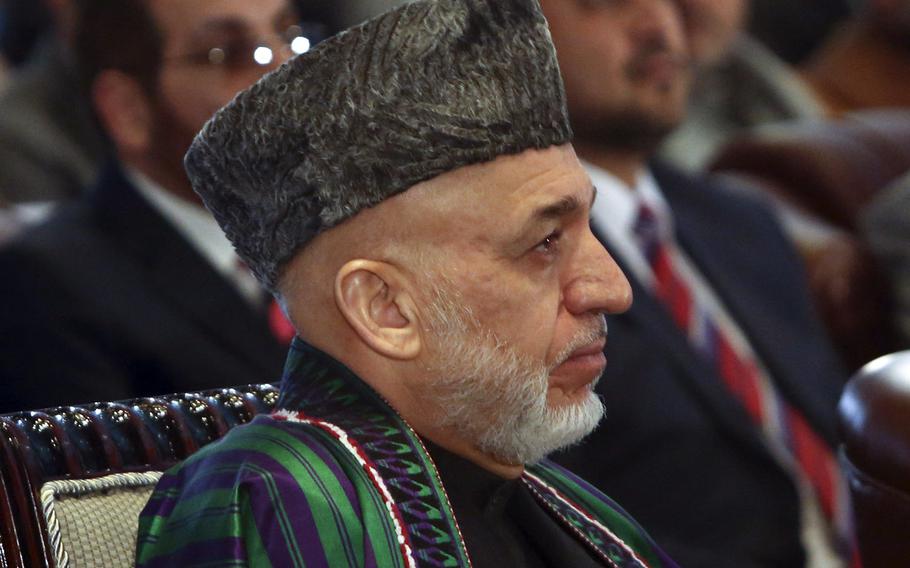 KABUL -- A proposal for the U.N. to mediate a crisis over allegations of election fraud gained momentum Friday as President Hamid Karzai backed the idea and the U.N. said it stood ready to help.
Abdullah Abdullah, who is running against Ashraf Ghani Ahmadzai, has accused electoral officials and others of trying to rig the June 14 vote against him. That has threatened what Western officials had hoped would be a peaceful transfer of authority, as Karzai is constitutionally barred from seeking a third term.
Underscoring the instability plaguing the country, a roadside bomb killed three American troops and a military dog Friday in southern Afghanistan, officials said.
Abdullah announced this week that he was severing ties with the Independent Election Commission and would refuse to recognize any results it releases. The IEC's official timetable says initial results are due on July 2.
Karzai said he met with U.N. officials and spoke to Abdullah on the telephone about the issue. He also passed the message to Ahmadzai and said the candidates should choose between U.N. mediation or talks overseen by his two vice presidents.
"I welcome any action to help end this political crisis," he said during a meeting with senior Afghan clerics in Kabul. "Sooner or later, Afghanistan will have results from its elections."
Seeking to allay fears he might use the crisis to hold onto power, Karzai also set Aug. 2 as the date to inaugurate a new leader. "Whoever becomes the president, we will stand behind him," he said.
Abdullah, a former foreign minister who was the runner-up in Karzai's disputed re-election in 2009, won the first round on April 5 but failed to gain the majority needed to avoid a runoff.
The standoff also could have an effect on a much-delayed security pact with the U.S. that would allow nearly 10,000 American troops to stay in Afghanistan beyond the end of this year, when combat forces are due to withdraw. Both candidates have promised to sign the pact, but they must be sworn in first.
Violence, meanwhile, continued.
NATO did not identify the three service members killed in the bombing on Friday, but a U.S. defense official in Washington said they were Americans. Foreign forces have largely shifted to a training and advisory role but still face danger from insurgents who are fighting to derail the Western-backed government.
Guards in a provincial governor's convoy also traded gunfire with policemen at a checkpoint Friday in northern Afghanistan, prompting clashes that left four of the guards dead and four policemen wounded, officials said.
There were conflicting accounts about how the fighting started.
A spokesman for Juma Khan Hamdard, who is from Mazar-i-Sharif but is the governor of the southern Paktia province, said the convoy was headed south when it was attacked by gunmen wearing police uniforms. The spokesman Ruhollah Samoon, who was in the convoy when the gunbattle broke out, said Hamdard had been visiting his family and was en route back to Paktia province with a stop planned in Kabul.
The governor - a member of the Pashtun majority and an adviser to President Hamid Karzai - was not injured, but four of his bodyguards were killed, Samoon said.
Police spokesman Shir Jan Duran, however, said the bodyguards clashed with police at a checkpoint outside Mazar-i-Sharif, and he said four policemen were wounded. He said authorities were investigating the shooting.
Munir Ahmad, a spokesman for the local government in Balkh province, said Hamdard's convoy didn't stop at the checkpoint, prompting the gunbattle. The reports couldn't be independently confirmed.
A mortar shell also slammed into a home in the eastern province of Nangarhar, killing one child and wounding five others, provincial government spokesman Ahmad Zia Abdulzai said.
Abdulzai said the attack took place in the Momand Dara district and all the children were from the same family.
Nobody claimed responsibility for the attack, which occurred in a very remote area, but Abdulzai said the Taliban often fire rockets and mortar shells toward villages.
Gamel reported from Cairo. Associated Press writer Robert Burns in Washington contributed to this report.
---
---
---
---