Joint Syria raid killed ISIS oil official who financed sleeper cells
by
Chad Garland
January 21, 2020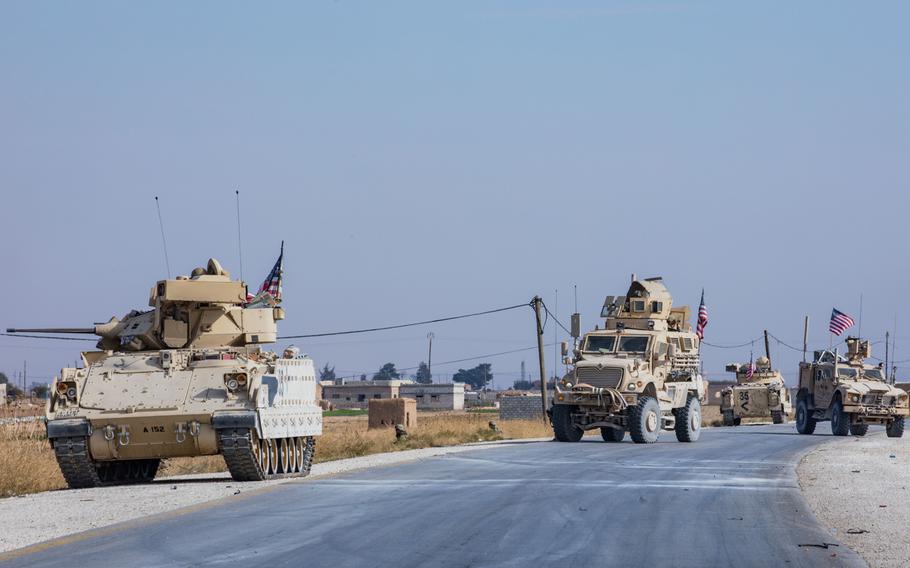 IRBIL, Iraq — An Islamic State group official who oversaw oil and gas operations and helped finance sleeper cells was killed last week in a joint coalition special operations raid with Syrian partner forces, the military said.
The ISIS official known by the pseudonym Abu al-Ward al-Iraqi was killed along with another militant who officials have not yet identified during the raid in Deir al-Zour province on Jan. 14, the Kurdish-led Syrian Democratic Forces said in a statement on Sunday.
Al-Iraqi's death "disrupts and degrades" ISIS's ability to finance terrorist activities in the Middle Euphrates River Valley along the Iraq-Syria border, said U.S. Army Col. Myles B. Caggins III, a military spokesman for the U.S.-led coalition, via email.
It's among the latest takedowns of top ISIS leaders since the killing in late October of the group's leader, Abu Bakr al-Baghdadi, but it comes as the future of the coalition's continued presence in Iraq remains uncertain, which some fear could allow the group to resurge.
In the fallout of a U.S. drone strike that killed Iranian Quds Force commander Maj. Gen. Qassem Soleimani earlier this month, Iraq's Shiite-dominated parliament demanded the government expel coalition forces, but acting Prime Minister Adil Abdul-Mahdi has since said that would be up to his successor. A new prime minister has not yet been selected.
Though ISIS has been routed from the last of its territorial holdings in Iraq and Syria, the group continues to carry out insurgent-style attacks in both countries. Officials in Iraq's Kurdistan region have warned of increasing ISIS attacks and said that the coalition's support is still needed.
Washington does not intend to negotiate a withdrawal of the roughly 5,000 U.S. troops there, the State Department has said, but would instead focus on discussing recommitment to strategic partnership and determining the appropriate U.S. presence.
Coalition forces had paused their support to Iraq's anti-ISIS operations to focus on force protection in the face of rising threats from Iran and its proxies in recent weeks, but some operations resumed and work to restart training of security forces was underway, unnamed officials told The Associated Press last week.
Meanwhile, more than 500 U.S. troops are still spread at small outposts mostly in eastern Syria's Deir al-Zour and neighboring Hassakeh provinces, training and assisting local forces and working keep ISIS from seizing oil infrastructure there.
"ISIS would love to get their terrorists' hands on the oil," Caggins said. "We're helping our Syrian commando partners prevent that from happening."
During the height of its control, ISIS gained hundreds of millions of dollars in oil revenues from an enterprise that at one point produced an estimated 45,000 barrels a day, the coalition has said. In Syria, three-fourths of its revenues came from Deir al-Zour, Caggins said.
In 2015, a year that saw ISIS oil operations bring in an estimated $500 million, U.S. special operations killed the terrorist group's top oil emir at the time, known as Abu Sayyaf, and captured his wife during a rare raid into eastern Syria.
That operation, reportedly conducted by the Army's Delta Force, netted information officials used to develop a better understanding of ISIS operations and finances, then-Defense Secretary Ash Carter said at the time.
In last week's raid, the SDF also captured important documents, the Kurdish-led militia group said in a statement.
"This was a boffo operation," Caggins said.
garland.chad@stripes.com Twitter: @chadgarland
---
---
---