Iraqi PM criticizes US air campaign against Islamic State
by
Jon Harper
April 16, 2015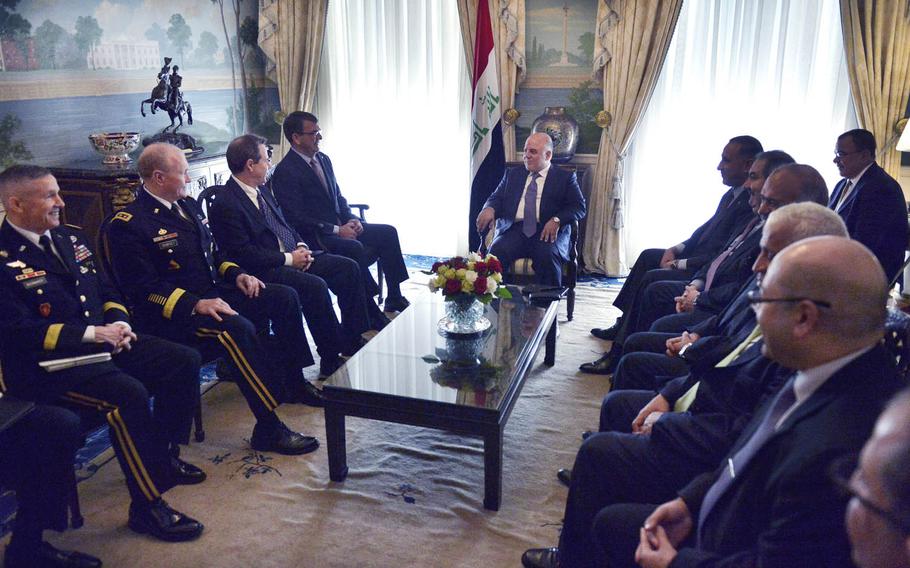 WASHINGTON — Iraqi Prime Minister Haider al-Abadi criticized the U.S.-led air campaign against the Islamic State group, saying it was moving too slowly.
The Iraqi leader visited Washington this week to request more U.S. assistance in the ongoing fight against the militant group, which overran much of northern and western Iraq last year.
The U.S. and its coalition partners have carried out nearly 2,000 airstrikes against Islamic State targets in Iraq, according to the Pentagon, but Abadi said the effort is falling short at the tactical level.
"It must be quicker," he told an audience Thursday at the Center for Strategic and International Studies, a Washington think tank. "We're talking about that time scale between asking for a mission and actually getting the mission. That's vital, especially when [we're] fighting over the [contested] ground. You want the enemy to be killed as quick as possible."
The U.S.-led coalition has destroyed more than 5,500 Islamic State targets in Iraq and Syria since the air campaign began last August, according to the Pentagon, but al-Abadi said the bombing needs to be "more precise and more effective."
Al-Abadi spoke after aircraft from the U.S.-led coalition carried out 19 airstrikes in Iraq late Wednesday and early Thursday, including four near Ramadi where Islamic State forces had launched a major attack against the city. A Central Command statement said the targets around Ramadi destroyed a bridge, a firing position and an excavator used by the militants.
An Iraqi provincial official, Faleh Essawi, was quoted by CNN as saying the attacks had for the moment blunted a militant drive on Ramadi, capital of Anbar province 70 miles west of Baghdad.
On the Syria side of the border, al-Abadi said U.S-led coalition airstrikes are strategically important, but he faulted the Obama administration for not doing more on the political front to broker a political settlement to the civil war there.
"There must be a political solution," he said, "but in all honesty I haven't seen any movement on that … We wish the U.S. administration could do something about it."
The Iraqi leader said the U.S. also needs to send more heavy weapons for the Iraqi army. In recent months, Iraqi officials have complained that American arms shipments have been slow in arriving.
According to a White House fact sheet, the U.S. has delivered loads of equipment to Iraq since last fall, including:
More than 100 million rounds of ammunition. 62,000 small arms. 1,700 Hellfire missiles. 6 M1A1 tanks. 1,000 Anti-Tank Missiles. More than 12,000 rifles, body armor, helmets and first aid kitsThe Obama administration and Congress established a $1.6 billion fund to train and equip Iraqi forces.
Al-Abadi said he thinks the Obama administration is now "very keen" to supply more heavy weapons to Iraqi forces as they attempt to clear out the western province of Anbar and the northern city of Mosul.
"These new brigades, they need heavy weaponry, and I understand these are on the way. I hope we see them," al-Abadi said.
The prime minister said he also hopes that F-16 fighter jets which the Iraqis have purchased will be delivered on time.
Al-Abadi met with President Barack Obama at the White House on Tuesday. A joint statement issued after the meeting was vague about what, if any, new weapons Obama might be prepared to send, saying only that the president "pledged to continue to support Iraqi Security Forces and [Sunni] tribal engagement initiatives with U.S. training and equipment."
Iraqi Defense Minister Khalid al-Obeidi visited the Pentagon on Tuesday to discuss arms shipments with U.S. Secretary of Defense Ash Carter.
Pentagon spokesman Col. Steve Warren said Carter did not make any specific commitments to al-Obeidi with regard to increasing U.S. military assistance beyond current levels.
"This was about reinforcing the commitments that we already have to support the Iraqi government and the Iraqi security forces in this critical fight against ISIL," Warren told reporters on Wednesday, using an acronym to refer to Islamic State.
On Thursday, al-Abadi said there was an "agreed list" between the U.S. and Iraqi governments about the Iraqi military's equipment needs drawn up before he left for Washington.
About 3,000 American troops are providing training, advice and assistance to Iraqi forces and performing other missions. Abadi said he hopes the U.S. and its coalition partners will also train the Iraqi police, which he views as critical to stabilizing areas that have been retaken from Islamic State.
During a question and answer session after his speech, the Iraqi leader sounded unsympathetic about the fact that the U.S. is trying to deal with multiple crises around the world.
"That's the price you pay for being a superpower," he said. "I would like to be in that position."
harper.jon@stripes.com Twitter: @JHarperStripes