Iran likely to purchase Russian fighters, tanks if UN arms embargo ends next year
by
Corey Dickstein
November 19, 2019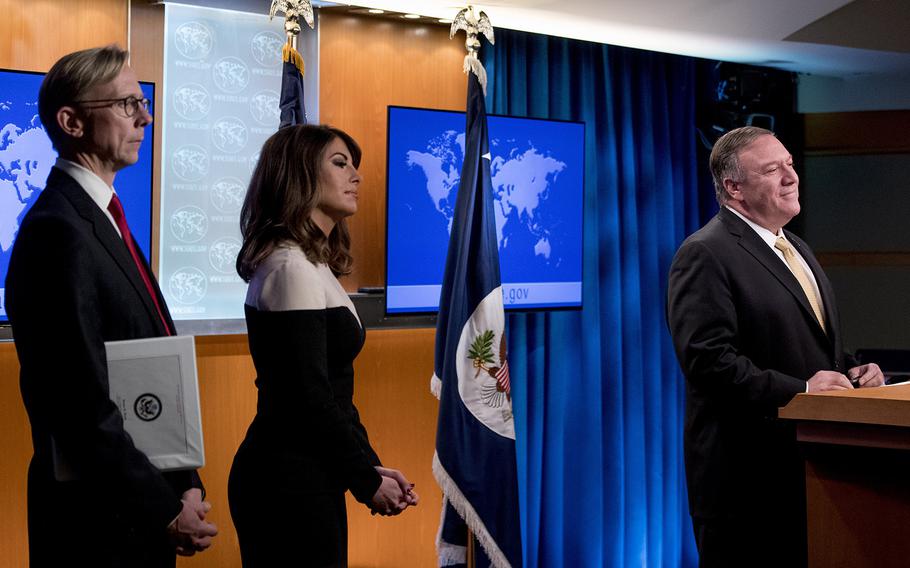 WASHINGTON — Iran will look to Russia and China to replace its long-outdated fighter jets and tanks next year when the decades-old international arms embargo banning the country from purchasing such weapons abroad is set to expire, a senior defense intelligence official said Tuesday.
The Pentagon warns in a new report titled "Iran Military Power" that the anticipated expiration of the U.N.'s conventional arms embargo on Iran could aid Tehran as it attempts to become the dominant power in the Middle East. The embargo, which dates back to the 1979 Iranian revolution, is set to expire in October 2020 as a condition of the 2015 Joint Comprehensive Plan of Action, better known as the Iran nuclear deal, which the United States unilaterally left last year.
U.S. officials have cautioned the U.N. should not allow the embargo to expire amid rising tensions between the United States and its allies with Iran. Tehran has been implicated in a series of attacks in recent months, including a trio of mine attacks on commercial shipping vessels, missile and drone strikes on key Saudi oil infrastructure and the downing of a U.S. drone.
Last month, Brian Hook, the U.S. special envoy for Iran, warned U.S. lawmakers that the expiration of the embargo could spark an arms race in the Middle East. The defense intelligence official on Tuesday spoke of the embargo as though it would be lifted. The official spoke on condition of anonymity to address sensitive intelligence matters.
"Iran is already evaluating and discussing military hardware for purchase primarily from Russia and, to a lesser extent, China," according to the new Iran report produced by the Defense Intelligence Agency. It identified Russian Su-30 Flanker-C fighter jets and T-90 Main Battle Tanks among Iran's primary purchasing targets. Tehran might also pursue Russian S-400 air defense systems, the report states.
The report describes Iran's air forces as inferior, largely because of its decades-old aircraft of U.S., Russian and Chinese origin, for which Iran has been able to produce its own replacement parts. Its newest fighter aircraft are Chinese F-7N Airguard jets delivered to Iran most recently in 1996. The Iranian military also flies Cold War-era American fighters procured before the revolution, including the F-4 Phantom and F-14 Tomcat.
Iran's ground forces are better prepared to fight, though its armor forces rely on Soviet-era T-72S tanks from the 1970s, according to the report.
Tehran has found success with in-house ballistic missiles production up to the medium-range, meaning they can travel up to about 3,000 kilometers. Iran has the largest stockpiles of such missiles in the Middle East, the defense intelligence official said.
Iran has also committed to its drone programs, which the report describes as its "most rapidly advancing air capability."
Iran in recent years has deployed its unmanned systems to Syria and Iraq. It displayed its drone warfare capabilities with a 2018 strike on the Islamic State in eastern Syria and more recently with its attacks on Saudi Arabia in September.
Its drone programs are largely run through its Islamic Revolutionary Guard Corps, one of two factions of the Iranian military responsible largely for unconventional warfare and tied closely to Supreme Leader Ali Khamenei. The IRGC, which includes about 190,000 of Iran's estimated 610,000 active-duty troops, have been blamed for all of the recent attacks attributed to Iran in the region.
The defense intelligence official said Iran has supplied its key proxy forces, including Hezbollah and Houthi rebels in Yemen, with those drones as it seeks to work hand-in-hand with such partner forces to garner more influence throughout the region.
Ultimately, Iran seeks to oppose U.S. interests, deter attacks on its homeland and wield more power – including militarily – throughout the Middle East, the official said.
"We see Iran's goal here as trying to deter attacks on Iran and we also see Iran wanting to be able to project its power and influence in the region and secure that dominant regional presence they seek to have," the defense intelligence official said. "That's partially because it provides them strategic depth, but also to be able to advance their interests a little more and leave them less vulnerable."
Dickstein.corey@stripes.com Twitter: @CDicksteinDC