Insurgents stepped up attacks in late 2019 as Afghan operations lulled, report says
by
Phillip Walter Wellman
January 31, 2020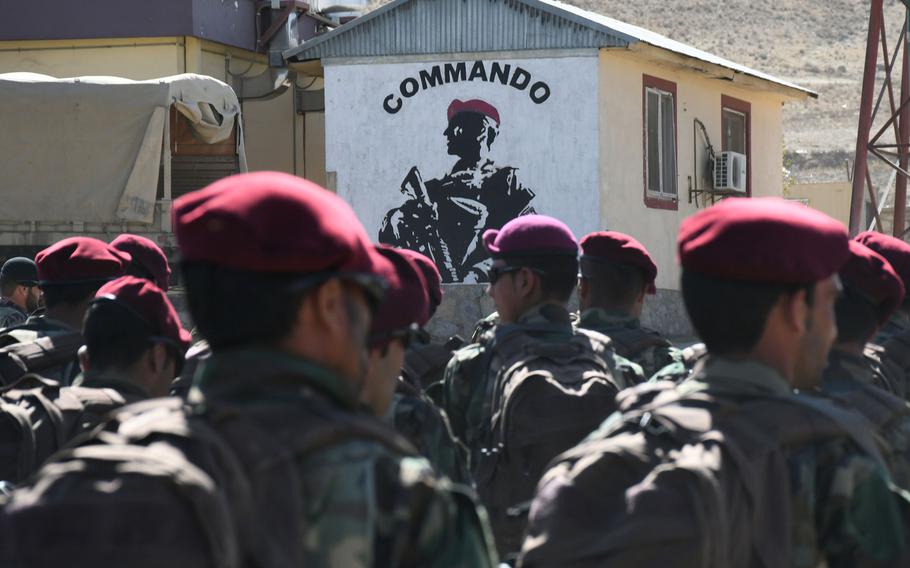 KABUL, Afghanistan — Insurgent attacks against American troops and other targets in Afghanistan reached a record high in the final months of 2019, as the country's special operations forces increasingly relied on foreign support, a U.S. watchdog agency said Friday.
Between October and December, insurgents initiated just over 8,200 attacks, of which about 40% resulted in casualties among pro-Afghan government forces and civilians, the Special Inspector General for Afghanistan Reconstruction said in a report.
The insurgent attack figure, which was provided to SIGAR by the U.S. military, was the highest for a fourth quarter of any year since data collection began a decade ago. However, the overall number of enemy-initiated attacks in 2019 was comparable to 2018.
Insurgent attacks spiked in September, when the country's presidential election was held and President Donald Trump paused peace negotiations with the Taliban.
As enemy activity intensified, operations by Afghan Special Security Forces dropped to their lowest level of the year. More than two-thirds of those operations were conducted with foreign support, the data showed.
The ASSF is Afghanistan's primary offensive force. American defense officials have described its ability to conduct independent operations as an important measure of success for the U.S.-trained Afghan security forces.
"The ASSF's growing size and capabilities are important not only for the [Afghan security forces'] performance, but also for the United States to increase the effectiveness and efficiency of its small-footprint military campaign in Afghanistan," SIGAR said, citing comments made by the Defense Department.
Overall, 43% of operations by elite ASSF fighters were conducted independently in 2019, compared to 55% the year before.
The U.S. military in Afghanistan, which provides the bulk of the support, did not reply to questions about the figures.
However, previous reports reflect an increase in U.S. support to the ASSF.
Changes to the way operations are conducted in Afghanistan made by Gen. Scott Miller, the top U.S. commander in the country, "increased synchronization of United States, Coalition and Afghan lethal and non-lethal assets and intelligence to fight the enemy," a recent DOD report said.
SIGAR also said Friday that casualties throughout Afghanistan's military and police forces slightly increased between May and October compared to the same period in 2018, although exact figures were classified.
The information provided by the watchdog is among the last publicly available data released by the military to gauge success of the U.S.'s longest war, now in its 19th year. Other indicators, like the amount of insurgent-controlled territory, are no longer measured or have been restricted from release at the Afghan government's request, the U.S. military has said.
The Defense Department has obligated nearly $780 billion for Afghanistan since 2001, of which 16% has gone to reconstruction and related activities. The figure, announced in September, surpasses for the first time the $771 billion obligated for U.S. missions in Iraq that began in 2003.
wellman.phillip@stripes.com Twitter: @pwwellman