GALLERY
Insurgents in Afghanistan's Laghman province may win by not losing
by
Josh Smith
November 15, 2014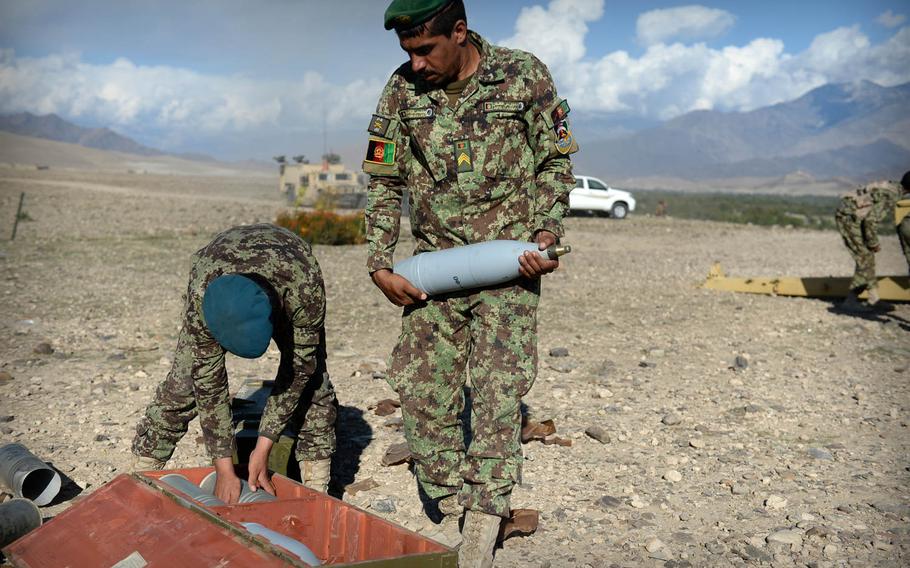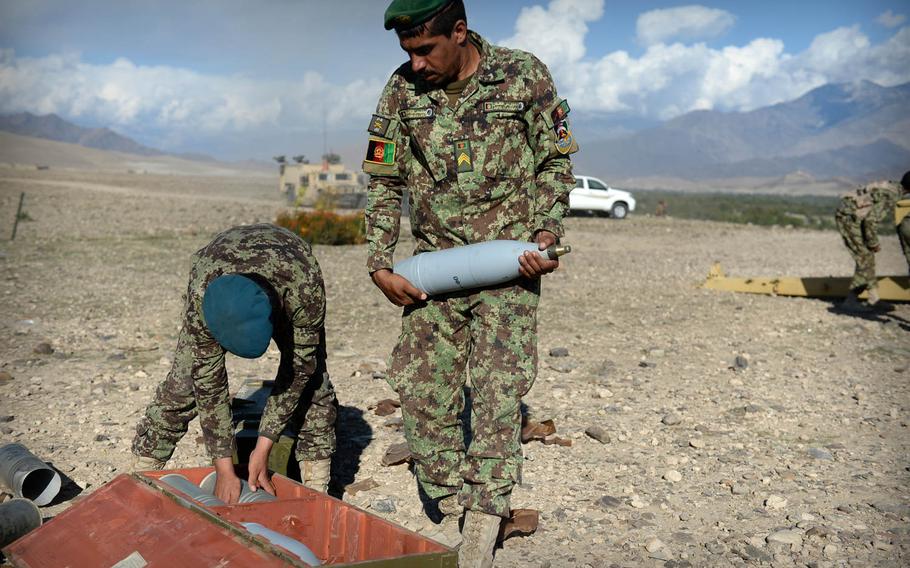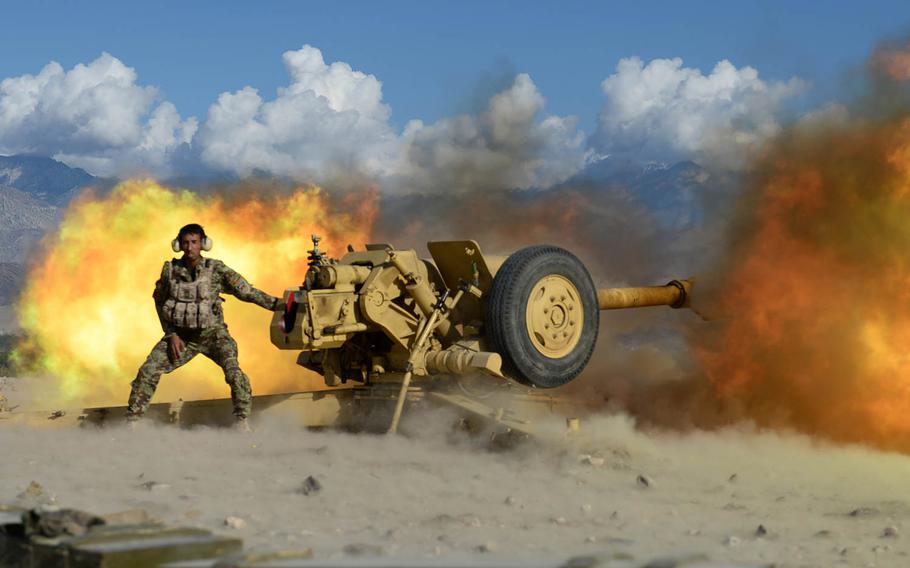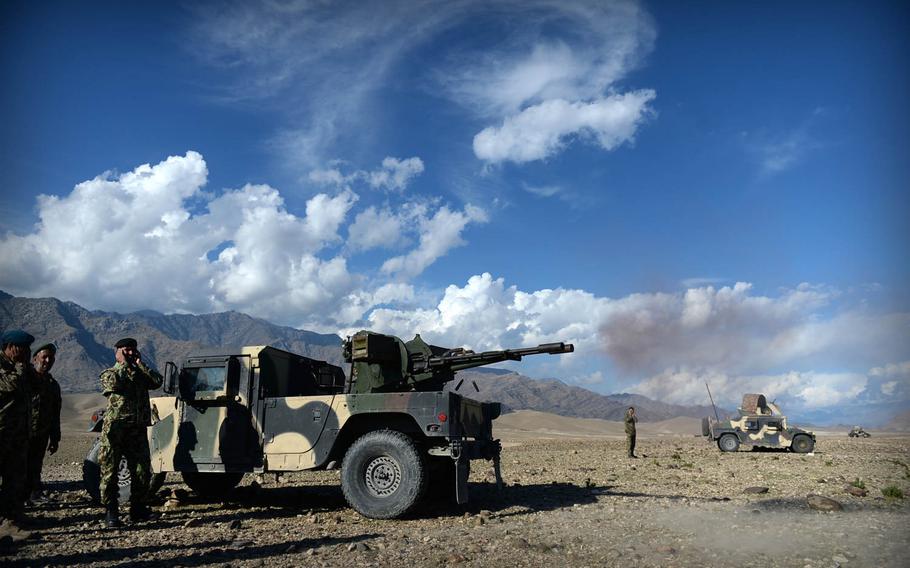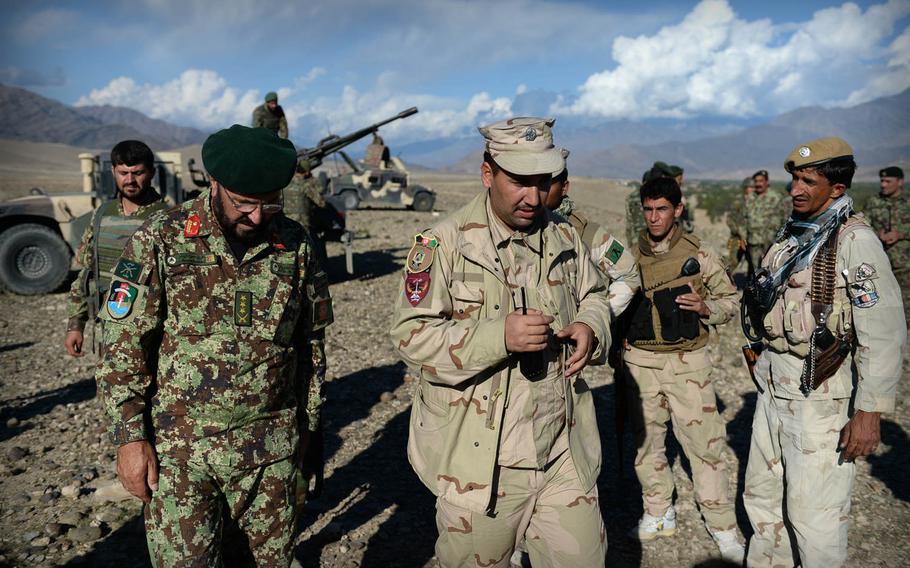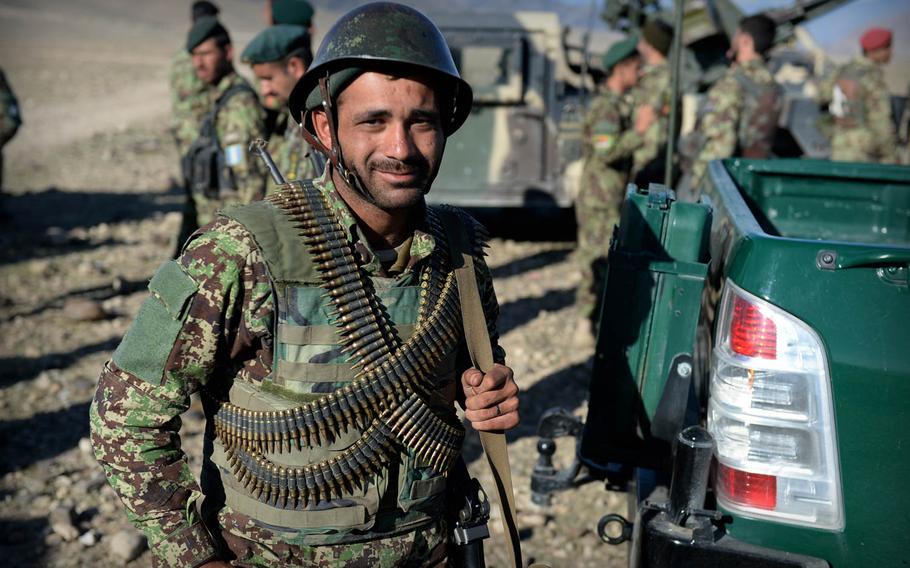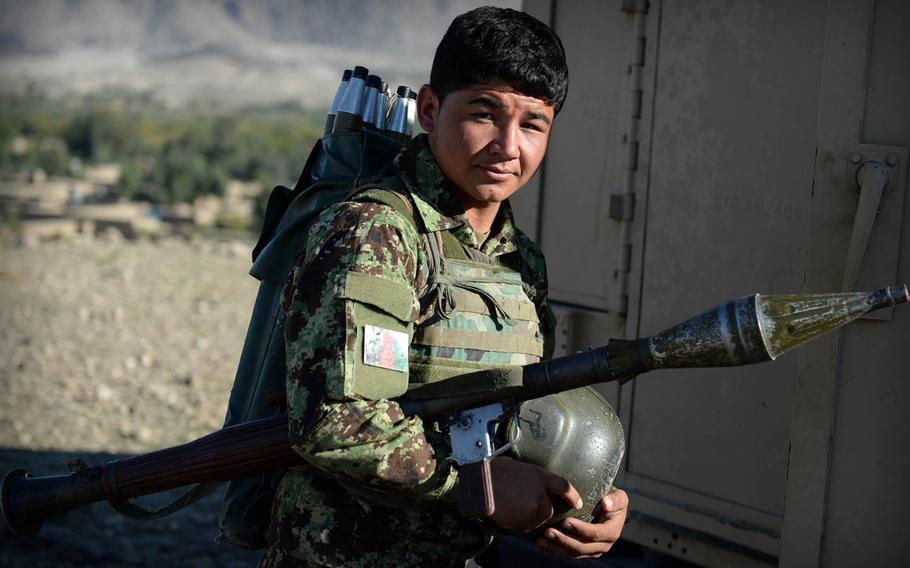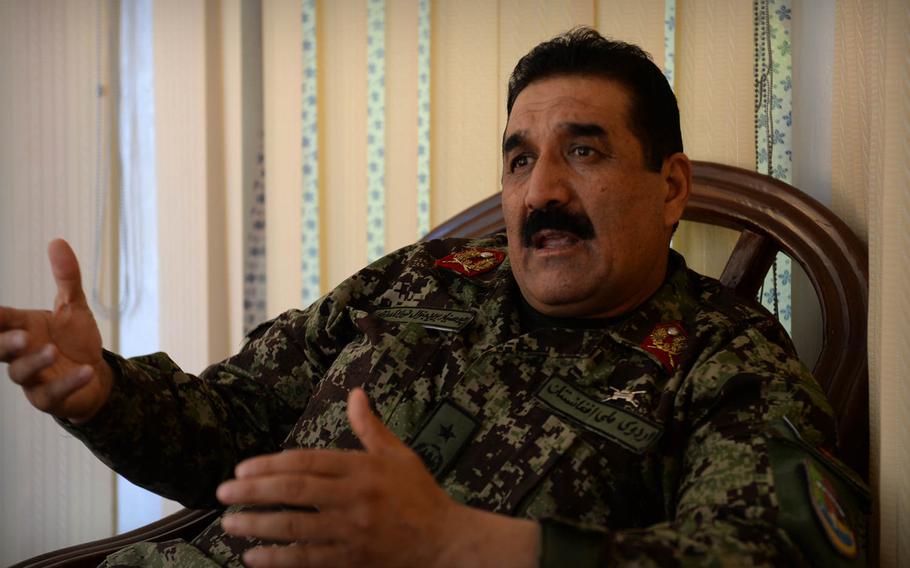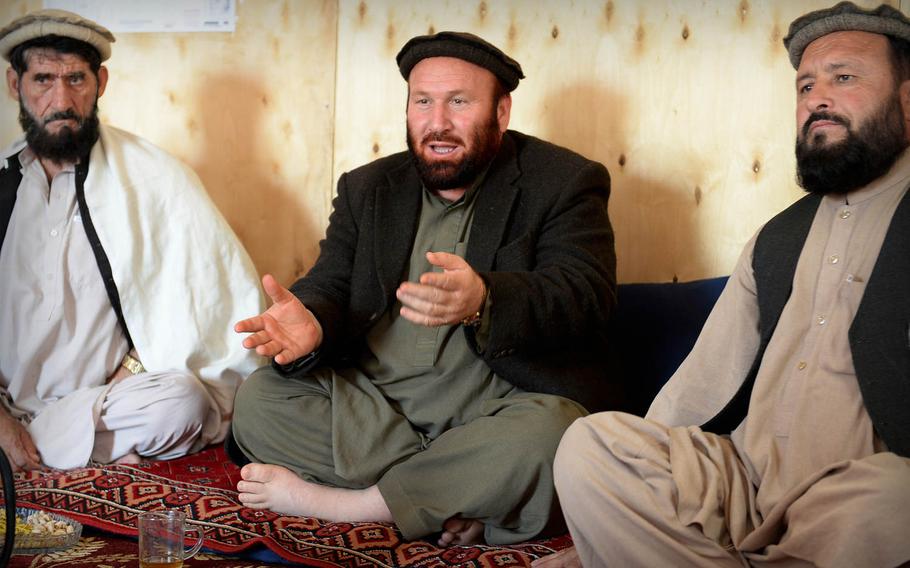 LAGHMAN PROVINCE, Afghanistan — The howitzer belched flame and a rolling rumble followed the supersonic round as it crossed low over the valley where police forces were battling a handful of insurgents. Then it slammed into a bare mountainside.
No Taliban fighters were visible to the naked eye, but Afghan commanders insist the rocky slopes are often used as Taliban hideouts.
On this day, the Afghan National Army was serving as backup to the police below, staging in blocking positions and providing heavier firepower like a Soviet-designed 122 mm artillery piece and 23 mm cannon. In the late afternoon, however, army commanders decided to pack up their weapons and head back to their base, even as the clatter of small-arms fire echoed through the valley. The security situation remained unchanged.
Nestled next to more famous provinces such as Kunar and Nangarhar, restive Laghman has largely been spared the major fighting that shook some areas in Afghanistan this summer. But the slow-burning insurgency that has settled in the mountain valleys here just a few hours from Kabul may provide a glimpse into Afghanistan's future, one where neither the government security forces nor the insurgent groups are able, or in some cases willing, to win decisive victories or persuade the other side to negotiate.
When asked the next day whether it would be possible to visit the area the police and army had just cleared, police commander Rahm Khoda Mokhlis dismissed it as impossible.
"The Taliban have already placed [improvised bombs] all over the place again," said Mokhlis, who leads the elite crisis response unit in Laghman province. "When we come, they run away. As soon as we leave, the Taliban come back."
Warfare deadlockWith its dubious artillery tactics and the troops' early departure, the inconclusive operation exemplifies the challenges facing Afghan forces that must not only hold the line but also neutralize the still potent insurgency.
"This capacity of the insurgency to shift and concentrate its forces in different areas has proven particularly disruptive in the long run, often reversing improvements in districts which had been long under the Afghan government's or international focus," Fabrizio Foschini, a researcher with the Afghan Analysts Network, wrote in an August report on the situation in eastern Afghanistan. "The current warfare is resulting in a deadlock, with neither side able to make strategic breakthroughs."
According to a U.S. Defense Department assessment in October, over the summer, the Taliban and other insurgent groups were "unable to hold any significant terrain and were consistently overmatched when engaged by ANSF (Afghan National Security Forces) enabled by coalition air and intelligence support."
Most foreign combat troops left Laghman a year ago, Afghan leaders say, and since that time local security forces have largely maintained the gains made when the province's Taliban strongholds were removed.
But it is an axiom of guerrilla warfare that insurgents can often win simply by not losing. And there are few signs that the Taliban, Haqqani network and other militant groups are going away any time soon.
"The most visible effect of this type of violence is a re-militarisation, seen throughout the country, with an increasing number of armed actors competing for exclusive control over local populations and resources," Foschini wrote.
Fiscal constraintsThe operation in Laghman highlighted what is perhaps of most concern: Even if they fail to win most military engagements, relatively small bands of insurgents can suck vast amounts of resources from a government that is already on the verge of bankruptcy.
In 2012, the international donors who provide most of Afghanistan's budget, hoping for an improved security situation, had planned to cut back funding after the NATO drawdown.
But the continuing conflict has forced the Afghan government to maintain a massive security force, and with it the need for billions in international aid. U.S. military commanders now say they believe the current size of the ANSF — numbered at about 330,000 — will need to be maintained through 2018.
Those fiscal constraints are putting the squeeze on the Afghan forces who man the front lines in small villages, and some local leaders are turning to armed groups with a controversial history and often uncertain loyalties.
Mokhlis said a truly effective counterinsurgency strategy must rely on the Afghan Local Police, low paid militias often drawn from existing community forces loyal to local strongmen. Some ALP units have drawn criticism over allegations of extrajudicial killings and prisoner abuse, but Mokhlis argued that they are the key to protecting communities from Taliban influence.
"The army comes and leaves and [the national police] come and leave, but the local police are the ones who stay," he said. "It is hard if not impossible to bring security through operations like the ones you saw. The ANA can't be everywhere at once." The army troops in the area generally operate from centralized bases, and often stick to larger operations, rather than manning checkpoints or doing daily patrols of the type necessary to prevent insurgent influence.
The day after the operation in Laghman, Mokhlis met with a handful of ALP commanders and local elders as an informal coalition seeking to overcome what they see as a lack of support from the central government.
While the ALP was initially envisioned as a sort of national guard that would live at home until called out, the high demands of the unending violence has forced many ALP to man checkpoints and other bases around the clock, said Haji Iqbal, a tribal elder and ALP commander in Dowlat Shah district. And so far, the costs of that extra effort have gone unfunded by the central government.
"Communities are paying for this themselves," he said. "And the lack of resources means they are often outgunned by the enemy."
That was an assessment echoed by Haji Noorani, an ALP commander in Alishang district.
"If the current situation continues the whole province will eventually return to the Taliban," he said. "The politicians say all is well, but it is not true."
What's neededThe situation looked brighter to Gen. Noorullah Qadari, commander of the ANA 201st Corps 1st Brigade, as he sipped tea in a gilded pagoda at his headquarters in rural Laghman.
"The situation is good, but we are trying every day to make it better," he said. "The enemy cannot stand against the security forces, especially the army."
Still, he admitted there is a cycle to the conflict. "Instead of having bases, the insurgents now hide in civilian centers," he said. "They run away when we come, then return to pressure the civilians."
Security leaders in the province said that a lack of air support is making it difficult to hunt insurgents who flee into remote mountain ranges.
"We have all the latest technology," Qadari said, "but if we have to drive, the insurgents can just run away. We can't catch them."
Analysts say security forces will need to up their game if they expect to deter insurgent forces enough to make a political peace deal more likely.
"Government forces need to convincingly win battles in the coming years if they hope to create conditions that bring the Taliban to the negotiating table," researchers with the International Crisis Group concluded in a report released in May. "At the moment, with foreign troops withdrawing, insurgents might reasonably conclude that the balance is swinging in their favor: they killed twice as many police in 2013 as the previous year, for example."
According to some estimates, Afghan security forces may be taking as many casualties as they are inflicting. In 2013, estimates pinned ANSF killed and wounded at 8,200, while insurgent casualties were around 9,500. A similar number of ANSF are estimated to have been injured or killed this year.
"We are doing what we can out here," Mokhlis said. "But we need to know we have backup."
Noorudin Bakhshi contributed to this report.
smith.josh@stripes.com Twitter: @joshjonsmith