In Bahrain speech, Hagel gives overview of US arsenal on tap in Gulf
By
Chris Carroll carroll.chris@stripes.com
December 7, 2013
---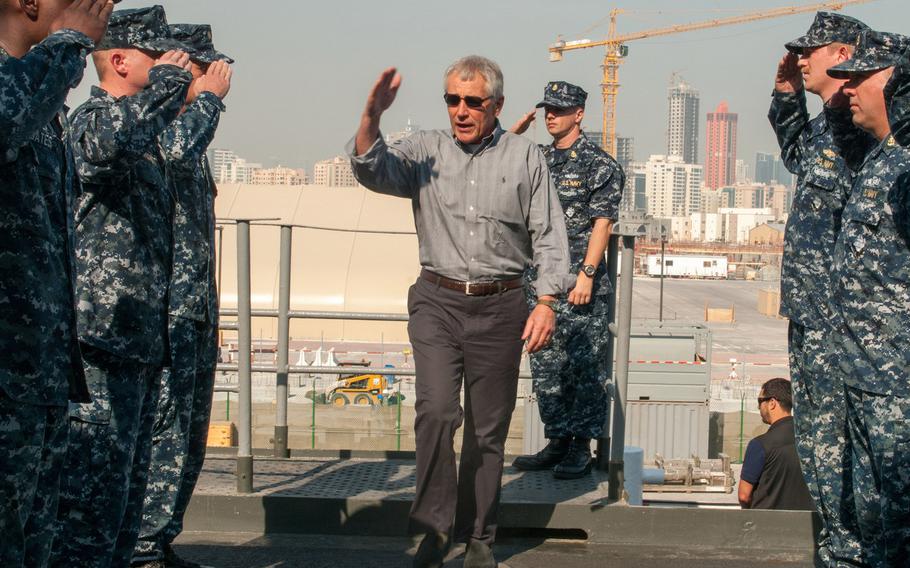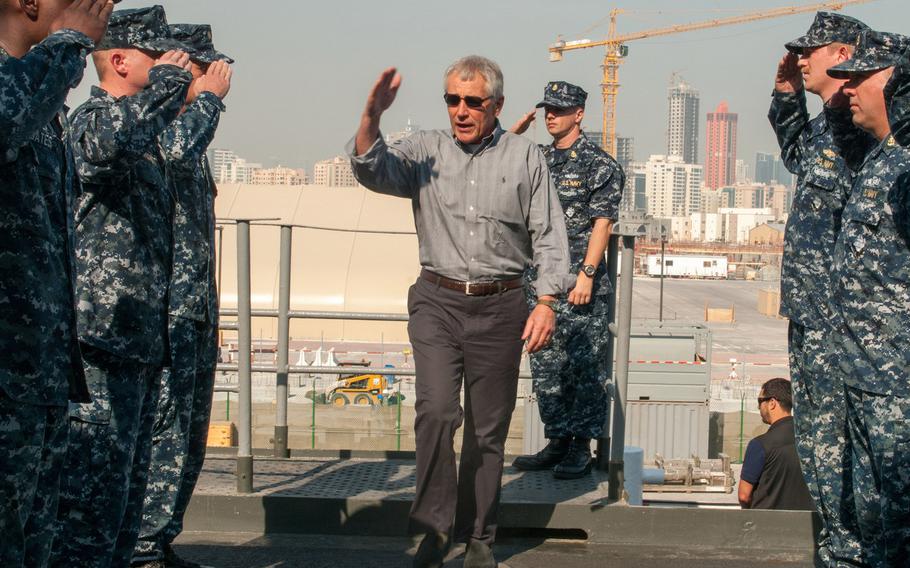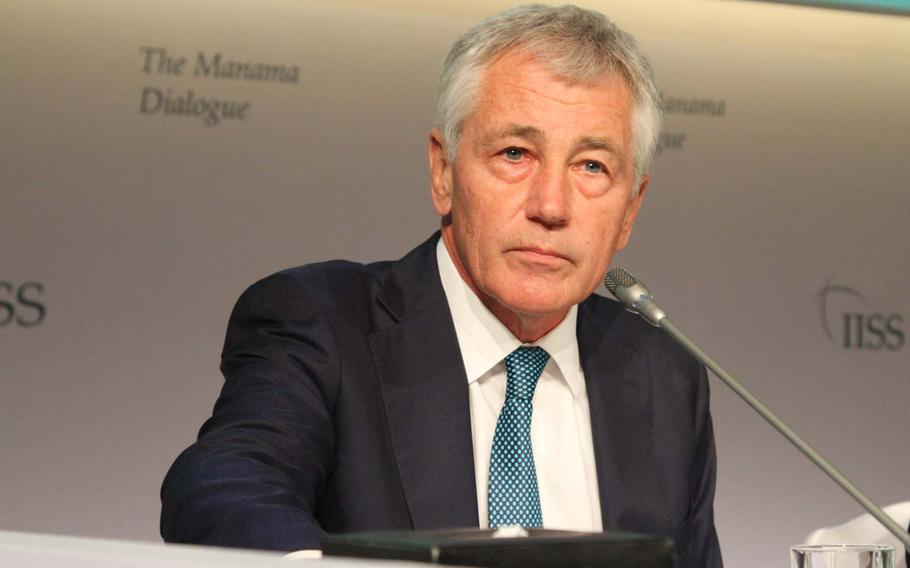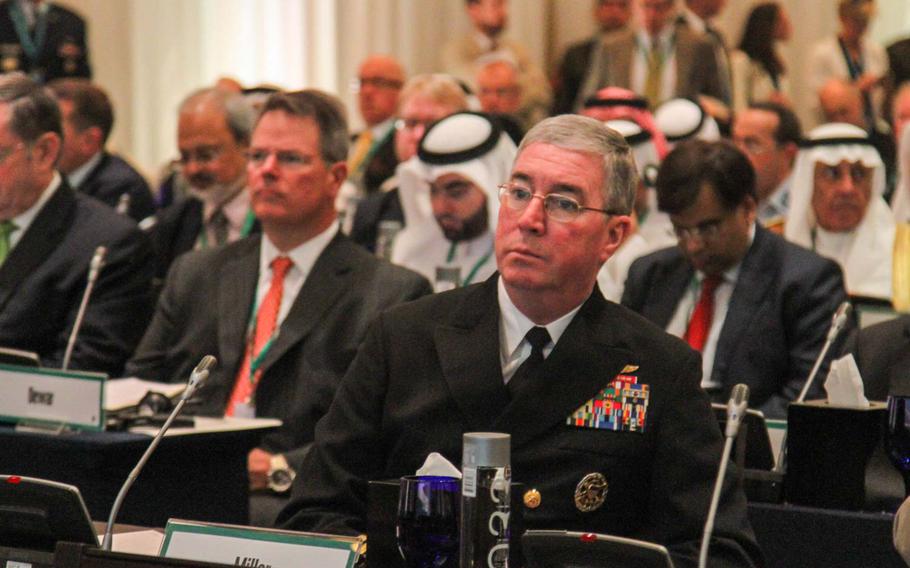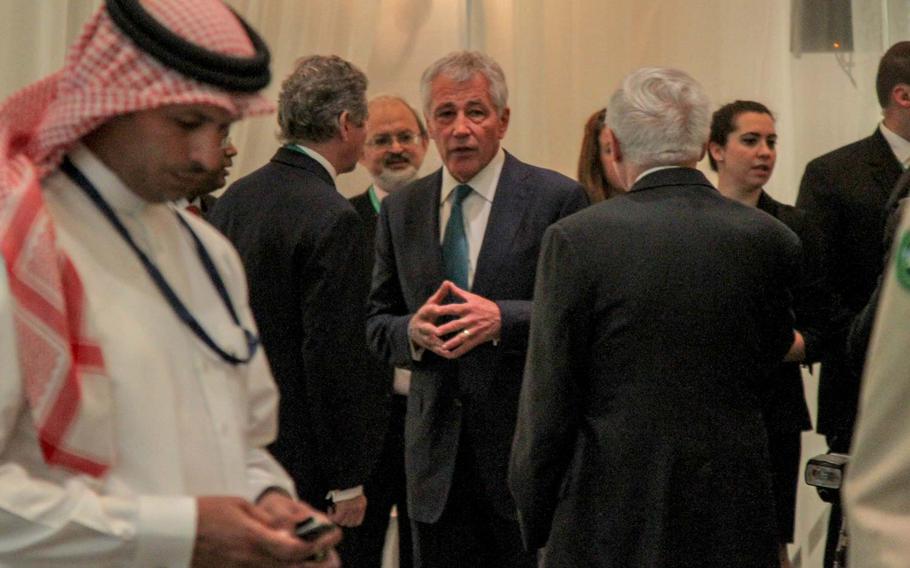 MANAMA, Bahrain — To hammer home the point that U.S. military power in the Middle East is not on the wane, U.S. Secretary of Defense Chuck Hagel laid out a point-by-point overview of American capabilities in a speech here Saturday.
Aides said it was an unprecedented message for a defense secretary to deliver while speaking in the region. But they said that a recent nuclear deal with Iran has left some American allies looking for assurance of a protective U.S. presence.
The agreement freezes aspects of Iran's nuclear program for six months while a permanent deal is sought, but some U.S. allies fear it will embolden Tehran to possibly menace the region.
In his speech Saturday at the Manama Dialogue, an annual security conference in Bahrain, Hagel offered reassurance, including proposals he said would strengthen regional missile defense.
"DoD will not make any adjustments to its forces in the region — or to its military planning — as a result of the interim agreement with Iran," Hagel said.
America has more than 35,000 troops in the Persian Gulf region, including more than 10,000 forward-deployed soldiers with tanks, artillery and attack helicopters to serve as a "bulwark against aggression," he said.
The 40 U.S. warships in the Middle East have transited the Strait of Hormuz — which Iran threatened to mine in late 2011 — a total of about 50 times in the last six months, Hagel said.
In a visit to Bahrain last month, Chief of Naval Operations Adm. Jonathan Greenert told sailors stationed here that the U.S. Navy would be expanding its footprint on the tiny island nation, including a plan to bring littoral combat ships to Bahrain in 2018. Hagel said in the speech that $580 million in construction upgrades were underway to support the U.S. 5th Fleet, based in Bahrain.
The United States also has overwhelming air power on tap, he said.
"We have deployed our most advanced fighter aircraft throughout the region, including F-22's, to ensure that we can quickly respond to contingencies," he said. "Coupled with our unique munitions, no target is beyond our reach."
Aides declined to elaborate on the munitions to which Hagel referred, but experts say powerful weapons such as the Massive Ordnance Penetrator bunker-buster bomb would be among the primary means of targeting deeply buried parts of Iran's nuclear program if conflict erupted.
Tehran has repeatedly stressed that its nuclear program is intended only for peaceful purposes, as specified by the international non-proliferation treaty. But Western governments believe the program's covert aim is to produce nuclear weapons.
Advanced surveillance assets have the Gulf covered at all times, Hagel said, and Patriot missiles and other defensive measures are constantly on guard throughout the region, he said.
In addition to negotiating to eliminate Iran's nuclear program, Hagel said that the U.S. military was prepared to work with nations of the Gulf Cooperation Council, a union of Arab monarchies, to integrate their missile defense measures.
To further that aim, he is proposing group purchases of U.S. weapons systems by GCC countries rather than nation-by-nation purchases, a step that could both stretch defense dollars and create a stronger common barrier against missile attack.
In addition, Hagel proposed a series of annual defense ministerial meetings between the United States and Arab nations in the Gulf region to begin within six months.
Hagel said that after leaving the Manama Dialogue, he was scheduled to travel to meet the following week with officials in Saudi Arabia and Qatar, and would meet as well with troops at the Combined Air Operations Center in Qatar.
Stars and Stripes reporter Hendrick Simoes contributed to this report.
Twitter: @ChrisCarroll_
---
---
---
---