Houthi rebels in Yemen claim to shoot down US drone
by
Joshua Karsten
August 21, 2019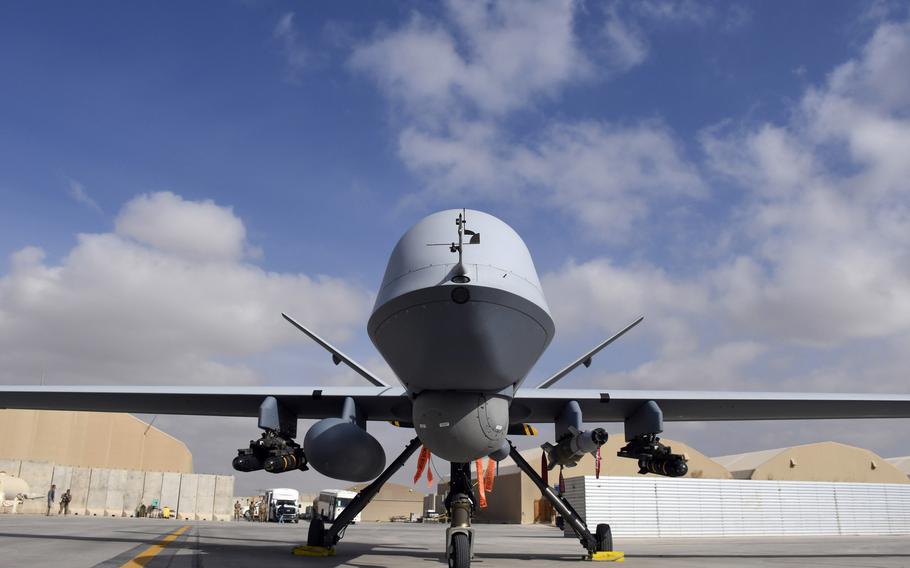 MANAMA, Bahrain — Iran-backed Houthi rebels in Yemen said they have shot down a U.S. Reaper drone, marking what would be the third American unmanned aircraft destroyed in the region since June.
An MQ-9 drone was shot down Tuesday with a missile over the northern city of Dhamar, a statement from Houthi spokesman Yahia Sarie said, according to The Associated Press.
U.S. Central Command said they were investigating the reports of the attack on a U.S. unmanned aircraft system "operating in authorized airspace over Yemen," Central Command spokesman Lt. Col. Early Brown said.
"We have been clear that Iran's provocative actions and support to militants and proxies, like the Iranian-backed Houthis, poses a serious threat to stability in the region and our partners," Brown said.
CNN reported Wednesday that an unnamed U.S. official had confirmed the drone attack.
Reaper drones are used by the Air Force to attack targets, gather intelligence and conduct search operations, among other roles. They can be equipped with laser-guided bombs and air-to-ground Hellfire missiles.
The attack would mark at least the third drone downing in the region. The U.S. confirmed that Houthi rebels also shot down a Reaper drone in June.
Iranian forces shot down a Global Hawk surveillance drone over the Strait of Hormuz in June, nearly prompting a U.S. military strike before President Donald Trump called off the attack. Iran claimed that drone was over its territory while the U.S. said it was in international airspace.
The USS Boxer in July destroyed an Iranian drone that U.S. officials said threatened the ship, which Iran denied.
The conflict in Yemen stems from 2014, when Houthis took over the city of Sanaa, driving out government officials. A Saudi-led coalition launched an air campaign in 2015 to prevent the rebels from overrunning the south of the country.
Reports of the drone downing came as Human Rights Watch released a statement that said the coalition killed at least 47 Yemeni fishermen in bombing attacks in 2018.
Tensions between Washington and Tehran, which have escalated since May, have prompted an increased U.S. military presence in the region. The U.S. sent bombers and expedited the arrival of a carrier group, with the Trump administration citing an increased threat from Iran or its proxies directed at U.S. forces and property in the region.
Iran has repeatedly denied supplying Houthis with arms, drones or missile technology which have been used to target Saudi-coalition forces.
karsten.joshua@stripes.comTwitter: @joshua_karsten