Hagel arrives in Kabul; will not meet with Karzai
by
Chris Carroll
December 7, 2013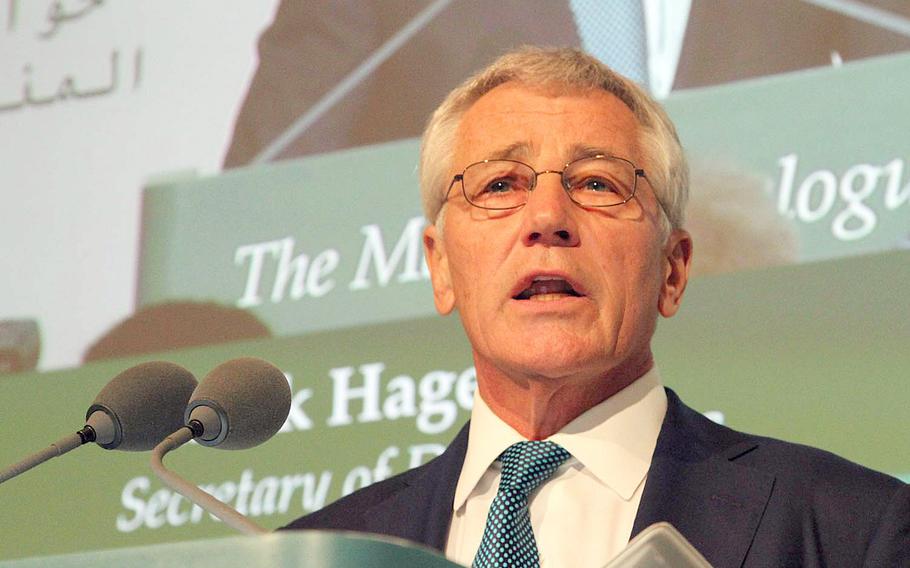 KABUL — Defense Secretary Chuck Hagel landed Saturday in Afghanistan to meet with local officials and U.S. troops on the progress of the 12-year-old war, but one high-profile meeting isn't on his agenda this time – with Afghan President Hamid Karzai.
Hagel's unannounced visit to the country, his second as defense secretary, comes in the midst of tension over Karzai's refusal to sign a security agreement between the United States and Afghanistan. But instead of further wrangling over the stalled agreement, Hagel said he would travel the country thanking ISAF troops for their service here.
"I never asked for a meeting with President Karzai," Hagel said, speaking Saturday to reporters in Kabul. "That was not the purpose of my trip; [I] never suggested it in any way. I never received an invitation to meet with him… this trip is about the troops."
The bilateral security agreement, or BSA, was hashed out in tense negotiations over the past year and lays out the parameters of a continued U.S. training and counterterror mission after combat operations formally cease at the end of 2014. The agreement is crucial for the U.S. military in part because it would grant troops immunity from prosecution under Afghan law.
A council of thousands of tribal elders and local leaders called the Loya Jirga endorsed the agreement last month, but Karzai threw a wrench into the process by announcing that signature should wait until after his successor is elected in April. U.S. and NATO officials subsequently pressed Karzai to sign the agreement quickly, but he has so far refused.
Hagel is taking a different tack on his current trip – backing off direct pressure on Karzai, while arguing that both government officials and people of Afghanistan overwhelmingly want the reassurance of a U.S. troop presence, something that's only possible with a BSA.
But Hagel said the time for leaning on Karzai is past.
"I don't think pressure coming from the United States – even more pressure – is going to be helpful in persuading President Karzai to sign a bilateral security agreement," Hagel said. "The people of Afghanistan, through the body that (Karzai) empaneled, the Loya Jirga, spoke rather plainly and clearly and dramatically."
On her own trip to Kabul last month, National Security Adviser Susan Rice told Karzai that failure to sign the agreement by year's end would force the United States to begin planning for a complete withdrawal of troops after 2014 – the so-called "zero option." U.S. officials, including Hagel, echoed Rice's call in the following days, as did NATO Secretary General Anders Fogh Rasmussen.
U.S. special representative to Afghanistan and Pakistan James Dobbins raised the issue again in a meeting in Kabul on Thursday, but was likewise rebuffed by Karzai, who cited demands including a halt to all U.S. special operations raids on Afghan homes.
The same day, Senate Armed Services Committee Chairman Carl Levin called on President Barack Obama to turn down the heat on Karzai. The Michigan Democrat said in a letter that the United States should move forward with plans for contingencies including a BSA signed by Karzai's successor, or even no BSA at all – an outcome he said would require the removal of all troops from Afghanistan.
But the pressure appeared to be feeding Karzai's determination, Levin said.
"Public demands that President Karzai sign the agreement by the end of the year, or the recent suggestion that we could settle for less than an Afghan president approving the agreement, contribute to President Karzai's mistaken belief that the United States needs Afghanistan more than Afghanistan needs the United States," Levin wrote. "Instead, we should tell President Karzai that if he chooses not to sign the BSA, we will await the next president of Afghanistan who will be elected in April."
The top U.S. general in Afghanistan, Marine Gen. Joseph Dunford, told reporters Saturday in Kabul that plans for a post-2014 advisory and counterterrorism mission known as Resolute Support were proceeding. But if no BSA is signed in the coming weeks, the U.S. military will have to plan as well for other possibilities, including no U.S. presence after 2014 if a BSA is never ratified.
Dunford also said that because of the improvement in Afghan troops, Karzai's demand that U.S. forces be barred from entering Afghan homes was already the reality in most cases. But in certain instances – including hostage rescue and force protection issues – U.S. troops would be forced to act.
"We respect Afghan sovereignty, we respect the Afghan people," he said. "But we wanted to be upfront … there might be some infrequent occasions where entering an Afghan home might be required."
Although Hagel might be backing off from publicly pushing Karzai to sign the BSA, he said Saturday that the complexity of raising international support for a post-2014 mission, not to mention planning the undertakings, means the world can't wait on Karzai forever.
"There will be at some point here a cutoff point," he said. "I'm not prepared to give a date on that, but one of the things you might want to look at is the NATO ministerial meeting at the end of February. And some answer is going to be required."
carroll.chris@stripes.com Twitter: @Chris Carroll