General claims progress in Helmand, but critics say it's fleeting
by
Dianna Cahn
November 12, 2010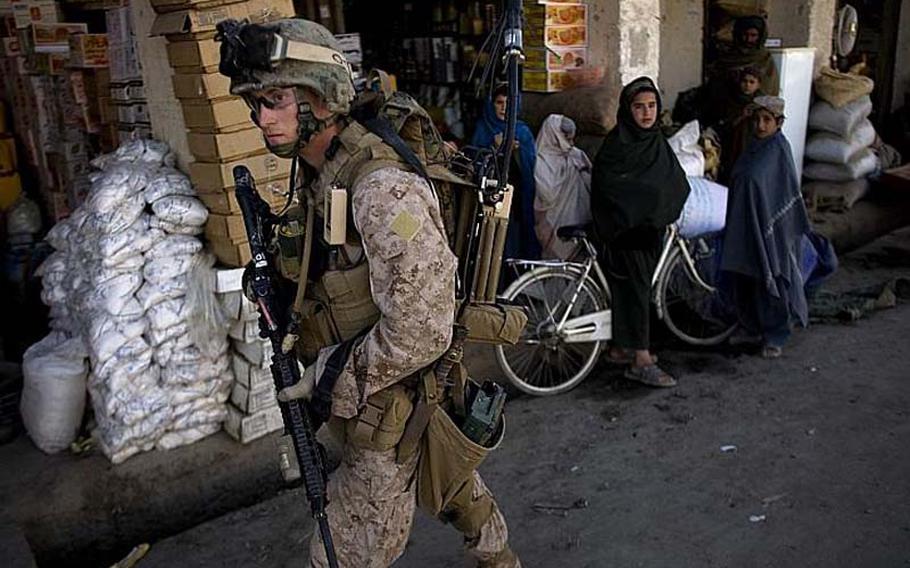 KABUL — U.S. Marines in Helmand province are beginning to transition power to their Afghan counterparts in some areas where, top commanders say, there is stability for the first time since the U.S. surge of forces to this embattled region last year.
The top NATO and U.S. general in the southwest region, echoing commanders in neighboring Kandahar province, regards the improvements in Helmand as evidence that Washington's counterinsurgency strategy in Afghanistan is working.
But critics are skeptical of such declarations, coming just ahead of next week's summit of NATO countries in Portugal and a December White House review of Afghan strategy in Washington. And some Afghan civilians question whether these small gains really add up to a better direction.
"When the Army talks to the news media, they must show progress," said Tariq Osman, an Afghan political analyst. "They claim things that are not proven. There has been no development or progress in areas controlled by opposition groups."
The gains in Nawa district, the contested city of Marjah and other areas follow the most difficult summer of fighting on record and correspond to the largest concentration of NATO and Afghan troops in the region since the start of the war, now in its 10th year.
The Regional Command-Southwest (RC-SW) commander, Marine Maj. Gen. Richard Mills, acknowledged that it was too soon to read lasting impact into improved conditions, but saw the change as significant. RC-SW encompasses Nimruz and Helmand provinces.
"We are making, I believe, steady, incremental progress along a plan that was laid down and that Gen. (David) Petraeus has made very clear," Mills said in a telephone interview from his Helmand headquarters. "Helmand was an early beneficiary of the surge and a year later those results are showing."
Afghans in Helmand and elsewhere were more skeptical. After years of false starts toward anything resembling security, they see little more than pockets of control that could disappear as quickly as they emerged.
Haji Habibullah, subgovernor in the district of Nad Ali, which includes Marjah, confirmed by telephone that security had improved. People are less afraid of Taliban attacks and U.S. and Afghan forces maintain a regular presence, warding off insurgents, he said.
"The situation is good for the time being but you cannot trust it," he said. "If the foreign forces leave this area, it will get worse again."
Ismatullah, a shopkeeper from the village of Shawool in Nad Ali who goes by one name, said that while there are fewer Taliban, the threat of roadside bombs and mines has increased. He said people are reluctant to support the fledgling local government for fear that the Taliban will regain control and exact retaliation.
"People are not sure of the security so far," he said. "This is why they are afraid. If the Taliban return, they will make problems."
But with the summit and review on the horizon, coalition officials in Kabul are under tremendous pressure to highlight progress in the war.
"Every meeting I'm in [the message] is, 'We have to show progress,' not, 'We have to get the truth out there,' " said one coalition civilian, who was not authorized to speak on the record. "We're scraping the bottom of the barrel for anything resembling progress. There's a concerted effort to get media out to anything that looks like progress."
President Obama announced the troop surge in December as part of a strategy to flood top-priority areas, primarily in southern Afghanistan, with NATO forces to clear out insurgents and quickly install Afghan government and security forces.
The troop escalation in Marjah, a key city in central Helmand, was paired with a major offensive touted as the first test of the new strategy. The offensive was highly publicized and became the target of sharp criticism after the insurgents melted away during the initial attack only to return later and undo declared U.S. successes.
Mills said the tables have now turned in Marjah as well as in Nawa, the district south of Nad Ali. In both places, he said, Marines working with the Afghan National Army and Afghan National Police have pushed insurgents from the central bazaars, creating a bubble of security where life has begun returning to normal.
He cited the recent opening of a restaurant near the Marjah district center as an example of progress. Six months ago armed security guards there had to fight off attackers.
Mills also described an impressive maturing and expansion of the local Afghan forces that has allowed the Marines to look toward the next phase of the strategy, what he called a "thinning out" of their numbers inside these bubbles and using the extra forces in areas where the insurgents are still operating.
Mills, along with a spokesman for the Helmand governor, said the handover to Afghan forces would be gradual.
"Much like in Marjah, [in Nawa] we are using the Marines to locate themselves in more troubled areas and leaving areas that have more stability and giving them over to Afghan forces," Mills said.
"We do have certain areas and checkpoints that they are taking the lead on. We are still in the area. We haven't left the area by any stretch of the imagination."
The Washington Post last week cited commanders in Nawa as saying they had handed over control of some small bases to the Afghan forces. But Mills would not confirm bases had been handed over, maintaining a more measured optimism.
"I think it's probably more accurate to say we are beginning to share more responsibility by putting more on Afghan forces in the area," Mills said. "We are chipping away. We still have got work to do throughout the province."
The shift to a more sober assessment mirrored Kandahar, where junior commanders recently boasted a routing of Taliban in places they had run for years, while top commanders scaled back those assessments to declare more moderate gains.
Seen by critics as a spin-up of optimism ahead of the upcoming summit and review, the assessments also seem to reflect a growing debate over how significant these isolated pockets of progress really are.
Osman, who represented his native Logar province in the national conventions to establish government early on in the war, said commanders are making declarations on faith, not on the realities on the ground.
Any small areas of stability were countered by full regions of the country now under Taliban control. He cited the new Afghan survey released Tuesday by the Asia Foundation, which found that security concerns continued to drive perceptions of Afghans, particularly in southern Afghanistan.
The report, based on polling conducted in June and July, said surveyors were restricted this year from reaching 138, or 16 percent, of the random sampling points they'd chosen nationwide due to security concerns. This figure that has risen steadily since 2007, when just 2 percent were off-limits. The report said the southeast and southwest were the most affected.
"Government is connected to support of the people and in Afghanistan nowadays, not only in south and west, there is more support for insurgency than for the government or the American forces," Osman said. "Just because someone has control of a district or government compound doesn't mean the district is actually in control of the government."
Mills said the improved situation has come in recent months due to a weakened insurgency as a result of the NATO troop surge, a campaign by U.S. Special Forces that has been targeting mid-level Taliban commanders and a drop in Taliban financing due to a damaged poppy crop.
In addition, he said, the Afghan army and the Afghan police have both expanded in numbers and equipment and they are now coordinating where they were once at odds. And in both Marjah and Nawa, he said there were good police chiefs and district government leaders, which have empowered the community and encouraged development.
"Temporarily there will be security in an area when the forces are there," Osman countered. "When the forces leave there will be no security. That cannot be an indicator of improvement in the security situation."
The slow rate of development of the Afghan security forces has often been a source of strain and distrust between the NATO forces and their Afghan counterparts. The shooting deaths of two Marines in Helmand by an Afghan soldier was the latest in a sporadic stream of similar attacks over the past few years.
Mills dismissed concerns that the shooting undermined progress. He said the incident was under investigation but the initial reports indicated that the police officer killed the men due to personal issues and is not suspected of carrying out an insurgent plot.
"This was one soldier who acted out in rage, but we've got 10,000 others here in the province who didn't," Mills said.
---
---
---
---