Fighting not over for US F-16 pilots in Afghanistan
by
Josh Smith
December 4, 2015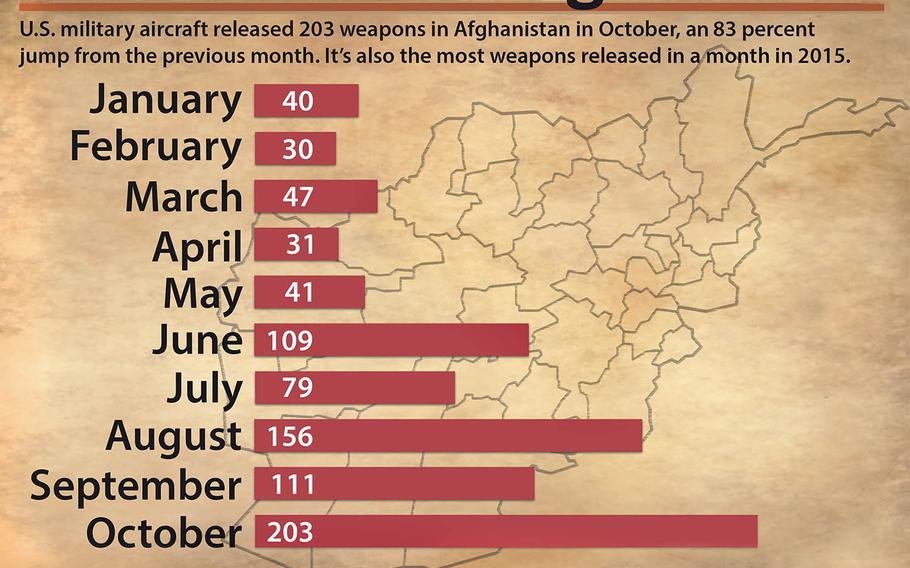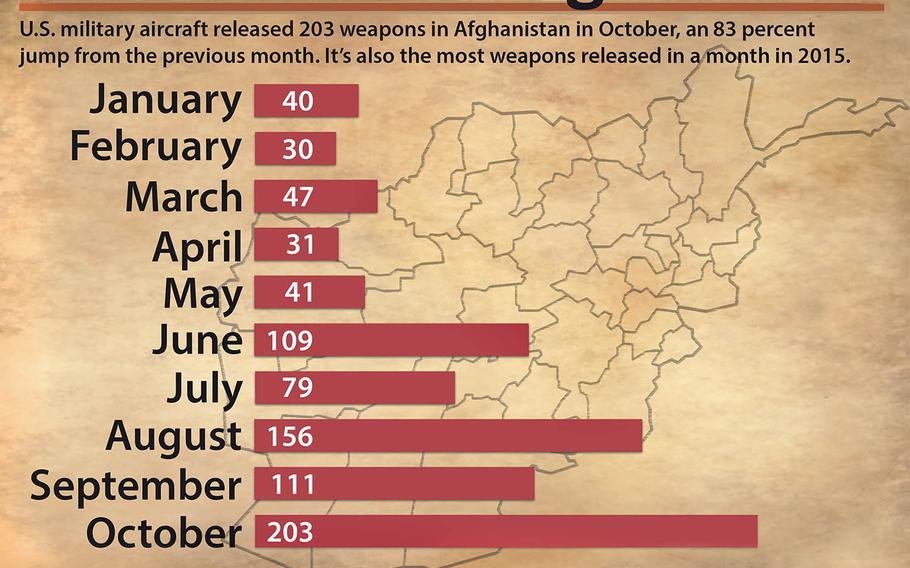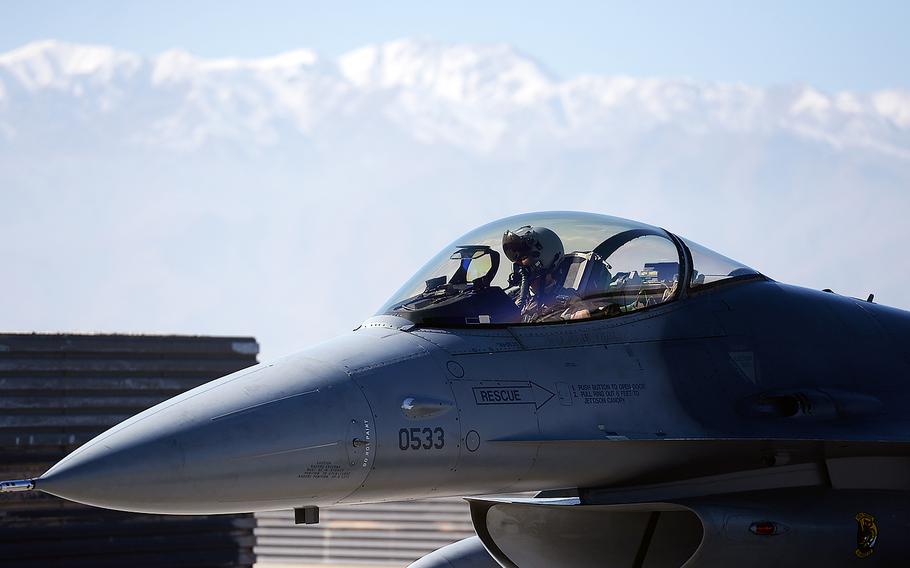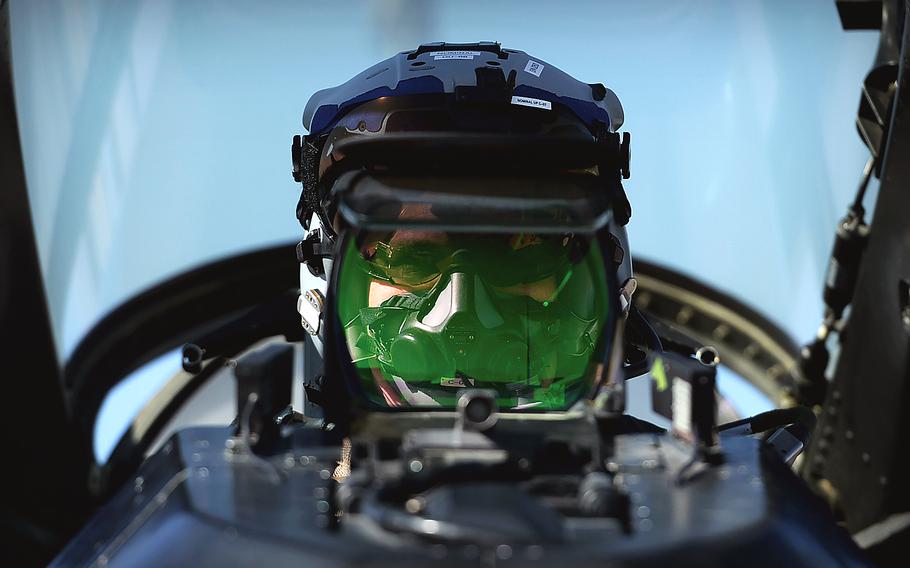 BAGRAM AIR FIELD, Afghanistan — American F-16 fighter pilots deployed to Afghanistan say their mission hasn't changed in the last year, even though the international military force here has transitioned to a more advisory role.
The coalition might have declared that it ended the combat mission in 2015, but the pilots from the 388th Fighter Wing's 421st Fighter Squadron are still flying round-the-clock patrols, and they are still dropping bombs on the enemy. The airstrikes, which reached a 10-month high in October — are seen as vital to stopping insurgents from overrunning vulnerable areas around the country as Afghan forces struggle to contain a growing insurgency.
"For the Air Force, in many ways, the mission hasn't changed," said Capt. Bryan Bouchard, spokesman for the 455th Air Expeditionary Wing at Bagram. "We're still here to support the guys on the ground with whatever they need."
One month ago, the F-16s arrived at Bagram from Hill Air Force Base, Utah, to take up position as the only fighter unit in the country. Members of the unit, known as the "Black Widows," say they're regularly called upon to provide close-air support to troops still fighting desperate battles with Taliban and other insurgent groups.
"Whether we're supporting the Afghan army or our guys on the ground just depends on the day," said F-16 pilot Capt. James "Face" Collins, 32, a native of Fairbanks, Alaska. In the fighter pilot tradition, fliers with the 421st each have their own call sign.
At least two F-16s, and often more, are in the air over Afghanistan 24 hours a day, seven days a week. Several more aircraft sit fueled and armed on Bagram's tarmac at all times, ready to be in the air in a matter of minutes.
While the majority of missions are uneventful and involve nothing more than hours of bottom-numbing flying in a cramped cockpit, the F-16 pilots are regularly involved with everything from low-flying "show-of-force" missions to dropping bombs and strafing ground targets.
The 421st's predecessor — the 555th Expeditionary Fighter Squadron out of Aviano, Italy — were called in to provide close-air support on more than 70 missions during which troops came under ground fire. While it is not clear how many of those ground battles involved coalition troops, the rules of engagement call for an American to be on the ground to direct any air support, Bouchard said.
"When Afghan forces request support, the request is vetted through the proper channels. Then we fly close-air support missions to keep Americans safe and, in limited circumstances, to prevent detrimental strategic effects to the [Afghan forces]," he said.
When an airstrike is approved, a U.S. Joint Terminal Attack Controller, or JTAC, must be on the ground to coordinate the strike, he said.
U.S. aircraft can be involved in supporting both the NATO-led training mission and the U.S.-led counterterrorism operations, but the lines between the two missions often blur.
American airpower has been credited with helping stop Taliban offensives in heavy fighting in Helmand, Kunduz, and other provinces. And while an errant special operations attack on a Kunduz hospital cast an unflattering light on U.S. strikes and raised questions about the rules that govern their use, Afghan officials have continued to make calls for air support.
"America has better technology, and with just one bomb they can kill many more Taliban," said Sgt. Mohammed Sangin, an Afghan army soldier fighting in Nangarhar Province. "But now, they do not come as often. Why not? The war is not gone."
Prior to the wrapping up of the combat mission, the over-watch and close-air support job used to be shared between units of F-15 Strike Eagles and A-10 Warthogs. Now, it falls on a single squadron of F-16s.
Crews say they've adjusted the aircraft's daily armament accordingly, so each pilot has weapons for different kinds of air strikes.
For quickly moving targets, each F-16 typically carries under its wing one AGM-65 Maverick air-to-ground missile, which can be guided by television, infrared or lasers. Under the other wing are two 500-pound GBU-54 GPS- and laser-guided bombs. That's on top of 500 20 mm rounds fired from a multibarreled cannon, usually enough for two short but deadly bursts, pilots say.
The aircraft also usually carry external fuel tanks for additional range, and an advanced targeting pod for identifying targets and guiding weapons.
The war on the ground in "very different" now, said F-16 pilot Capt. Jay "Fast" Doerfler, who previously deployed to Bagram in 2011 with a surveillance aircraft unit. "There is a much larger Afghan presence now," said the 33-year-old native of Georgetown, Texas. "But almost every mission we do is supporting both Afghan and coalition troops."
Reports from the ground indicate the presence of the American aircraft makes a difference, Doerfler said.
"It's great to hear how our help increases the Afghans' confidence. I think they feel relief knowing someone is there backing them up."
That backup has become more limited as the United States seeks to extricate itself from the war in Afghanistan. Afghan troops regularly complain that the nascent Afghan air force isn't up to the task of providing close air support, which can often be a deciding factor in battles.
The U.S. footprint has dwindled drastically from the height of operations in 2011. That year, Air Force aircraft flew more than 34,500 close-air support sorties, deploying weapons on 2,678 of those missions. In 2015, as of October, the numbers dropped to about 3,800 such sorties, with 363 weapons being deployed.
Still, the level of American involvement has gradually creeped up, as aircraft released 211 in October, a 83 percent increase from the previous month and the most of any month this year, according to U.S. Air Forces Central Command figures. The spike in October is largely due to a series of heavy strikes on Al-Qaida training camps in Kandahar.
The F-16s at Bagram aren't the only American aircraft in combat in Afghanistan. The 455th operates MQ-9 Reaper and MQ-1 Predator drones from air bases in Kandahar and Jalalabad. The U.S. Army fields AH-64 Apache attack helicopters. Air Force special operations units fly AC-130 gunships, including the one involved in the deadly strike on a Doctors Without Borders hospital in Kunduz in October. And other U.S. government agencies, such as the Central Intelligence Agency, operate drones beyond those of the regular Air Force.
The missions remain risky for the American airmen, and those dangers are always in the back of the pilots' minds.
In October, for instance, small-arms fire hit an F-16's stabilizer and damaged one of the munitions during a mission in eastern Afghanistan, forcing the pilot to jettison fuel tanks and weapons before safely landing.
On every mission, support crews make sure the pilots are carrying radios and other emergency equipment strapped to their flight suit. Most pilots remove extra patches from their uniforms before missions, so as not to provide extra information in case they are captured on the ground.
"We know the Talban don't usually follow the Geneva Conventions," Collins explained.