Fighter jet crashes in Afghanistan; pilot killed
---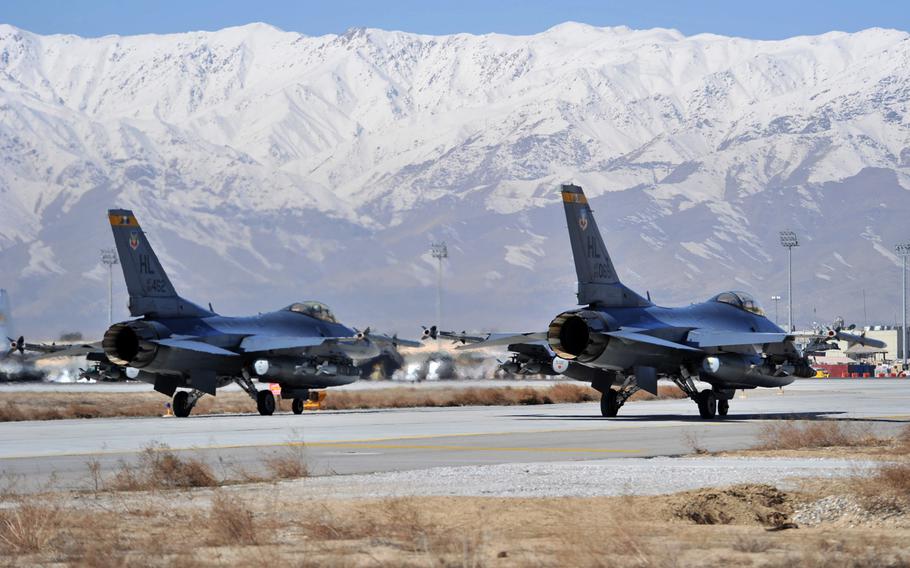 KABUL — A U.S. fighter pilot was killed when his F-16 jet crashed late Wednesday near Bagram Air Field in eastern Afghanistan, military officials said.
The plane was on its final approach to land after a routine air support mission around 11 p.m. when it lost contact with its wingman and the control tower, Air Force Central Command spokesperson Capt. Natassia Cherne said. It crashed 10 miles south of the runway.
Cherne said preparations for an investigation were underway. The 455th Air Expeditionary Wing has appointed an interim safety investigation board president, and Air Combat Command has stood up a safety investigation board and an accident investigation board, she said.
The body of the pilot, the lone crewmember, has been recovered, according to a NATO release. Authorities did not release the victim's identity pending notification of family members.
Coalition officials say there was no enemy activity in the area at the time of the crash.
"Obviously, the worst part of the situation is that we lost an airman today," Cherne said.
While insurgents have been effective at downing helicopters, crashes of combat jets have been rare in Afghanistan. In 2011, a French fighter crashed in western Afghanistan. Both crewmembers ejected and were rescued.
Stars and Stripes reporter Cid Standifer contributed to this report.
druzin.heath@stripes.com Twitter: @Druzin_Stripes
---
---
---
---