Essex ARG to replace Iwo Jima in 5th Fleet waters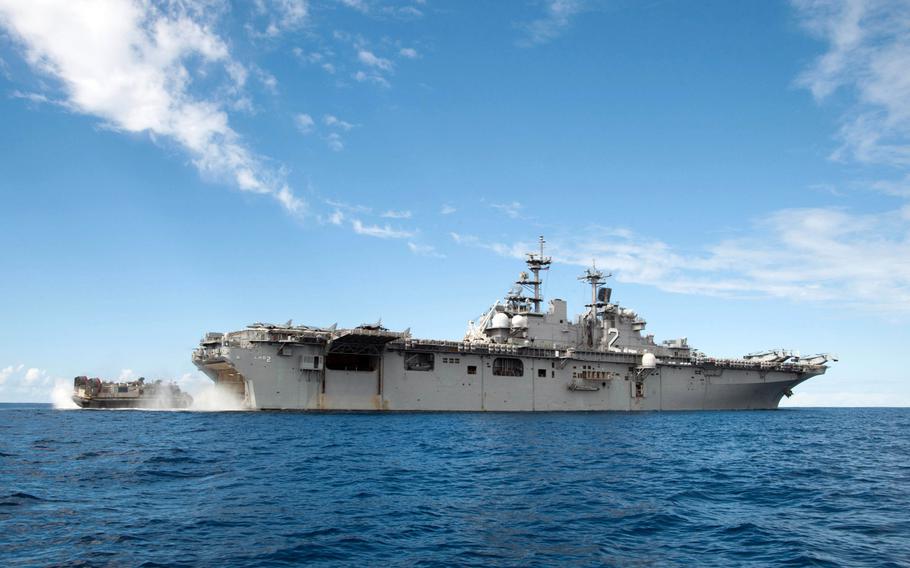 MANAMA, Bahrain — The U.S. Navy rotated its forward-deployed amphibious ready groups Sunday as the Essex Amphibious Ready Group entered the Middle East, replacing the Iwo Jima Amphibious Ready Group, which is nearing the end of its seven-month deployment.
The Essex Amphibious Ready Group will be taking over for the Iwo Jima during a period of heightened tensions in the region.
In February, the Iwo Jima Amphibious Ready Group and its Marine forces were standing by in the Red Sea to assist the State Department's evacuation from Yemen after the Shiite Houthi rebel group seized the presidential palace.
The Navy has since maintained amphibious ships near Yemen, conducting strategic transits of the Strait of Bab al-Mandab — the narrow strait that connects the Red Sea to the Gulf of Aden.
In April, the Iwo Jima Amphibious Ready Group also accompanied the aircraft carrier USS Theodore Roosevelt near Yemen as the Pentagon tracked an Iranian convoy suspected of carrying arms in support of the Houthi rebels.
The Essex Amphibious Ready Group left San Diego on May 11, with 4,500 sailors and Marines stationed aboard the amphibious assault ship USS Essex, the amphibious dock landing ship USS Rushmore and the amphibious transport dock ship USS Anchorage.
The Navy considers amphibious ready groups a "Swiss Army Knife," because of their capability of performing a wide variety of missions.