Esper: Pentagon not 'discussing or considering' sending 14,000 new troops to Middle East
by
Corey Dickstein
December 6, 2019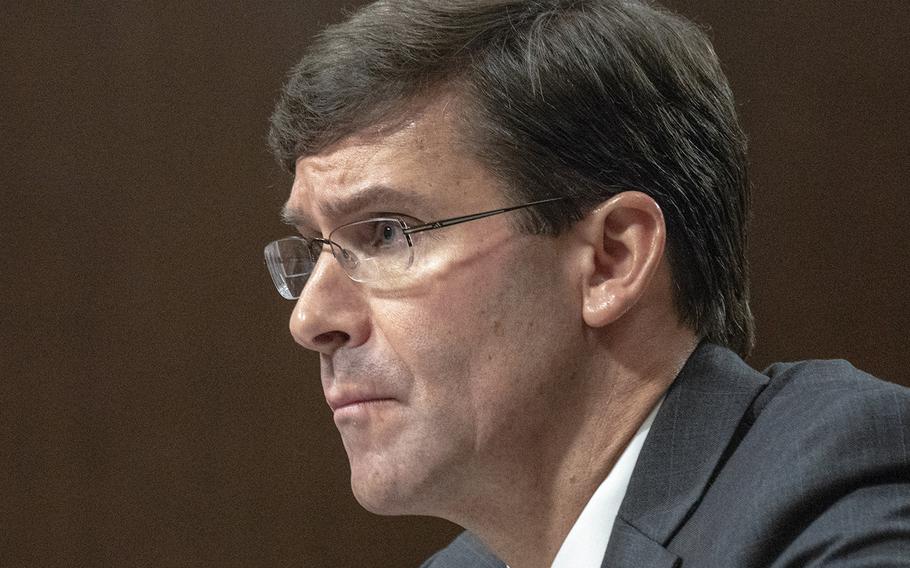 WASHINGTON — The Pentagon will not send 14,000 new U.S. troops to the Middle East, Defense Secretary Mark Esper said Friday, a day after a senior Defense Department official told lawmakers that more military forces could deploy to the region to counter Iran.
"As the Department [of Defense] has stated repeatedly, we were never discussing or considering sending 14,000 additional troops to the Middle East," Esper said in the statement. "Reports of this are flat out wrong."
The statement came nearly 24 hours after Sen. Josh Hawley, R-Mo., called for Esper to publicly clarify any Pentagon planning to increase U.S. forces in the Middle East. John Rood, the undersecretary of defense for policy, told Hawley during a Senate Armed Services Committee hearing Thursday that the Defense Department was monitoring threats from Iran and considering sending new forces to the region.
That admission from Rood came after he had testified earlier that a news report that the Pentagon could send up to 14,000 troops to the Middle East was "erroneous." The Pentagon's press secretary, Alyssa Farah, also issued two statements Thursday denying such planning had occurred.
The confusion followed a Wall Street Journal report late Wednesday that defense officials had discussed sending up to 14,000 new service members to the Middle East as a check on Iran. The report, which cited unnamed U.S. officials, said no decisions had been made, but President Donald Trump could approve new deployments this month.
Trump, in a tweet Thursday, wrote the United States would not be sending 12,000 troops to Saudi Arabia, calling it "Fake News." The Journal story, however, did not mention Saudi Arabia as the location where new troops would be sent, nor did it include the 12,000 figure the president cited.
Several Pentagon officials on Friday declined to comment beyond Esper's statement, but two officials confirmed recent discussions had included potentially deploying thousands more troops to the region. The officials, who spoke on condition of anonymity to discuss internal deliberations, would not provide specific numbers or the make-up of the forces that could be sent.
Rood faced tough questioning Thursday on Capitol Hill about the Journal report from Hawley and Sen. Marsha Blackburn, R-Tenn. Rood said the Pentagon was evaluating new threats from Iran, but he did not characterize the nature of those threats.
The United States has already sent some 14,000 new troops – largely naval forces, fighter and bomber operators and air defense troops – to the Middle East since May aimed at deterring Iranian aggression. Iran has been blamed for a series of attacks during the last six months on commercial shipping vessels and key Saudi oil facilities. Iran also shot down an American drone operating over the Persian Gulf in June.
"Based on what we are seeing [with Iran], it is possible that we would need to adjust our force posture, and I think that would be a prudent step depending on what we observe," Rood told Marshburn on Thursday.
Farah, later Thursday, clarified that planning did not include a deployment of 14,000 troops "at this time," but added the Pentagon was constantly evaluating its force posture based on observed threats.
"DOD will always stand ready to respond to future actions by our adversaries if and when they arise, but the Pentagon is not considering sending 14,000 troops to [U.S. Central Command]," Esper's Friday statement said. "This report is false."
dickstein.corey@stripes.com Twitter: @CDicksteinDC