Eleven US troops flown to hospitals from al Asad Air Base in days after Iran missile attack
by
Corey Dickstein
January 17, 2020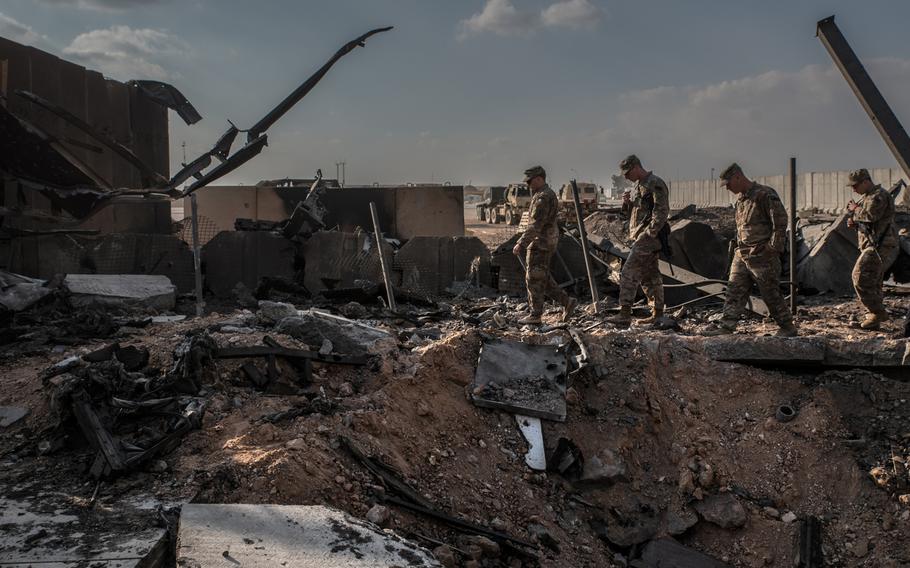 WASHINGTON — Eleven U.S. service members were flown to military hospitals in Kuwait and Germany to be evaluated for brain injuries suffered in the Jan. 8 Iranian missile attack on al Asad Air Base in Iraq, senior defense officials said Friday.
Three service members were flown to a facility at Camp Arifjan in Kuwait and the others were sent to Landstuhl Regional Medical Center in Germany after displaying signs of concussions, defense officials said Thursday. Jonathan Hoffman, the Pentagon's chief spokesman, said Friday that al Asad is not outfitted with an MRI machine or other tools necessary for advanced brain injury examinations.
"As a standard procedure, all personnel in the vicinity of a blast are screened for traumatic brain injury, and if deemed appropriate are transported to a higher level of care," Navy Capt. Bill Urban, a spokesman for U.S. Central Command, said in a prepared statement.
In the attack on al Asad, Iran launched 11 short-range ballistic missiles into the Iraqi base, which is in the country's west and houses some 1,500 American and anti-ISIS coalition troops. The attack was retaliation for the U.S. drone strike in Baghdad on Jan. 3 that killed Maj. Gen. Qassem Soleimani, the commander of Iran's elite Quds Force.
Hoffman said Friday that the individuals who were eventually flown out of Iraq initially returned to duty following the attack, explaining why U.S. officials — including President Donald Trump — had for a week proclaimed no Americans were injured or killed in the incident. Pentagon officials, including Defense Secretary Mark Esper, were notified of the medical evacuations Thursday afternoon, Hoffman said. Nonetheless, The Washington Post, and other news organizations reported Monday that several service members had been treated for concussion symptoms in the wake of the strikes.
The Defense Department's protocol for reporting injuries to the Pentagon's top level leaders only requires notification of wounded service members if their injuries threaten "life, limb or eyesight."
Most of the troops displaying concussion symptoms flew out of Iraq on Wednesday, according to Hoffman. One service member was flown to a hospital on Jan. 10, however. Hoffman said all of the troops who were flown out of Iraq did so "under their own power" on regularly scheduled flights out of al Asad and not on emergency medical flights.
All are expected to return to duty at al Assad, he added.
"When deemed fit for duty, the service members are expected to return to Iraq following screening," Urban said in the statement. "The health and welfare of our personnel is a top priority and we will not discuss any individual's medical status."
Concussion symptoms can take time, sometimes days, to show up after head trauma, and they can then "last days, weeks or even longer," according to the Mayo Clinic.
The military relies largely on service members to report their own symptoms of concussions. The Defense Department uses a standard protocol for evaluating those symptoms called the Military Acute Concussion Evaluation, a 14-page guide for military medical professionals to assess and diagnose brain injuries. That document lists red flags for concussion cases, including "deteriorating level of consciousness, double vision, increased restlessness, combative or agitated behavior … repeat vomiting, seizures, weakness or tingling in arms or legs, [or] severe or worsening headache."
It requires people displaying symptoms of concussion to rest for a 24-hour period before being reevaluated with additional testing after that period, if symptoms remain.
Hoffman said Friday that he was unaware if any of the evacuated service members had been officially diagnosed with traumatic brain injury or if any of them would qualify for a Purple Heart, which can be awarded for TBI caused by enemy action.
Neither Urban nor Hoffman detailed the service branches or military units that the injured service members were assigned to or where they were located in the base during the attacks.
Top U.S. military officials, including Esper and Joint Chiefs of Staff Chairman Gen. Mark Milley, said last week that they believe the attacks were meant to kill American troops. They credited unspecified "early warning systems" that allowed service members to take cover or leave the area just ahead of the strikes with ensuring Americans were not killed.
The missile attacks damaged structures on the post, a parking lot, an aircraft runway and at least one helicopter, defense officials said. Some of the missiles struck close to troops huddled in bunkers on the base, they said.
dickstein.corey@stripes.com Twitter: @CDicksteinDC