Drone strike kills Islamic State militants in Afghanistan
---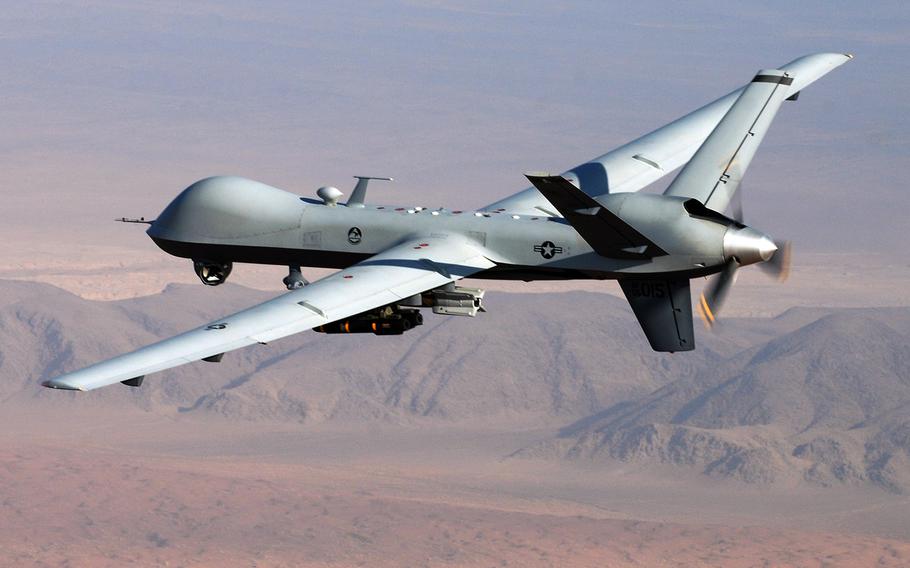 KABUL, Afghanistan — More than a dozen Islamic State militants were killed in a drone attack in eastern Afghanistan Sunday night, just hours after President Ashraf Ghani said his country was becoming a "graveyard" for members of the terrorist group, a government official said.
Unlike its branches in Syria, Iraq and Libya, Islamic State's Afghan offshoot has struggled to establish a foothold in the country, partly because of tough resistance from security forces and the Taliban. Most of those pledging loyalty to the organization are thought to be disgruntled Taliban fighters.
Attaullah Khogyani, spokesman for the governor of Nangarhar province, said Sunday's operation occurred in the Achin district and killed 15 Islamic State members.
"No civilians were harmed in the attack," he said. "If all drone attacks continue like this, then it will not be difficult to eradicate the insurgency in the country."
Col. Michael Lawhorn, spokesman for the U.S. military in Afghanistan, confirmed American troops conducted counterterrorism airstrikes in the region but did not elaborate.
Speaking at the opening of Afghanistan's parliament on Sunday, Ghani said the Islamic State essentially had been defeated in the eastern border regions near Pakistan, where the group had overtaken some remote districts over the past year.
"Afghanistan will be their graveyard," he said.
His comments followed a three-week campaign by Afghan security forces and the Afghan air force that targeted Islamic State militants in Nangarhar and left nearly 300 dead or wounded, the province's media office said in a statement.
An estimated 1,000 to 3,000 Islamic State fighters are thought to be based in Afghanistan's mountainous border regions.
After an attack on the Pakistani consulate in Nangarhar's capital, Jalalabad, earlier this year, President Barack Obama gave U.S. commanders the authority to strike Islamic State targets in Afghanistan — the first such order allowing the U.S. military to attack the group outside its strongholds in Syria and Iraq.
Masood Sediqi contributed to this report.
---
---
---
---