Dempsey: Embattled Ramadi not as important as oil center Beiji
by
Jon Harper
April 16, 2015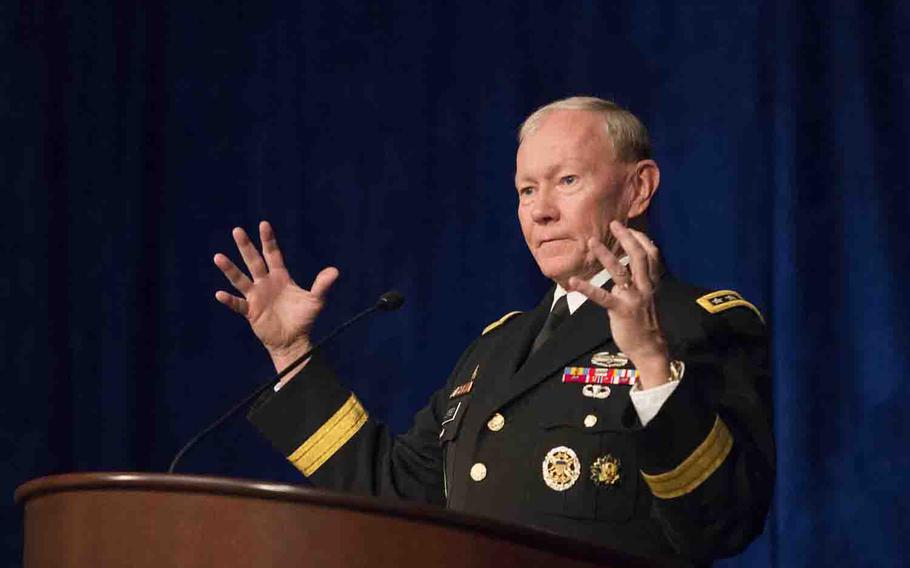 WASHINGTON — America's top military officer said defending the embattled Iraqi city of Ramadi is of secondary importance compared with protecting the Beiji oil refinery from Islamic State militants.
The group may be on the verge of overrunning Ramadi, according to news reporters. But Gen. Martin Dempsey, the chairman of the Joint Chiefs of Staff, said the city's fall would be more of a humanitarian problem than a strategic setback.
"The city itself it's not symbolic in any way," he told reporters at the Pentagon on Thursday. "It's not been declared part of [Islamic State's] 'caliphate' on one hand or central to the future of Iraq… I would much rather that Ramadi not fall, but it won't be the end of a campaign" if it does.
The U.S.-led coalition has been conducting airstrikes against militant targets near Ramadi, but more resources are being devoted to the fight over Beiji, which is more significant in the minds of military planners.
The Iraqi security forces recaptured the Beiji oil refinery from Islamic State in November, cutting off a major source of income for the militants, who have since tried to take it back.
The situation there is "serious in the sense that they've penetrated the outer perimeter," Dempsey told reporters, but noted that the facility is expansive and said the refinery itself is "at no risk right now" of imminently falling to Islamic State.
The Pentagon is dedicating much of its air support and intelligence, surveillance, and reconnaissance assets to the area to help the Iraqi army push the militants out of the area, according to Dempsey.
Between Wednesday and Thursday morning, eight coalition airstrikes launched against Islamic State targets near Beiji hit six enemy tactical units, destroyed two of its structures, a mortar system, a fighting position, and a vehicle, according to Combined Joint Task Force-Operation Inherent Resolve.
"Once the Iraqis have full control of Beiji they will control all of their oil infrastructure both north and south and deny ISIL the ability to generate revenue through oil," Dempsey said, using an acronym to refer to Islamic State. "So Beiji is a more strategic target and that's why the focus right now is in fact on Beiji."
On Thursday, Iraqi Prime Minister Haider al-Abadi said Islamic State is attacking Ramadi for propaganda purposes and to demonstrate that it's still a force to be reckoned with after recently losing the battle for Tikrit.
harper.jon@stripes.com Twitter: @JHarperStripes