Deadly clash between Afghan, Pakistani troops
By
Zubair Babakarkhail Heath Druzin druzin.heath@stripes.com
May 2, 2013
---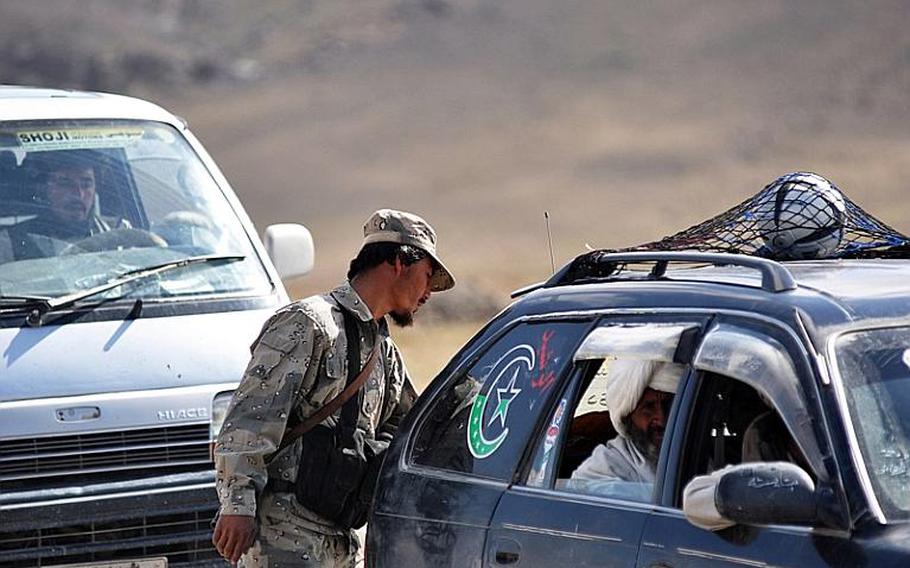 KABUL — Afghan troops destroyed a disputed Pakistani border station after a deadly overnight clash that marked a violent turn in already poor relations between the neighbors, Afghan authorities said Thursday.
The clash broke out Wednesday evening along the border in Afghanistan's eastern province of Nangarhar and lasted into the early morning hours, leaving one Afghan soldier dead, according to Idrees Mohmand, spokesman for the Afghan Border Police Eastern Command.
The Associated Press cited a Pakistani military official as saying that four of their security personnel were injured in the firefight.
Afghan and Pakistani officials gave conflicting accounts of how the incident started.
The Pakistani military official cited by AP said a group of militants crossed the border and attacked a Pakistani post in the Mohmand tribal region.
Afghan Ministry of Interior spokesman Sediq Sediqqi said the clash started when Pakistani troops began shelling an Afghan border post. Afghan Border Police soldiers responded with their own artillery as well as small arms and rocket-propelled grenades.
Mohmand said, after the clash, Afghan troops captured the disputed Pakistani border station in Goshta district and burned it down along with a kilometer-long wall the Pakistanis had built on the disputed Durand Line, which demarcates the frontier between the two countries. Afghanistan does not recognize it as the border.
Sediqqi said the Afghan border police are on high alert and that reinforcements had been sent to the area.
"Last night's attack was really unfortunate," Sediqqi said. The Afghan Border Police "had to reply back. The police were attacked and they replied."
A spokesman for the International Security Assistance Force said ISAF was aware of "reports of shooting at Gharsal gate in Nangahar province."
"ISAF was not involved in this incident. We are working with Afghan and Pakistani authorities to determine what has occurred," the spokesman said.
Reaction from Afghans on social media was swift, with many posting nationalist slogans alongside photos purported to be of the Afghan soldier killed in the clash.
The border post in Goshta district had been an irritant in relations between Kabul and Islamabad for several weeks, though the controversy appeared to have died down last month after Pakistan said the issue had been resolved with Kabul.
Although tensions along the border have been high for years and rocket attacks from the Pakistan side of the border are relatively common, infantry clashes are extremely rare. Afghanistan has long accused Pakistan's secret service of funding, training and giving safe-haven to the Afghan Taliban, while Islamabad contends fighters from the Pakistani Taliban find refuge on the Afghan side of the border.
The rocket attacks from Pakistan, which have forced thousands of Afghans to flee their villages and killed several people, have hardened already negative opinions many Afghans already had about Pakistan.
At a security meeting with U.S. troops earlier in the week, Mohibullah Samim, governor of Paktika province, which borders Pakistan in eastern Afghanistan, had harsh words for Afghanistan's neighbor.
"We shouldn't tell each other we don't have enemies," he said. "Our main enemy is Pakistan."
Wednesday's firefight comes just over two weeks after a deadly clash between Afghan commandos and Taliban fighters near the Pakistani border in which Afghan officials accused Pakistan of aiding insurgents with artillery fire.
For years, military officers from the U.S., Afghanistan and Pakistan have been meeting regularly as part of the Trilateral Commission, aimed at decreasing border tension and increasing military to military cooperation. But relations between Afghanistan and Pakistan seem to have worsened over the past year.
A spokesman for Afghan President Hamid Karzai confirmed Wednesday's clash had happened, but said Karzai's office was still investigating the incident and could not comment further.
The worsening relations between Afghanistan and Pakistan are a further blow to faltering efforts to start peace talks between insurgents and the Afghan government. Pakistani participation and support is widely believed to be key to any negotiated peace.
Stars and Stripes reporter Cid Standifer contributed to this report.
---
---
---
---