Consulate attack highlights growing role of Afghan forces
by
Josh Smith
September 15, 2013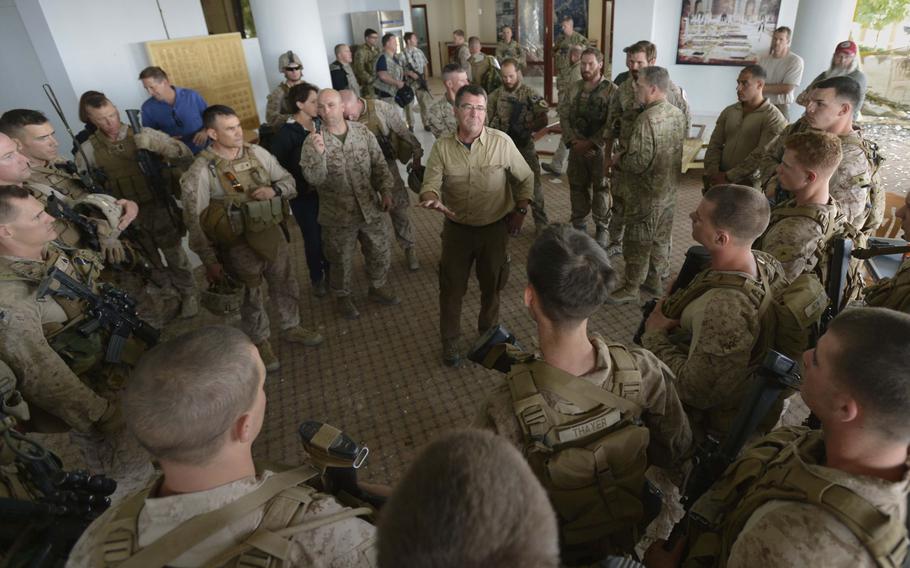 KABUL — Friday's attack on a U.S. diplomatic compound in western Afghanistan highlighted the crucial role Afghan security forces will play in protecting foreign officials and preventing a repeat of the deadly assault that claimed the lives of four Americans last year in Libya.
The Taliban claimed responsibility for the assault Friday by a small band of guerrillas on the U.S. Consulate in Herat, which killed at least eight consulate guard staff and one police officer, all Afghans.
NATO troops also responded to the attack, but U.S. officials acknowledged that without the Afghans' sacrifice the death toll could have been much higher.
"These heroes, who work day and night to protect me and my American, Afghan, and third country national colleagues, train vigorously for the event we all hope will never happen," Jillian Burns, U.S. consul general in Herat, said in a statement released on Sunday. "We are forever grateful for the sacrifice these men made on our behalf."
Visiting the shattered consulate compound on Saturday, a day after the attack, U.S. Deputy Defense Secretary Ashton Carter also credited the combined response with stopping the attackers.
"They were defeated in just a few minutes," he said to U.S. troops. "And not only were they defeated, but there was an overwhelming and incredibly confident American, Afghan, and Coalition response — which included you — ready to deal with the situation."
Whether they are fully ready or not, local security forces will be an increasingly important asset for foreign civilians and soldiers, who are retreating onto fewer and fewer bases as troops withdraw. Afghan security forces are almost always the first line of defense for those bases and facilities.
Security at U.S. diplomatic missions around the world became a public focus in the wake of the Sept. 11, 2012 attacks on a U.S. facility in Benghazi, Libya killed four Americans, including Ambassador Chris Stevens.
In early August of this year, the State Department ordered more than 20 diplomatic posts in over a dozen countries closed for at least a day after an alert warned of the possibility that al-Qaida or related groups in the Arabian Peninsula could launch an attack in the Middle East or North Africa.
U.S. State Department officials have said that unlike in Iraq, where the department tried to use a large and controversial private security force for protection, diplomatic missions and civilian aid workers in Afghanistan have relied on military forces for security.
The foreign civilian presence in the country is expected to shrink along with the military, and the remaining staff will likely operate from compounds like the one in Herat, or military bases if an agreement to leave some U.S. forces can be worked out.
While the ability of Afghan troops to eventually root out and destroy the tenacious Taliban insurgency remains very much in doubt, Afghan security forces have become relatively adept at stopping terror-style attacks from reaching their objectives, especially in major urban areas.
Although militants often launch attacks against both foreign and Afghan government facilities around the country and in the capital city of Kabul, the assaults rarely make it past the front gates, where Afghan security officers regularly lose their lives defending their posts.
In anticipation of the withdrawal of foreign troops next year, the Taliban have generally avoided large-scale confrontations with the much larger and better armed security forces. In classic guerrilla fashion, they have been limiting themselves to assassinations of government officials and other limited attacks designed to undermine the Kabul government's support among the population.
Such attacks are likely to continue unabated in the near future, as Taliban and other insurgent groups are forced to employ terrorism rather than military-style operations, U.S. Lt. Gen. Mark Milley, the commander of coalition ground troops in Afghanistan, said in an interview earlier in September.
"They are capable only of doing small-scale, terrorist-type actions," he said. "So they can intimidate, they can murder, they can put out the IEDs, they can do some suicide bombing. But what they can't do is govern."
Photos released by the Defense Department show that the blast from a truck bomb used by the attackers in Herat shattered windows and sent furniture flying inside consulate buildings, including a dining hall.
The damage, as well as the death toll, was greater than initially reported, but Burns said the consulate never closed. "Our security measures were effective," she said. "The attackers were quickly defeated; our internal perimeter was not breached."
The attack in Herat was unusual in this normally more peaceful area, and Abdul Raouf Ahmadi, the city's police spokesman, said officials don't expect that the strike is a harbinger of any greater threat.
Zubair Babakarkhail contributed to this report.
smith.josh@stripes.comTwitter: @joshjonsmith