Coalition denies airstrike on Syrian troops after fight involving US convoy
by
Chad Garland
August 17, 2020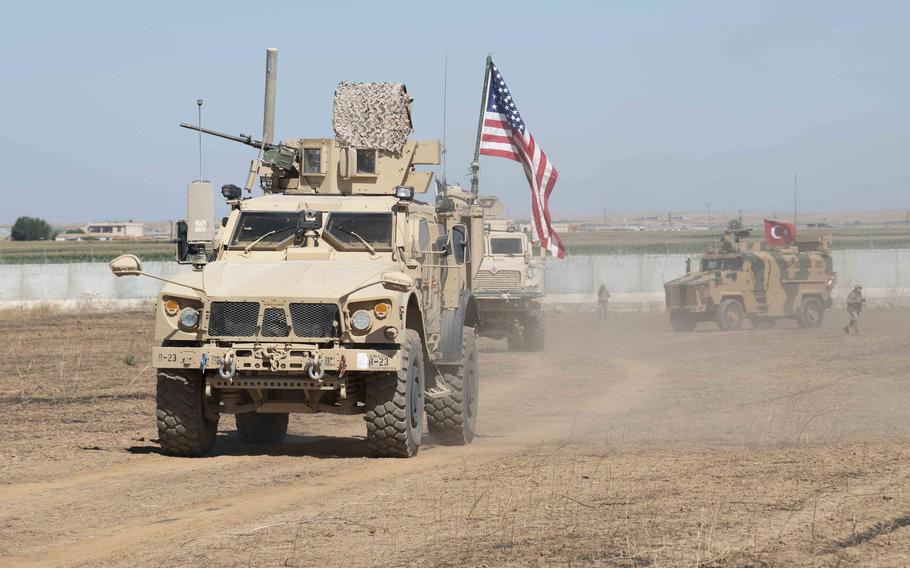 A convoy of U.S.-led coalition and partner forces returned fire after coming under attack near a Syrian military checkpoint in the country's northeast, the alliance said, but it denied reports of an airstrike.
A routine anti-Islamic State patrol, which included Syrian Democratic Forces, had received "safe passage from pro-regime forces" before coming under small-arms fire near the checkpoint, which was near Tal al-Zahab village in northeastern Hasakeh province, the coalition said in a statement.
"Coalition troops returned fire in self-defense," the statement said. "The coalition did not conduct an airstrike. No coalition casualties occurred."
Citing local sources, the London-based Syrian Observatory for Human Rights said earlier that Syrian regime forces blocked a U.S. military column at the checkpoint south of Qamishli, leading to an "altercation between both sides."
Video posted on Twitter showed an apparent exchange of small-arms fire and grenades. At least one helicopter was visible flying nearby in the video, posted by journalist Mohammad Hassan.
One soldier was killed and two were injured in the incident, the state-owned Syrian Arab News Agency reported, citing an unnamed Syrian military source who said the fighting began around 9:45 a.m., when a U.S. patrol tried to enter the area. "Warplanes" struck about 30 minutes later, causing the casualties, the source was reported as saying.
U.S. forces routinely patrol the area, where several hundred Americans, mostly special operations troops, are deployed to small bases to train, advise and assist Kurdish-led Syrian Democratic Forces fighting the Islamic State group.
Syrian military forces loyal to President Bashar Assad, known as the Syrian Arab Army, also patrol the area along with their Russian backers in the ongoing civil war that began in 2011.
U.S. forces have near daily contact with Russian forces there, officials have said, though they have said tensions are usually settled nonviolently.
Videos posted online in recent months have shown instances of one side's convoys escorting the others, or vehicles from Russian and American convoys vying for position on roadways. In one instance last February, American troops returned fire after Assad regime loyalists attacked near Qamishli, resulting in one Syrian death.
Last month, Brett McGurk, the former U.S. special envoy to the anti-ISIS coalition, posted a video to Twitter showing Russian vehicles converging on a U.S. patrol. Such confrontations occur daily since the U.S. withdrew in October from territory near Syria's border with Turkey ahead of a Turkish incursion, McGurk said. He called on President Donald Trump to "pick up the phone and tell Putin to stop harassing our troops."
U.S. military officials have declined to say how many U.S. troops are in Syria to assist in the anti-ISIS fight, but earlier this year there were a few hundred at a remote garrison in southeast Syria and several hundred more at bases in the northeastern provinces of Hasakeh and Deir al-Zor.
Some 5,200 U.S. troops remain in Iraq to assist government forces.
The convoy returned to its base after the firefight with apparent pro-Assad forces Monday, the coaltion said. The incident is under investigation.
garland.chad@stripes.com Twitter: @chadgarland