Coalition airstrikes soared even as US, Taliban talked peace
by
J.P. Lawrence Phillip Walter Wellman
September 12, 2019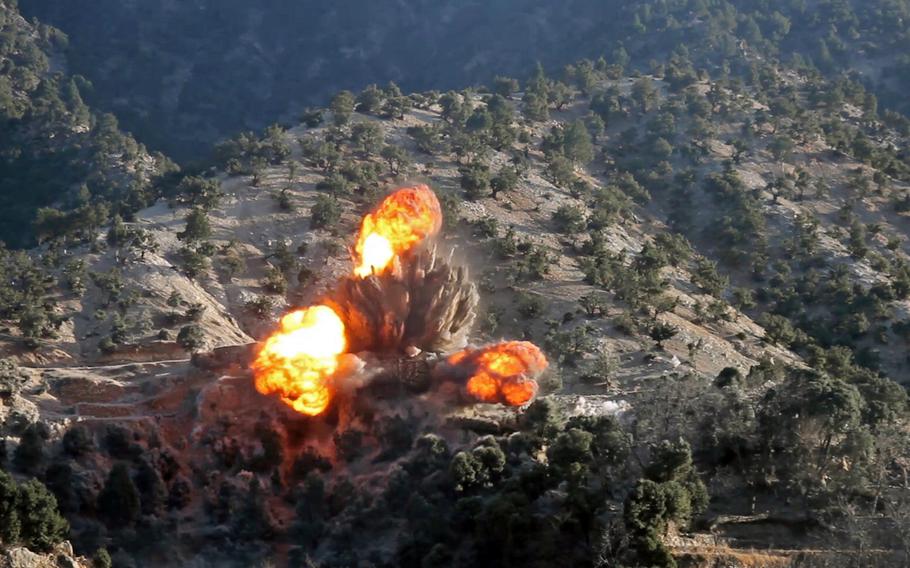 KABUL, Afghanistan — As U.S. and Taliban officials talked peace, the U.S. military was accelerating airstrikes in Afghanistan, with the biggest monthly tally of the year carried out in August as the negotiations were in their final stage, a new report shows.
President Donald Trump cancelled a planned Camp David meeting with the Taliban last weekend and declared the 10-month negotiations were "dead." He cited the Sept. 5 suicide car bombing that killed an American soldier and 11 other people in Kabul.
"When the Taliban tried to gain negotiating advantage by conducting terror attacks inside of the country, President Trump made the right decision to say that's not going to work," Secretary of State Mike Pompeo said Sunday in explaining why the peace talks were scrubbed.
Throughout the negotiations, however, the U.S.-led coalition and their Afghan partners have sought to use battlefield pressure to push the Taliban into a settlement to end America's nearly 18-year war.
A coalition report released Tuesday showed that U.S. forces carried out 810 airstrikes in August, compared with 537 in July. About 700 airstrikes were carried out in May, which the Bureau of Investigative Journalism had said was the year's highest monthly total based on data from the U.S. military.
The data does not specify targets, but does include general locations, most of which appear to be in Taliban-held areas.
Between May 10 and Aug. 8, U.S. and Afghan airstrikes increased nearly 60% compared with the same period in 2018, according to a U.N. report published last week.
In recent days, the U.S. "has hit our enemy harder than they have ever been hit before, and that will continue," Trump said Wednesday during a Pentagon ceremony to mark the Sept. 11, 2001, attacks on the U.S. Those attacks spurred America's invasion of Afghanistan to topple the Taliban government that refused to hand over al-Qaida founder Osama bin Laden and other terrorists responsible for the attacks.
Data wasn't immediately available to support Trump's claim, and he didn't specify whether he was referring to ground engagements or airstrikes.
A Pentagon report to Congress in July touted efforts to synchronize and increase U.S. and Afghan operations to "put heavy pressure on the Taliban" and "provide strong incentives for them to engage in meaningful negotiations."
The intensified operations have pushed battlefield casualties to unprecedented levels, analysts said. Sweden's Uppsala University Department of Peace and Conflict Research program recorded 14,000 battle-related deaths during the first half of the year.
The prospect of even greater violence now comes in a bloody year that the Uppsala researchers have said is on track to be the country's deadliest in 30 years.
"The better part of this surge in violence is caused by fighting involving the Taliban," said Therese Pettersson, research coordinator of the Uppsala department. "Fatalities caused by U.S. airstrikes are also included in these tolls ... which is one reason why fatalities have increased."
Meanwhile, the Taliban have also stepped up their operations, which have long been the leading cause of civilian deaths and injuries in most years. In addition to the Kabul bombing that killed the American soldier last week, the group launched multipronged attacks on the largest cities in Kunduz, Baghlan and Farah provinces in early September.
But it's doubtful heavier fighting holds the key to ending the conflict, said Jason Dempsey, an Army veteran and adjunct senior fellow at the Washington-based Center for a New American Security research organization.
"We've been fighting the Taliban for 18 years," Dempsey said. "If we had the capability to escalate violence to a point that would cause the Taliban to take a fundamentally different approach does anyone think we wouldn't have actually already tried that?"
wellman.phillip@stripes.com Twitter: @pwwellman