CENTCOM surveillance footage shows ISIS using human shields
by
Chad Garland
April 22, 2017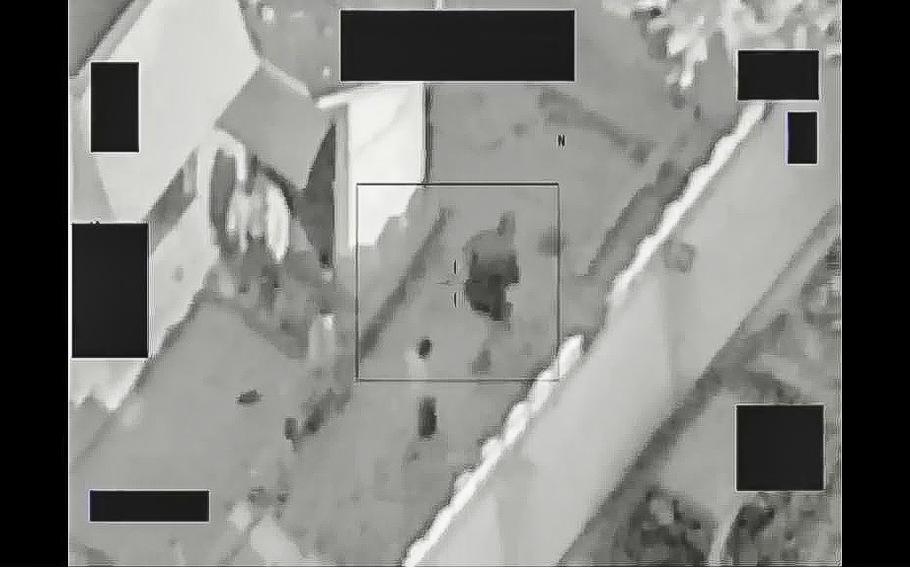 IRBIL, Iraq — The Pentagon on Friday released surveillance footage it says shows the coalition's restraint in striking Islamic State targets when civilians are in danger.
The video follows a series of large-scale civilian casualty incidents last month that brought heightened scrutiny on coalition forces battling ISIS militants in Iraq and Syria.
The nearly 2 ½-minute-long video is condensed from two hours of footage from March 29, according to U.S. Central Command. CENTCOM said the video shows Islamic State militants establishing fighting positions and firing on advancing Iraqi forces from a compound where women and children are being herded through an enclosed courtyard. The video appears to include footage that Iraq's elite Counter-Terrorism Service posted to Facebook roughly three weeks ago.
A statement at the opening of the video claims "there was no counter airstrike because the full-motion video made it clear civilians were present."
The video's release comes after weeks of U.S. and coalition officials claiming that ISIS has escalated its use of civilians as human shields.
Brig. Gen. John B. Richardson IV, a top commander charged with approving strikes in Iraq, called it "human sacrifice" in response to criticism that the coalition has not done enough to prevent civilian deaths.
Airwars, a nonprofit that seeks to track civilian deaths, said it has recorded an increase in reported casualties beginning around the end of 2016. It has tallied more than 3,000 alleged civilian casualties in Iraq and Syria, though the coalition has confirmed less than one-tenth that number.
Some critics suggest President Donald Trump has relaxed requirements that prevent noncombatant deaths. Defense Department officials say the rules have not changed but the tempo of the anti-ISIS battle is increasing.
DOD officials say authority to call in strikes has been delegated to field commanders closer to the front lines, speeding up the coalition's reaction to troops taking enemy fire.
ISIS appeared to be hit hard by this shift in procedure, but apparently seized on it by packing civilians into buildings that were then used as fighting positions to draw coalition strikes - the same type of behavior the video released by the Pentagon on Friday purports to show.
Accusations against the coalition reached a fever pitch in mid-March when a series of deadly strikes in Syria and Iraq led to dozens of apparent civilian deaths. In west Mosul, an estimated 300 noncombatants are believed to have been killed in a March 17 strike the U.S. has said it likely played a part in.
The incident is still being investigated, but U.S. and Iraqi officials said they didn't know the civilians were present, claiming the militants may have rigged the area for secondary explosions and may have secretly herded civilians into the buildings to amp up the carnage for use as anti-coalition propaganda.
Top generals for both the coalition and the Iraqi forces have said the strategy is forcing officials to be more cautious before attacking militant positions.
Iraqis said they're now focused in trying to allow civilians to flee the city, where hundreds of thousands are believed to remain, though more than 430,000 Iraqis have fled since fighting began in October. More than 330,000 people are still displaced and thousands stream out of the city daily, according to the United Nations.
garland.chad@stripes.com Twitter: @chadgarland