CENTCOM's Votel: 'Moscow plays both arsonist and firefighter' in Syria
---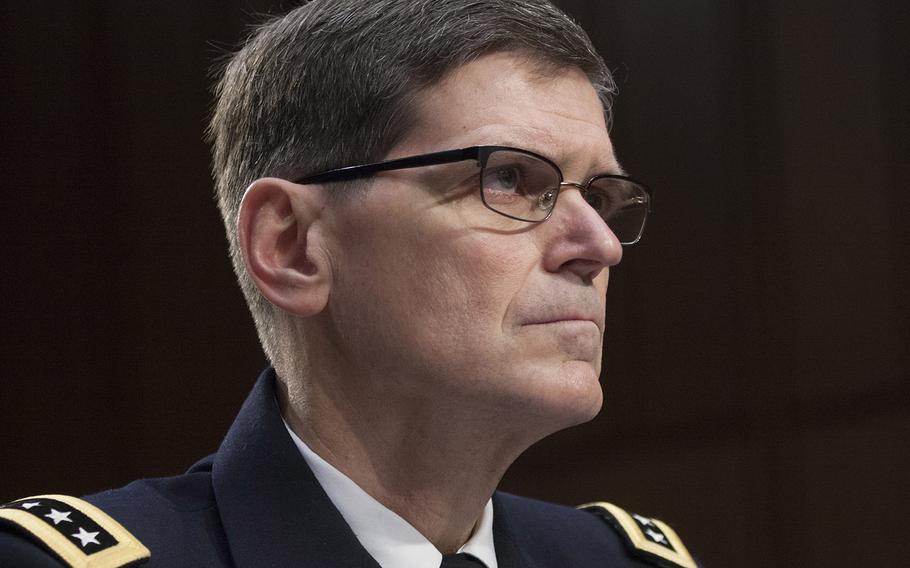 WASHINGTON — Army Gen. Joseph Votel, commander of U.S. Central Command, warned a panel of lawmakers Tuesday that Russia and Iran are fueling new destabilization efforts in the Middle East that could impede U.S. gains in the region and against the Islamic State.
Votel made the stern warning during a House Armed Services Committee hearing on terrorism and Iran and the remaining defense challenges in the Middle East.
The general said Russian support of Syria's President Bashar Assad has propped up his regime and complicated the defeat of ISIS. It has also fueled conflict among forces in the region, including the Syrian regime, the Syrian Democratic Forces, Iran, Turkey and U.S.-led coalition forces.
"Diplomatically and militarily, Moscow plays both arsonist and firefighter, fueling tensions in Syria… then serving as an arbitrar to resolve disputes, attempting to undermine and weaken each party's bargaining positions," Votel said. "Despite the key role that our partners on the ground – the Syrian Democratic Forces and the coalition – have played in dealing defeat to ISIS, Russia has placed this progress at risk with their activities, which are not focused on defeating ISIS… It is clear that Russia's interests in Syria are Russia's interests and not those of the wider international community."
The strong words come in the wake of a new National Defense Strategy last month that is shifting the military's focus from the global fight on terrorism to a great rival power struggle with Russia and China.
Tensions with Russia continue to escalate in the region as media reports revealed that Russian mercenaries attacked U.S. special operation forces in eastern Syria earlier this month.
"This was a very clear case of self-defense on our part," Votel said of the U.S. response to the effort.
Even as the United Nations issued a new cease-fire resolution in Syria last weekend, it appeared to have little effect. Russia helped draft the directive, Votel noted.
"Russia has to admit it's not capable or it does not want to play a role in ending the Syrian conflict here," he said. "I think their role is incredibly destabilizing here."
This, as Iran also fuels a destabilizing influence in the region, Votel said. The region, the site of a long history of proxy wars, has seen Lebanese Hezbollah forces operating in multiple countries, hardline Iranian-backed Shia militia groups in Iraq and Syria and Iranian support has enabled the Houthis, an Islamic rebel movement, Votel said in prepared remarks. The convergence has fueled the civil war in Yemen.
Even as much attention is focused on North Korea's nuclear weapons program, Iran's weapons development remains a threat as U.S. leaders wrangle over the future of the Joint Comprehensive Plan of Action agreement.
"Iran continues to develop advanced ballistic missile capabilities and also transfer them to the Houthis and to its Hezbollah proxies," Votel said. "This will enable them to strike U.S. partners and allies, and the possibility Tehran will reinvigorate its nuclear program … Nuclear proliferation, combined with proxy warfare, increases opportunities for miscalculation and generates a serious threat to the region and the United States."
CENTCOM's mission is facing a difficult challenge as Russia, China and Iran look to increase their influence in the region, said Rep. Mac Thornberry, R-Texas, chairman of the House Armed Services Committee.
That means Votel "has his hands full" maintaining U.S. national security, he said.
"The United States cannot afford to remove our attention or our presence from this vital area," Thornberry said. "The challenge, however, is that CENTCOM has received the lion's share of military resources for some time, and while its importance remains, we have to be more active in other vital areas of the world at the same time."
In a 45-page packet of prepared remarks, Votel said the global coalition to defeat ISIS and its partners, in particular the Iraqi Security Forces and Syrian Democratic Forces, have made "extraordinary progress" for more than three years.
Among those efforts, the group has liberated Mosul and Raqqa, the former capitals in Iraq and Syria of the Islamic State's self-proclaimed caliphate, he said.
Now, more than 98 percent of the territory in Iraq and Syria formerly held by ISIS is no longer under their control, Votel said.
In Afghanistan, the Operation Enduring Freedom Coalition, which is comprised of 39 countries, is supporting an "increasingly capable Afghan National Defense and Security Forces as they destroy Taliban and ISIS safe havens, remove terrorists from the battlefield, and establish the conditions for greater Afghan governmental control," he said.
But Votel agreed with lawmakers that even with these gains, CENTCOM continues to fight an uphill battle in the region.
"Despite the great strides we have made, there is much work left to do," Votel said in prepared remarks. "The challenges in the region are many: terrorism, violent conflicts, massive refugee populations, economic stagnation, social upheaval, great power competition, nuclear and ballistic missile threats, humanitarian crises and radical violent ideologies to name a few."
Votel, however, said as focus shifts to Russia and China, the United States can continue to do a lot in the region with a smaller force through its key partners on the ground.
"Certainly one of the key challenges is making sure we don't create the impression that we are abandoning CENTCOM," he said. "This will always require us to be engaged to some aspect."
grisales.claudia@stripes.com Twitter: @cgrisales
---
---
---
---