CENTCOM general says he can't recommend full withdrawal until Taliban comply with accord
by
Corey Dickstein
June 10, 2020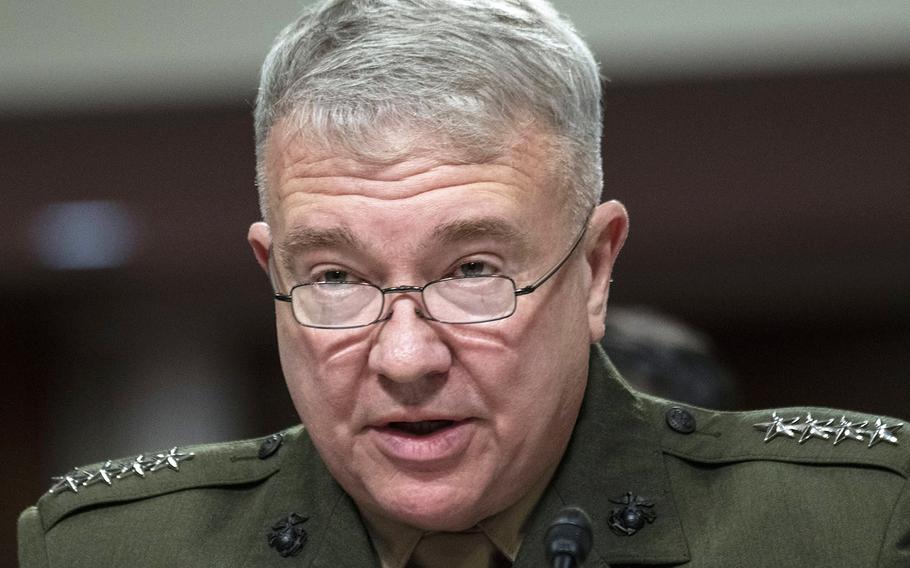 WASHINGTON — U.S. Central Command's top general said Wednesday that he cannot recommend a full withdrawal of American troops from Afghanistan by mid-2021 unless the Taliban demonstrate they no longer support al-Qaida forces there.
The United States is on track to draw down its force size to about 8,600 troops by next month, a stipulation agreed to in the Feb. 29 accord signed with the Taliban, Marine Gen. Kenneth F. McKenzie, the CENTCOM commander, said Wednesday. But the Taliban has yet to meet conditions laid out in that agreement, including cracking down on terrorist groups, which McKenzie said would make him comfortable in recommending a full drawdown of American forces from Afghanistan by May 2021, a time marker also placed in that deal.
"If conditions would allow, we're prepared to go to zero" by May, McKenzie said in a video conference hosted by the Washington-based think tank Middle East Institute. "If asked my opinion, those conditions have not been fully met."
McKenzie's remarks come just weeks after news reports indicated President Donald Trump had demanded the Pentagon draw up plans ​to fully withdraw troops from Afghanistan by the Nov. 3 presidential election. Top Pentagon officials have pushed back on such an option but will offer the president the plans, nonetheless, according to reports by The New York Times and The Washington Post, citing unnamed officials.
Trump, who has long called for a withdrawal from Afghanistan where U.S. troops have been fighting nearly 19 years, has not confirmed publicly that he ordered planning for a full drawdown. But on May 26, he told reporters that he wanted troops out "as soon as reasonable. Over a period of time, but as soon as reasonable."
On Wednesday, McKenzie reiterated the U.S. long-stated claim that it maintains troops in Afghanistan to ensure terrorist networks cannot use that country to plan attacks against Americans. The United States invaded Afghanistan in the weeks following the 9/11 attacks on New York and Washington by al-Qaida. U.S. and allied troops have fought there ever since. Since 2015, U.S. troops in Afghanistan have primarily trained and advised Afghan forces, but a small group also targets terrorists.
"The threat to the United States is not the Taliban, it's never been the Taliban, it's the entities they allow to live in Afghanistan," McKenzie said, referring primarily to al-Qaida.
The Taliban has regularly fought against Islamic State terrorists in Afghanistan, McKenzie said.
The U.N. wrote in a report last week that the Taliban had not severed its vast ties to al-Qaida and might have actually strengthened them in recent months. The Feb. 29 accord explicitly calls for the insurgent group to renounce al-Qaida and cut off any support to the terrorist group.
Some 400 to 600 al-Qaida fighters remain in Afghanistan, where they operate in 12 of the nation's 34 provinces, according to the U.N. That includes al-Qaida's top leader and successor to Osama Bin Laden, Ayman al-Zawahiri.
The U.N. report also accused the Taliban of consulting with al-Qaida throughout its negotiations with the United States. The report said the Taliban "offered guarantees that it would honor their historical ties" to al-Qaida. It described that longstanding alliance as "deep" and often "personal," including intermarriages and family ties.
Meanwhile, the Taliban has honored its commitment in the agreement not to attack American and other foreign coalition forces, McKenzie said. However, it has launched regular, aggressive attacks against U.S.-backed Afghan military and security forces.
Violence across the nation dipped during the Muslim holy month of Ramadan, which ended May 24. McKenzie said the Taliban have since "ramped back up" operations against Afghan government forces.
The general said he hoped he will soon see the Taliban and Afghan government begin long-sought negotiations, which he hopes could lead to a long-term ceasefire.
The two sides have begun informal negotiations and have taken some steps outlined in the Feb. 29 agreement toward more formal discussions, including the release of hundreds of prisoners. The Afghan government was not a party to the February agreement, but agreed to some terms laid out in it.
McKenzie said the coming weeks will mark a "very critical time" as the two sides edge toward a dialogue. But he said he worried the Taliban might not live up to the concessions it claims to be willing to make — either with the United States or the Afghan government.
"I think the Taliban needs to demonstrate that they're going to be faithful partners," the general said. "We don't have to like the Taliban, we don't have to believe the Taliban. What we need to do is watch the Taliban and see what they do. … [but] It's unclear to me yet they are fully embracing this and are ready to move forward. We'll know more in the days ahead."
dickstein.corey@stripes.com Twitter: @CDicksteinDC
---
---
---