Carter pledges transparent investigation into Kunduz airstrike
---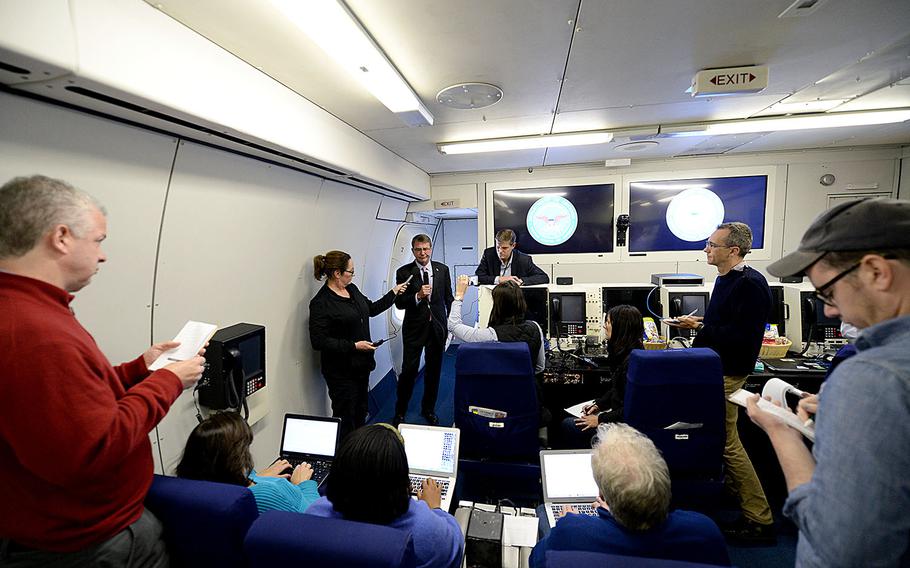 MADRID — Secretary of Defense Ash Carter said Sunday he would hold personnel accountable if an investigation shows that a U.S. airstrike in Kunduz, Afghanistan, hit a Doctors Without Borders-run hospital.
"There was American air action in that area," Carter told reporters traveling with him to Europe.
The U.S. military, which has acknowledged that it conducted an airstrike againt insurgents firing on Afghan and U.S. troops near the hospital, is investigating the attack early Saturday that hit the trauma center run by the aid agency Doctors Without Borders. The agency said 22 people had died and more than 30 were injured in the attack.
"This is a tragic loss of life," Carter said. "Your hearts can only go out to innocent people caught up in this kind of violence."
Carter pledged a full and transparent investigation and said he would hold personnel accountable if the investigation warrants it.
A senior defense official who spoke on condition of anonymity, said the C-130 gunship was responding to a request for cover from U.S. special operations forces on the ground who have been advising and training Afghan forces. Carter said he couldn't say whether the U.S. airstrikes may have had a role in the hospital's destruction. Asked if based on any reporting he'd seen he could rule out a U.S. role, the defense secretary said "I can't say that … because there was definitely destruction in those structures."
Carter said he spoke to the commander of U.S. forces in Afghanistan, Gen. John Campbell, on Sunday to discuss the possibility of modifying the air campaign to better avoid civilian casualties.
Campbell will be appearing before Congress in Washington this week to report on the increased violence in Afghanistan.
Carter is traveling in Europe for five days to work on what a senior defense official described as a "southern strategy" for NATO — how it can address an array of new threats posed by Russia's air campaign in Syria, the flood of refugees migrating to NATO member countries and the growth of violent extremist groups in North Africa. The Defense Secretary is also expected to discuss the role of the U.S. and NATO in Afghanistan after 2016, when the remaining 9,800 U.S. forces there are currently scheduled to withdraw.
When asked, Carter did not say whether the airstrike or the increased violence in Afghanistan would affect the current U.S. withdrawal plans.
copp.tara@stripes.com Twitter: @TaraCopp
---
---
---
---