Car bombing in Kabul kills 12, including three children
by
J.P. Lawrence
November 13, 2019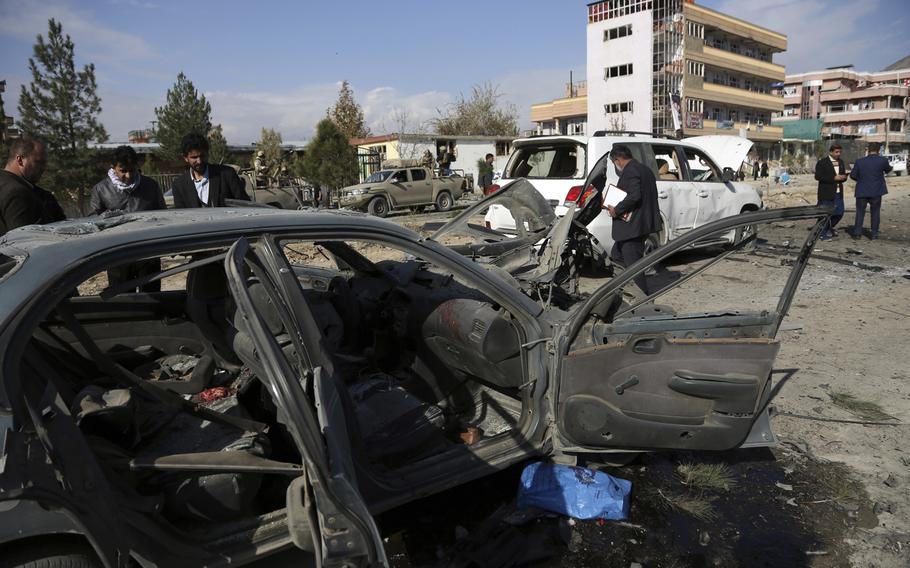 KABUL, Afghanistan – Twelve people were killed and at least 20 wounded Wednesday when a car bomb exploded in the north of Kabul, shattering weeks of relative calm in the Afghan capital, officials said.
The attack at 7:25 a.m. occurred near an Interior Ministry building, not far from the city's airport, said Interior Ministry deputy spokeswoman Marwa Amini.
NATO forces and the Air Force's 438th Air Expeditionary Wing are housed in the airport, but a Resolute Support spokesman said no service members were killed or wounded in the blast.
Three children were killed in the attack, not five as reported earlier, Amini said. Four foreign employees of Canadian private security firm GardaWorld were among the injured, she said.
No one has yet claimed responsibility for the attack, which came a day after President Ashraf Ghani announced that the Afghan government would free three high-level Taliban leaders in exchange for the release of two professors from the American University of Afghanistan, who have been held captive by the Taliban since 2016.
The bombing drew condemnation on Twitter from senior Western officials, including European Union special envoy for Afghanistan Roland Kobia.
"I would have thought that an important gesture such as the release of high-profile Taliban prisoners would be honoured & saluted by something like a ceasefire rather than a car bomb killing civilians/children," Kobia tweeted.
The attack comes during a deadly year for civilians in Afghanistan. The United Nations has said more than 2,500 civilians have been killed and 5,500 wounded in the first nine months of 2019.
"I strongly condemn today's #Kabul attack, killing & injuring civilians including children," tweeted NATO senior civilian representative to Afghanistan Nick Kay. "As Afghans demand peace, terrorists answer with violence."
lawrence.jp@stripes.com Twitter: @jplawrence3