'Budgetary pressure' has sailors in Bahrain feeling the heat
---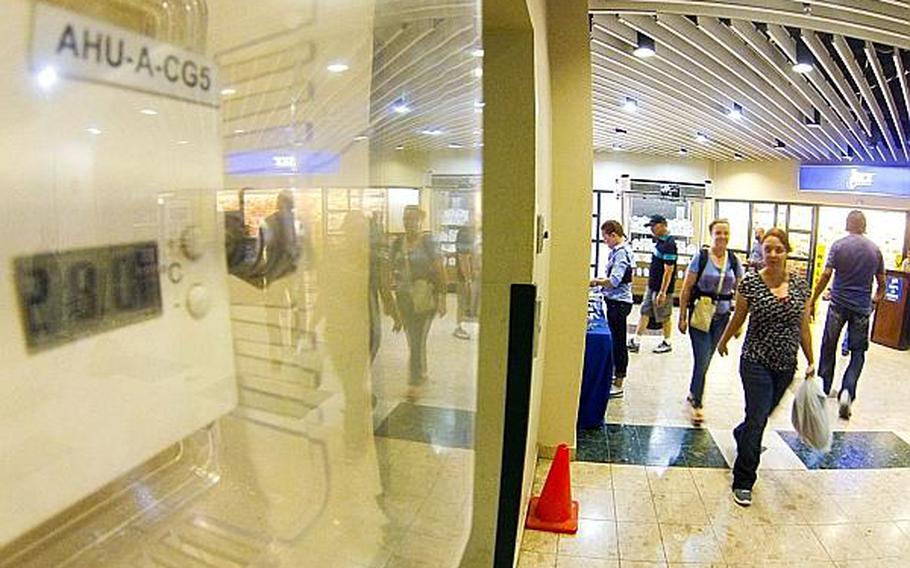 MANAMA, Bahrain — Some cost-cutting measures being implemented in Bahrain are a hot topic — literally.
Officials are raising the temperature to save on air-conditioning costs on the desert island, where outdoor temperatures routinely top 100 degrees Fahrenheit. The written policy cites "budgetary pressure" as the reason for the new rules.
"I've noticed more sweat," said Seaman Apprentice Marceliseo Arnesto. His work center has been compensating by using more fans, he said. But he's scaled back his workout at the gym because it's too hot, he said.
Seaman Recruit Ryan Agostinacci, who enjoys playing basketball at the gym agrees. "I play a couple of games, and I'm just like, 'Oh man, just get me out of this gym.' "
The new policy, from the Commander Navy Installations Command and adopted in early April, restricts air-conditioner thermostats to 80 degrees Fahrenheit on naval bases worldwide.
Not everyone is bothered by the restrictions. "It's not bad. Getting out of the sun is good enough for me," said Seaman Josh Goodlet, who normally works outside. "Eighty degrees is no big deal."
Petty Officer 1st Class Emilio Verdugo said saving energy "makes sense to a certain extent," but suggested there should be exceptions for some buildings, such as the gym and P-911, which houses recreational facilities, the food court and Navy Exchange.
In a written statement, Jennifer Stride, Naval Support Activity Bahrain spokeswoman, said the policy allows the base commander some discretion to maintain health and safety and ensure mission accomplishment.
Stride said that, after initially setting the building temperatures to 80 degrees, "the command observed the impact and made adjustments as necessary."
As of Thursday, temperatures in P-911 and other buildings felt slightly cooler. Thermostat settings varied from 75 degrees in the gym to 82 degrees at the Navy Exchange.
Stride said the command would continue to monitor and make adjustments as necessary to meet the mission and commander's intent to reduce utilities expenditures.
---
---
---
---