Between two worlds, airmen on ground provide security
by
Heath Druzin
March 22, 2012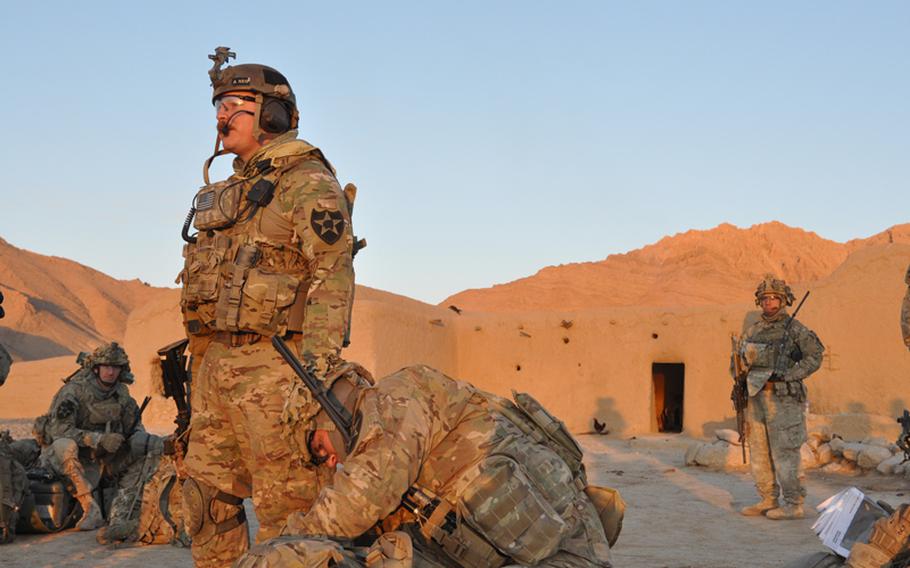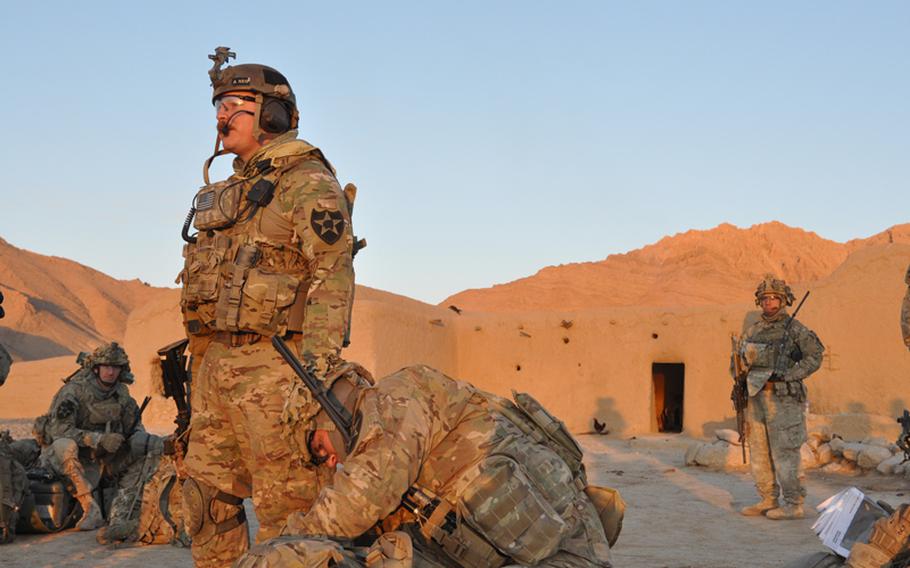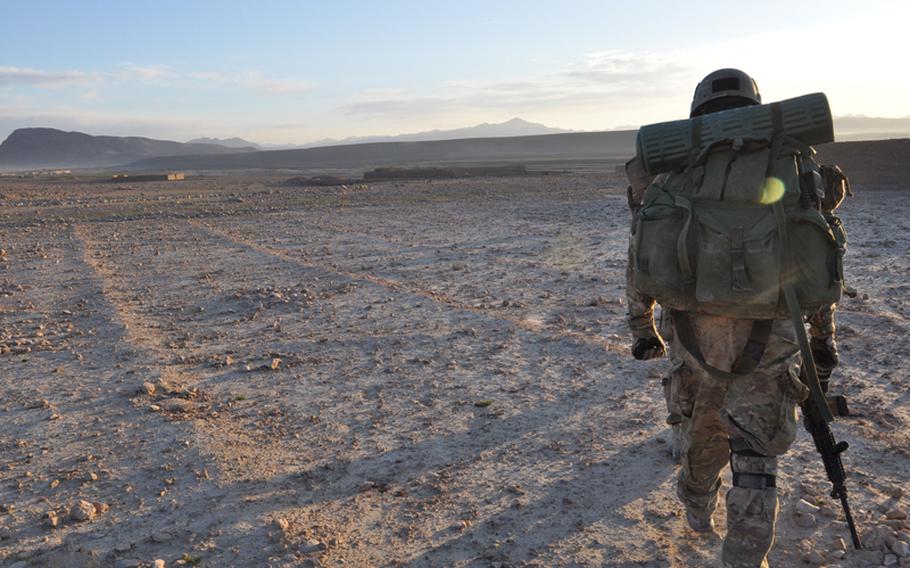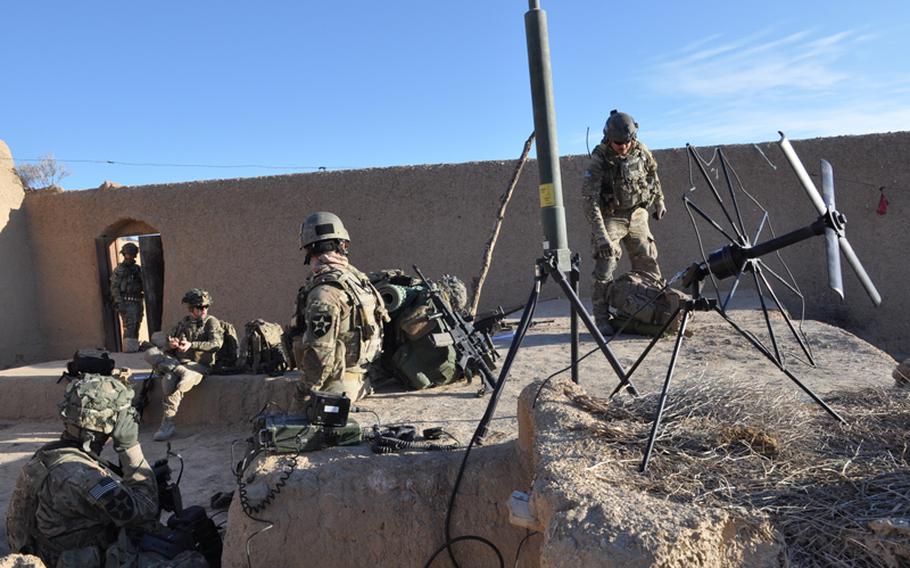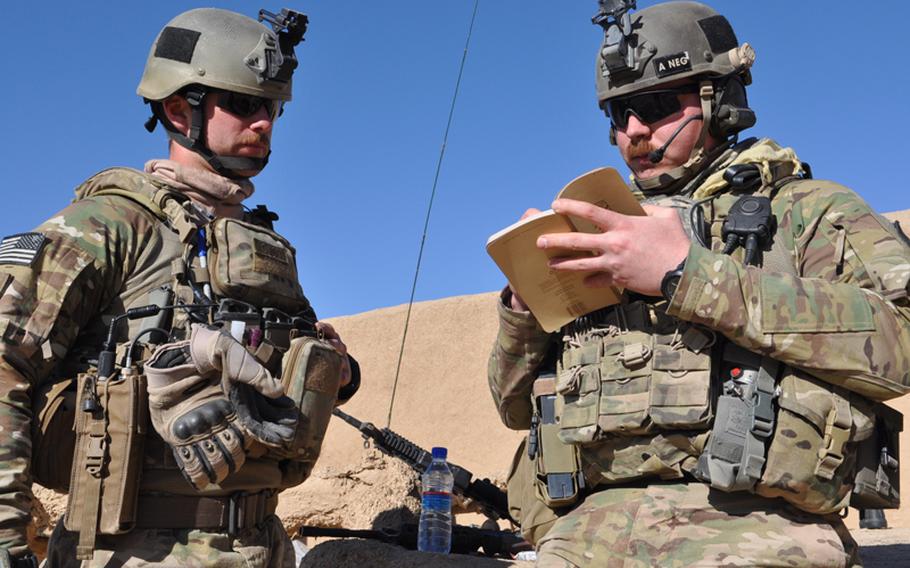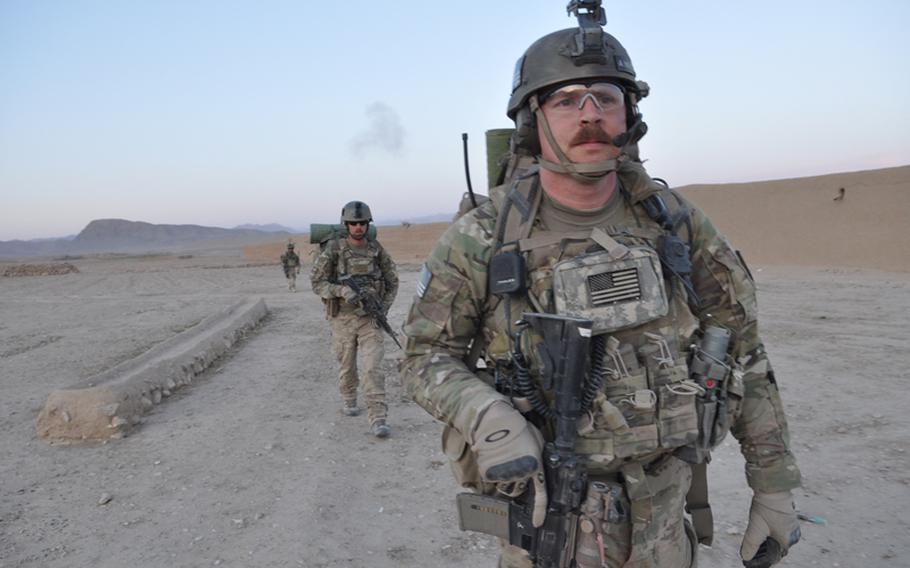 KANDAHAR PROVINCE, Afghanistan — Valentine's Day was for fighters this year for some 5th Battalion, 20th Infantry Regiment soldiers of who battled their way through five firefights in a small Kandahar province village, the rat-a-tat of automatic weapons fire permeating the air throughout the afternoon.
Pinned against the wall of mud brick compound during the final battle, Kalashnikov rounds started whizzing by uncomfortably close and Air Force Staff Sgt. Andy Carpenter had a decision to make.
Carpenter got on the radio with a pilot flying an A-10 Warthog, the versatile fighters used often for low altitude gun and bombing runs and asked for help. Minutes later, the snub-nose jet swooped low, opening up its Gatling guns on a tree line where insurgents had been firing on the platoon.
After the jet passed, the insurgent guns went silent.
Carpenter, a joint terminal attack controller, is part of a tactical air control party), a little known element of the Air Force that has played an outsized role in the wars in Iraq and Afghanistan.
TACPs partner with ground troops, staying in contact with aircraft overhead to provide close air support in the form of bombs and bullets when U.S. troops find themselves engaged by enemy forces.
Beyond coordinating ordnance drops, though, JTACs are the soldiers' direct line to the eyes in the sky that can warn them of impending danger or simply direct them to a difficult-to-find landing zone to get picked up. Joining a TACP team requires a tortuous training process, learning complex communications technology, detailed knowledge about aircraft, bombs, and potential for collateral damage, as well as becoming an expert rifleman.
With a harsh spotlight cast on civilian casualties over the past several years, the U.S. military has put tight restraints on close air support, especially around populated areas. Add to that a common tactic insurgents use of picking up children as human shields whenever they hear helicopters or planes overhead and close air support has become a complicated affair.
In fact, February was the quietest month for coalition airstrikes in more than three years, according to data from the U.S. Air Forces Central Command. Carpenter has not been approved to call in a single bomb this deployment.
In the early stages of the war in Afghanistan, TACPs proved especially crucial, partnering with the small special operations teams who fought the initial campaign with members of Afghanistan's Northern Alliance. As the U.S. relied largely on air power to knock out the Taliban, TACPs embedded with those units were able to coordinate bombing runs from the ground, often operating perilously close to Taliban fighters.
Astride two worlds
Part of the Air Force but living a life of Army bases and foot patrols, JTACs are troops with an identity crisis.
"After 10 years as a JTAC, I think I'm more infantry than Air Force," said Carpenter, 31, of Davenport, Iowa, adding, "Because of all the time we spend with the Army, we can be very misunderstood by the Air Force. We're a little more rough and rowdy."
It takes time for TACP members to gain the trust of their Army brethren, but once soldiers see them humping their rucks on patrol a few times and especially if they bail them out of a dangerous situation, the distrust melts away.
"We've just got to prove ourselves," said Airman 1st Class Travis Holland, 23, of Waverly, N.Y., the radio operator, maintainer and driver (ROMAD), or JTAC-in-training, working with Carpenter.
Ridiculing the Air Force is a time-honored Army tradition, but when things go wrong on the frontlines, soldiers are happy to hear the whir of an attack helicopter or the roar of a fighter jet swooping low to lay down bullets or bombs. It doesn't even necessarily take lethal force to knock a foe on their heels.
"Sometimes all you need is a B-1 (bomber) to come screaming off the deck at 500 feet to wake people up and keep you safe," said Lt. Col. Steven Soika, who commands the 5th Battalion, 20th Infantry Regiment, to which Carpenter and Holland are attached.
And it works both ways, with infantry troops gaining peace of mind by hearing aircraft above during a dangerous mission.
"It's almost like a psychological edge," Soika said.
Changing job
During a recent air assault mission to Taliban-controlled Ghorak district in Kandahar province, where hundreds of soldiers were on the ground, Carpenter and Holland were coordinating from their ad hoc command post in a mud brick compound, keeping in contact with military planes and attack helicopters, and even an airman in Nevada controlling drones.
Carpenter and Holland were busy, coordinating surveillance throughout the two-day mission and helping an errant group of soldiers find a helicopter landing zone in the middle of the night, but on this day there were no airstrikes to call.
"What's really changed is the war itself," Carpenter said, when asked how his job differs now from his start a decade ago. "If you would have come here two years ago, you would have seen bombs galore. Now, not so much."
druzinh@estripes.osd.milTwitter: @druzin_stripes
---
---
---