Bataan group extended in Mideast
By
Hendrick Simoes simoes.hendrick@stripes.com
August 31, 2014
---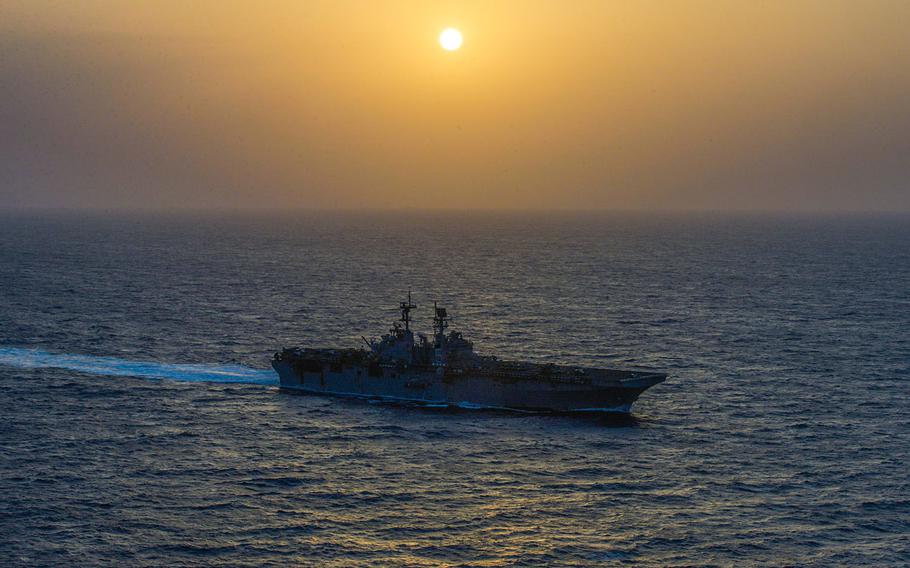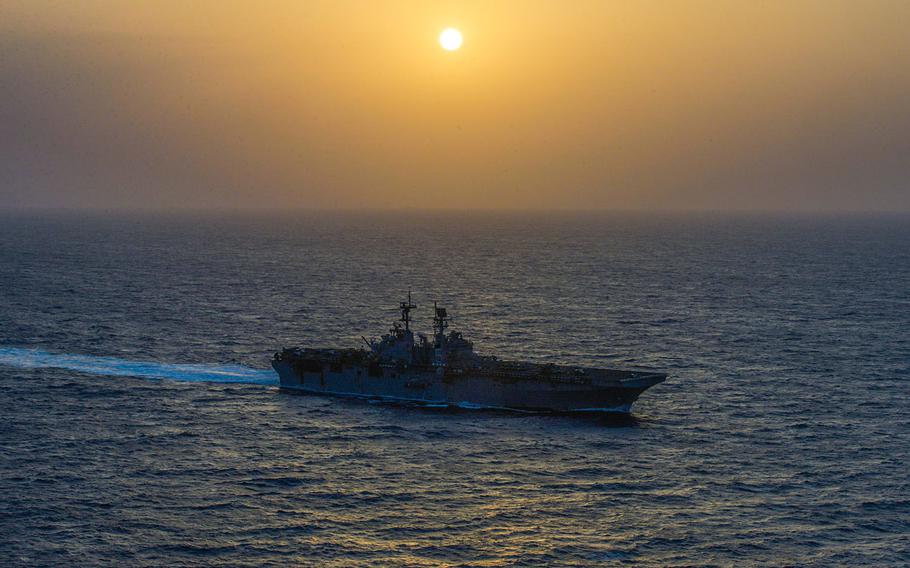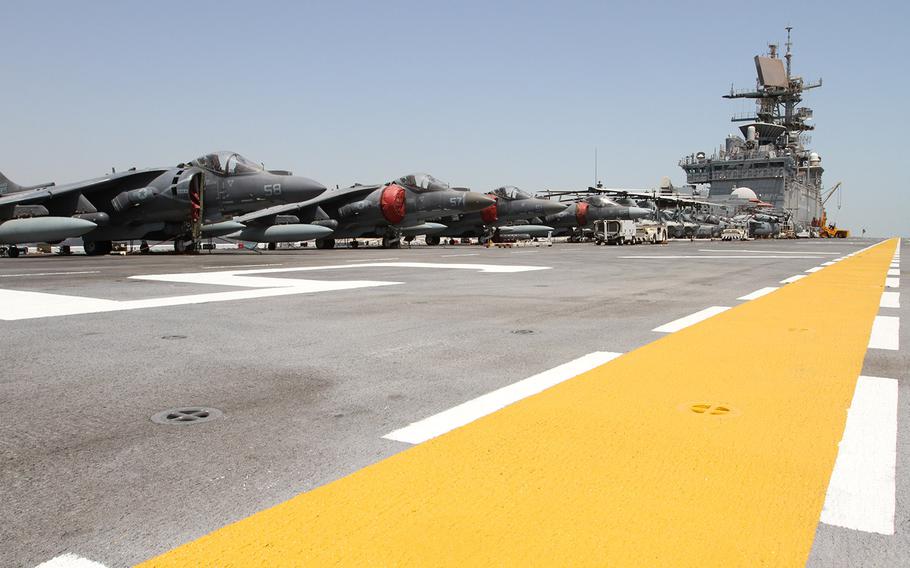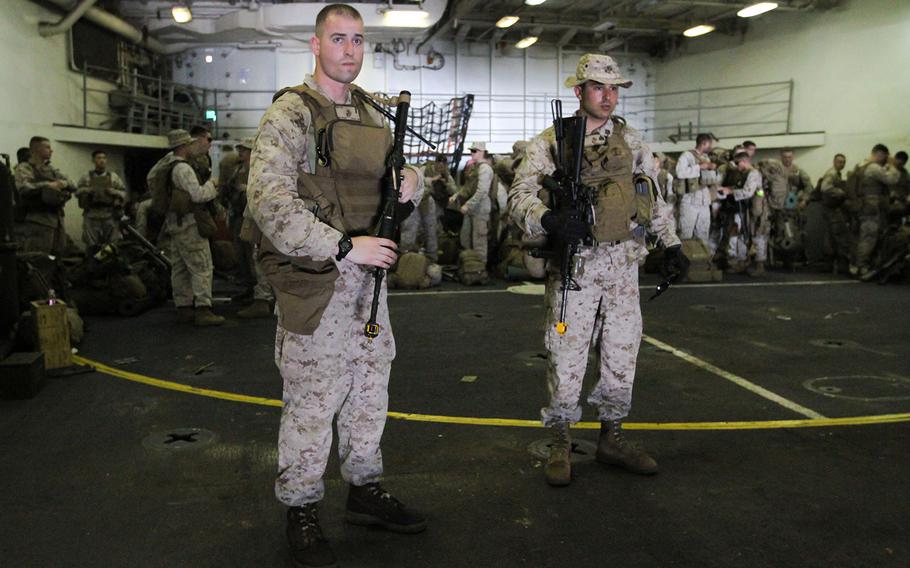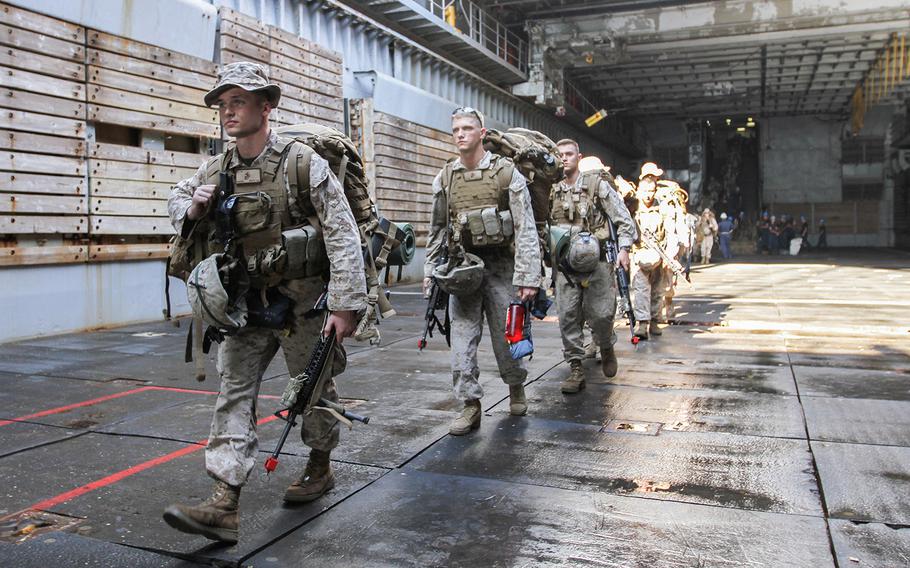 MANAMA, Bahrain — The Bataan amphibious ready group will remain in the Middle East for three more weeks, Navy officials announced Saturday.
Secretary of Defense Chuck Hagel ordered a 21-day extension for the ready group and its embarked 22nd Marine Expeditionary Unit in the U.S. 5th Fleet area of responsibility, the Navy said in a news release.
The Norfolk, Va.-based Bataan amphibious ready group — composed of the USS Bataan, the USS Mesa Verde and the USS Gunston Hall — left home Feb. 8 on a regularly scheduled eight-month deployment. Much of the group's time has been spent in the Middle East and Mediterranean Sea areas, where it has been poised for potential crisis response.
In June, as fighters with the Islamic State, which seeks to create a caliphate across swaths of Syria and Iraq, threatened Baghdad, some of the group's assets were ordered into the Persian Gulf. Since Aug. 8, the 22nd MEU's Air Combat Element has been conducting surveillance and reconnaissance missions from the Bataan over Iraq, using its AV-8B Harrier aircraft, officials said.
The more than 4,000 sailors and Marines who are part of the Bataan group were expected to start their transit home in the coming days, arriving in October. Instead, they will remain in the region until the Makin Island amphibious ready group and the embarked 11th MEU — already on their way — arrive for a "face to face turnover" on station.
"We're being extended to assure a continuous ARG/MEU physical presence in the [Persian] Gulf and uninterrupted support for any potential tasking that may occur," said Capt. George Vassilakis, the Bataan's commander, in a letter to family and friends posted on the ship's official Facebook page. He said the return home has been rescheduled for the end of October.
An amphibious ready group's diversified assets give the U.S. military crisis-response capabilities that can be tailored for a wide range of situations, from disaster relief to combat. For this reason, the group is often referred to as the "Swiss Army Knife" of the joint forces.
Twitter: @hendricksimoes
---
---
---
---