Bahrain to join US-led naval coalition in the Persian Gulf
---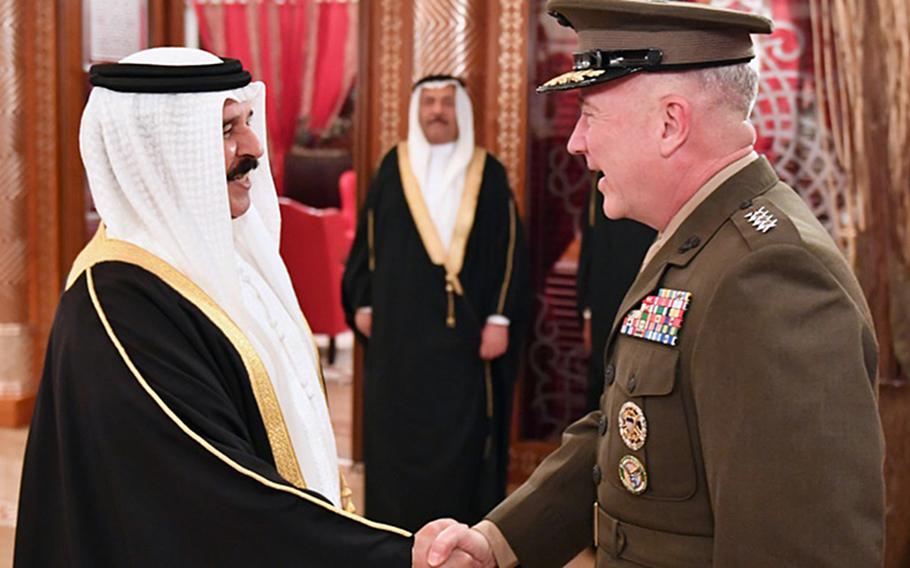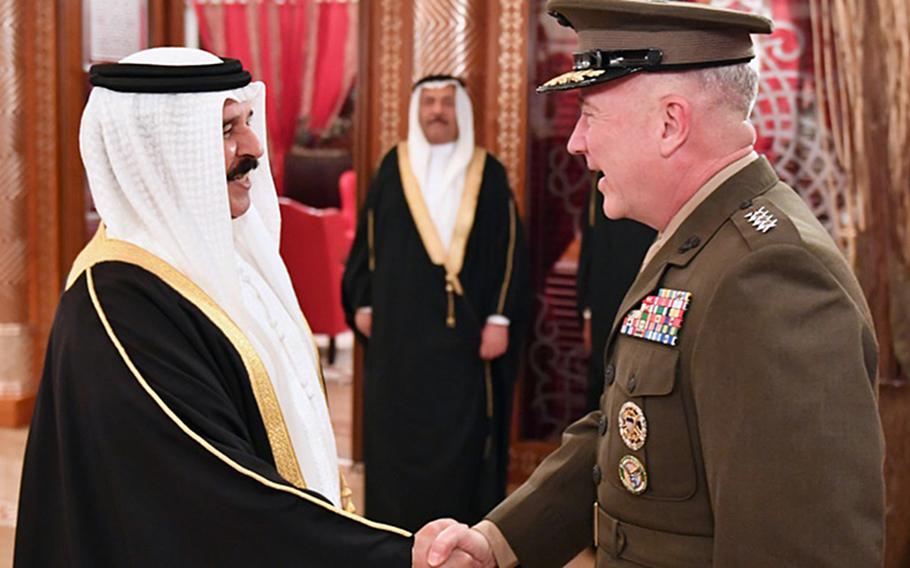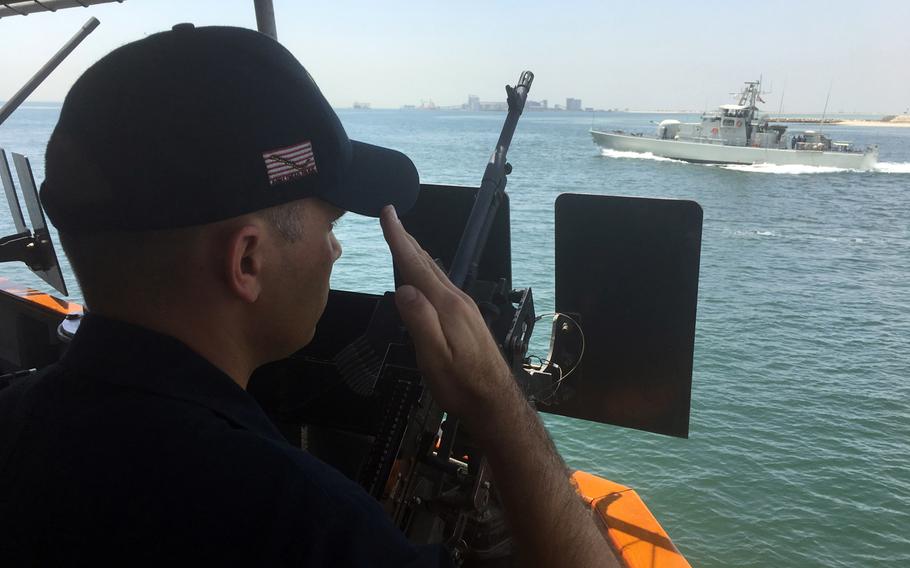 MANAMA, Bahrain – Bahrain has agreed to join a U.S.-led coalition for maritime security in the Persian Gulf, making it the third member of a group proposed in the wake of heightened tensions with Iran.
U.S. Central Command boss Gen. Kenneth McKenzie Jr. said in a statement Monday that he "welcomes the Kingdom of Bahrain into the International Maritime Security Construct."
"I appreciate His Majesty King Hamad bin Isa Al-Khalifa's decision to join the United Kingdom and the United States in taking an active role in preserving the freedom of navigation, promoting maritime security and de-escalating regional tensions," McKenzie said.
Bahrain did not specify the extent of participation for its Navy, which has a former U.S. Perry-class frigate as its flagship and a few dozen patrol vessels.
The king confirmed his country's participation in "the joint effort to preserve the safety of international maritime navigation and secure international corridors for trade and energy in the region," the official Bahrain News Agency reported Monday.
The announcement came as Hamad visited Naval Support Activity Bahrain, home to the U.S. 5th Fleet and the U.K. Maritime Component. Hamad spoke to U.S., British and Bahraini forces, hailing the partnerships as a "foundation" for regional stability.
Cooperation is aimed at ensuring "that all parties are obliged to respect the laws and norms governing relations of good neighborliness, mutual respect for sovereignty and independence of states, and non-interference in internal affairs," Hamad said.
Bahrain is only the third nation to commit to the coalition, which was proposed as a reaction to what the U.S. and Britain have said is harassment of commercial shipping by Iran, which has denied the accusation.
The U.K. has already beefed up its presence in the Gulf after a British-flagged tanker was seized by the Iranian Revolutionary Guard Corps in July. British forces had seized an Iranian tanker on July 4 near Gibraltar, accusing it of violating international sanctions targeting Syria.
Gibraltar released the tanker Sunday, citing European Union rules on the sanctions that differ from those imposed by Washington.
European navies haven't yet shown interest in joining the coalition. Several opposed the U.S. move to pull out of a 2015 accord aimed at curtailing Iran's nuclear program, a deal that the Trump administration considered flawed.
McKenzie said that he looks forward to working with Bahrain and other nations to secure freedom of navigation in the region.
"The free flow of commerce throughout international waterways is a linchpin of the global economy, and we appreciate the Kingdom of Bahrain's leadership and support in preventing aggression from curtailing that freedom," McKenzie said.
karsten.joshua@stripes.com Twitter: @joshua_karsten
---
---
---
---