Bahrain coastal patrol ship commanding officer relieved of duties
By
Chris Church church.chris@stripes.com
March 13, 2016
---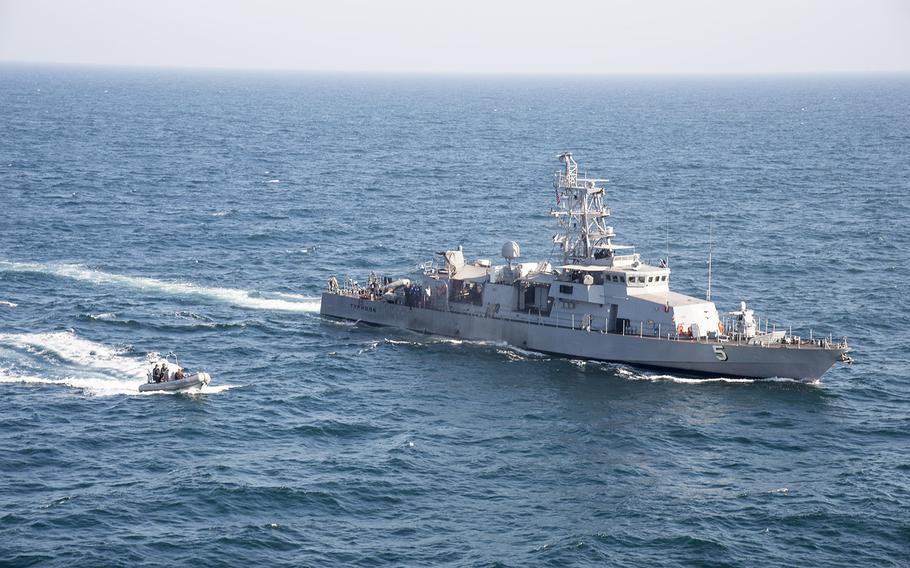 MANAMA, Bahrain — The commanding officer of the coastal patrol ship USS Typhoon, Lt. Cmdr. Jeremiah Daley, was relieved of his duties Saturday due to a loss of confidence in his ability to command, the Navy said.
The commander of Patrol Coastal Squadron One Cmdr. Jake Douglas relieved Daley after an investigation into unsatisfactory performance and poor command climate, the Navy said in a statement. It did not offer any other details.
Until a new commander is named, Lt. Cmdr. Scott Whitworth, Patrol Coastal Squadron One's operations officer, has temporarily assumed command of the ship, which is based at Naval Support Activity, Bahrain, home of the 5th Fleet.
Daley, who commanded the USS Typhoon since May 2015, has been reassigned to Commander, Task Force 55 in Bahrain, the statement said.
The 10 coastal patrol ships — also known as PCs — that are based in the 5th Fleet Area of responsibility are tasked with escorting other vessels, gathering intelligence and protecting infrastructure. Because of their small size, they frequently take part in exercises with the navies of other U.S. allies in the region, whose ships are generally close in size to the PCs.
The 5th Fleet's area of responsibility covers some 2.5 million square miles, including the conflict-prone Persian Gulf. Naval operations in the 5th Fleet aim to ensure the free movement of ships throughout the region, which includes the strait, through which about one-fifth of the world's oil supply flows.church.chris@stripes.com Twitter: @CChurchStripes
---
---
---
---