Army pilots killed in helicopter crash in Afghanistan remembered for their 'heroic legacy' and heart
by
John Vandiver J.P. Lawrence
November 21, 2019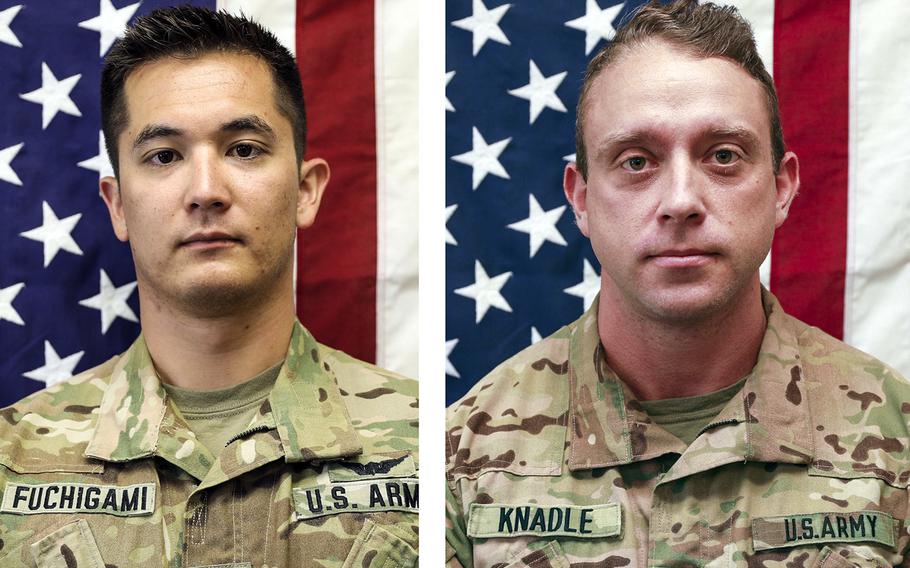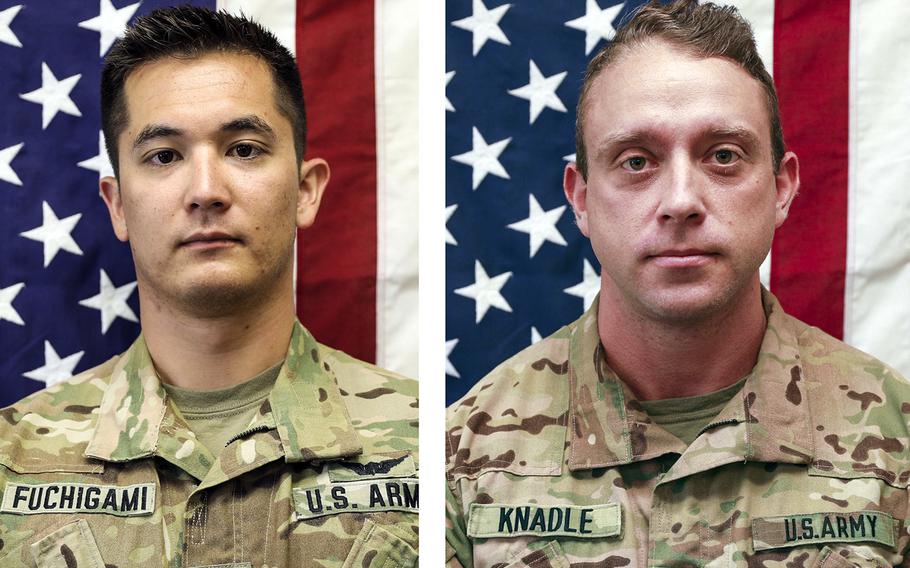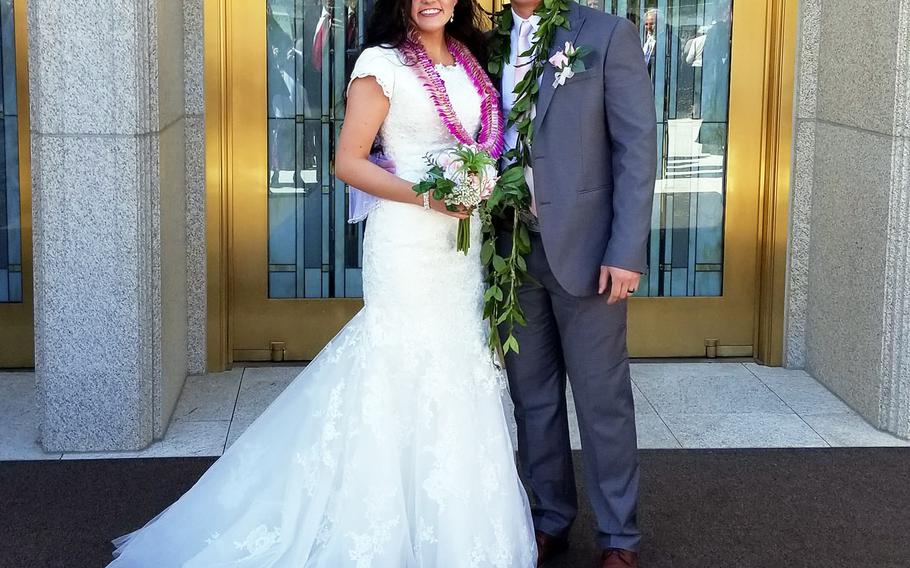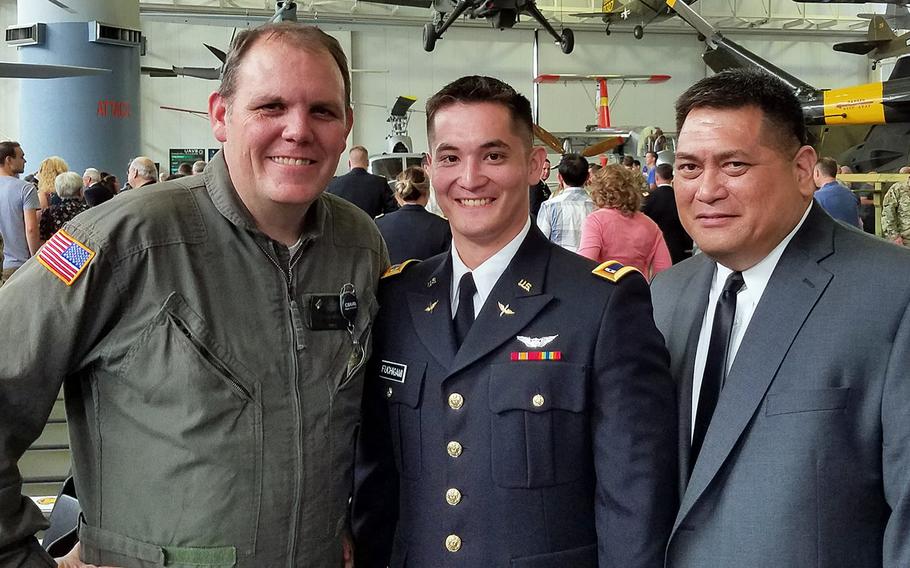 KABUL, Afghanistan – One of the Army pilots killed in a helicopter crash Wednesday in Afghanistan got married just eight months ago. His co-pilot was married with two children and had just begun to have success as a bodybuilder.
The Pentagon identified two Fort Hood-based soldiers, Chief Warrant Officer 2 Kirk T. Fuchigami Jr. and Chief Warrant Officer 2 David C. Knadle, as the service members killed in the crash.
Both soldiers died while on a mission in Logar province, where their helicopter crashed while providing security for troops on the ground, the Pentagon said in a statement Thursday. The incident is under investigation.
Fuchigami, 25, was from Keaau, Hawaii. Knadle, 33, was from Tarrant, Texas.
Both soldiers were Apache helicopter pilots assigned to 1st Battalion, 227th Aviation Regiment, 1st Air Cavalry Brigade, 1st Cavalry Division.
Fuchigami's wife, McKenzie, called her spouse "a strong, courageous soldier and loyal husband."
The two met on a blind date, and the Army pilot's determination made him stand out, she said in a phone call.
Fuchigami knew starting in high school that he wanted to be a pilot, his wife said. In flight school, he was known as a diligent student who wanted to be the best at what he did, friends said.
"He wanted a challenge, he loved his country, and … he always said he was willing to die for his country," a tearful McKenzie said.
The two married this spring, and she said on Facebook that their time together was "the best months of my life."
In the last messages the couple shared, Fuchigami told his wife that he loved her and was going to call her soon.
"The last thing he sent me, was a heart," she said.
Knadle entered active duty in the Army in 2013. Knadle and Fuchigami were awarded the Bronze Star Medal, and both deployed to Afghanistan last month.
Knadle had recently taken up bodybuilding and proudly announced on Facebook that he had lost 40 pounds and placed second in his first-ever competition.
"He could have made all the excuses about not having time or doing operations in the field without healthy food to eat, but instead, he chose to change his life," the organizers of the competition said in a post online.
Linda Knadle Rodante, who identified herself as Knadle's aunt, said in a Facebook post Wednesday that the soldier was married with two children — a boy and a girl.
"Our heartfelt condolences go to both families and their friends during this difficult time," said Lt. Col. Adam Camarano, the soldiers' battalion commander, who added in a statement that Fuchigami and Knadle "will always be remembered as a part of the heroic legacy of the 1st Cavalry Division."
The Taliban claimed to have shot down the helicopter in a statement Wednesday. However, Fawad Aman, Afghan Defense Ministry deputy spokesman, denied the claim and said the crash occurred due to a technical problem with the aircraft.
The crash destroyed the helicopter, which was participating in a night raid, said Deedar Lawang, a Logar province spokesman.
There have been 19 U.S. combat deaths in Afghanistan in 2019, the deadliest year for American troops in the country since international combat operations ended in late 2014.
The burden of their deaths is carried by families and friends.
Edward Mitchell, a flight instructor at Fort Rucker, Alabama, could barely speak about Fuchigami without choking up.
The Mitchell family adopted Fuchigami after he began flight school at Fort Rucker in April 2017. Fuchigami was quiet, but he would "give you the shirt off his back" once he got to know you, Mitchell said.
"He became like a brother to my sons," Mitchell said over the phone, his voice cracking. "He gave his time freely to those boys. He didn't have to, he didn't need to, but he wanted to."
On Tuesday, Fuchigami was helping Mitchell's 17-year-old son cope with heartbreak through text messages. At point, in one of his last texts, Fuchigami said he had to go.
He was leaving for what would be his final mission.
Zubair Babakarkhail contributed to this report.
lawrence.jp@stripes.com Twitter: @jplawrence3
vandiver.john@stripes.com Twitter: @john_vandiver