Army mechanics deployed to Jordan trick out an ATV
---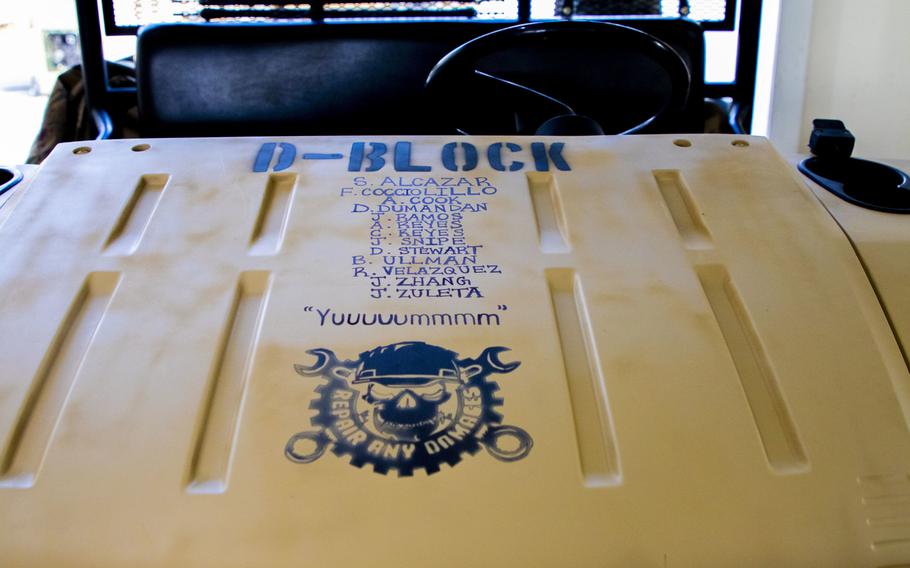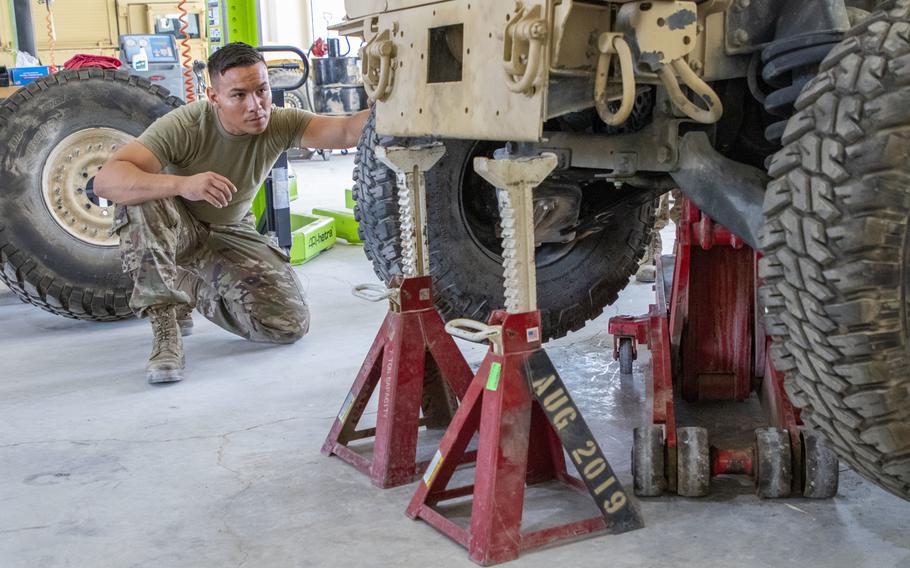 A group of mechanics from the New Jersey Army National Guard deployed to Jordan "transformed an eyesore into eye candy" by restoring and pimping out an all-terrain vehicle.
The broken-down Kawasaki MULE needed several parts to spare it from the junkyard, the Army's Area Support Group-Jordan said in a statement touting the project Thursday. But the vehicle also got a few optional extras, including cup holders, a Bluetooth speaker, old strobe lights and a fresh coat of desert tan paint.
The hood of the restored golf cart-like vehicle now bears the nickname D-Block, referring to Delta Company, 250th Brigade Support Battalion, the company that tricked it out, along with the hand-lettered names of the 10 mechanics who did the work, a logo of a skull and crossed wrenches and the slogan "Repair Any Damages."
The operation, led by Chief Warrant Officer 2 Frank Cocciolillo, was a team-building opportunity for the unit, which supports the Jordan Armed Forces Joint Training Center in Amman, the military statement said.
"Out of three bad vehicles we had here, we were able to pull enough good parts to make a very good, solid one," the statement quoted him saying.
Cocciolillo rebuilds damaged vehicles in his civilian career and started repairing the "dismembered" Kawasaki MULE to help pass time during his rotation. Then he began involving other soldiers who took an interest.
"Once I started breathing a little bit of life into it, the team started to get excited and wanted to help," he said.
MULES, such as John Deere Gators and Polaris Rangers, are relatively cheap, lightweight ATVs used for getting around base, especially in austere forward areas. They've also been used to transport ammunition or aid in medical evacuations, helping to extend the range of combat patrols.
D-Block's jalopy was missing an engine belt, battery and starter, and needed a new fuel tank among other issues, said Staff Sgt. James Snipe, one of the soldiers who helped rebuild it by refurbishing parts in the working garage.
"We're all mechanics," Snipe said. "If we can figure out how something works, we can pretty much fix it."
The project took about a month. The added amenities, also culled from the scrap pile, were a morale booster, Cocciolillo said.
"We were able to get functioning pieces of equipment from what other people classified as junk," Cocciolillo said.
The D-Block mechanics are now looking to restore more vehicles.
"We plan to keep working together, rebuilding and fixing what some call unfixable," he said.
garland.chad@stripes.com Twitter: @chadgarland
---
---
---
---