Army Green Berets earn over 50 combat awards — including three Silver Stars — in Afghanistan
by
Chad Garland
January 9, 2020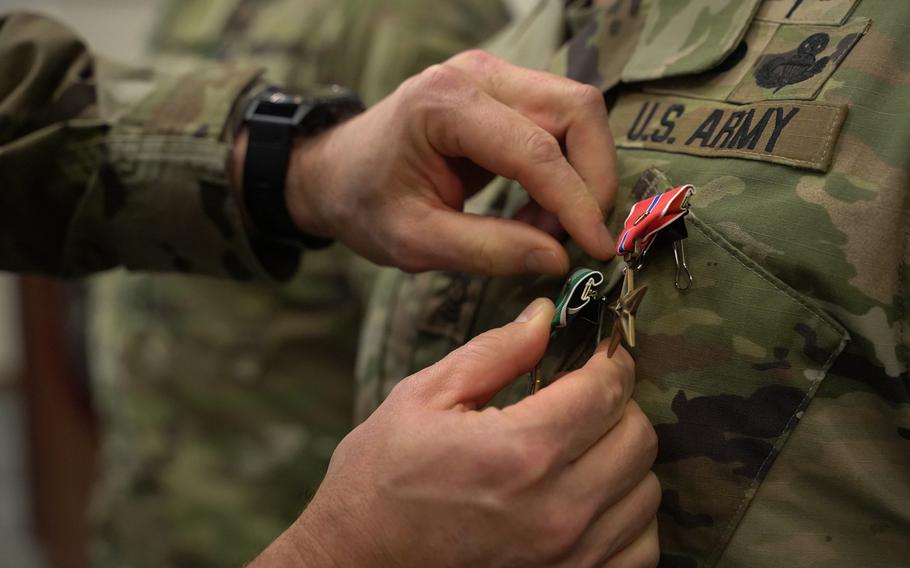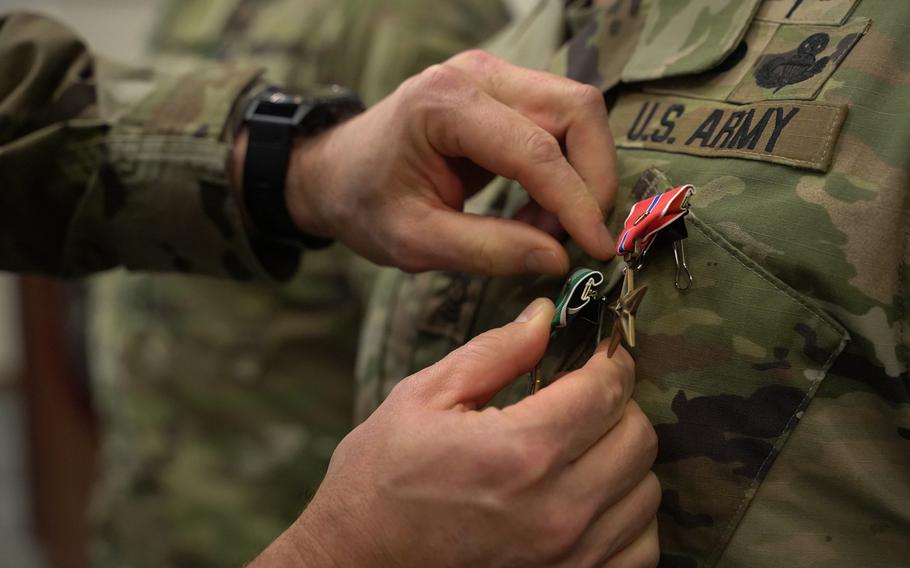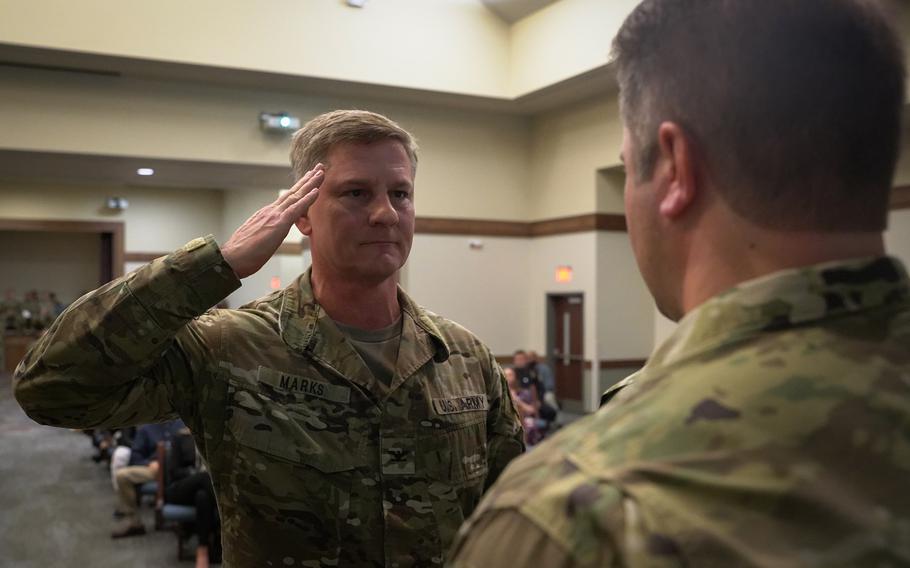 Dozens of Green Berets received valor awards, including three Silver Star medals, in a ceremony Thursday afternoon meant to highlight the bravery and dedication that members of 7th Special Forces Group (Airborne) showed during a recent Afghanistan deployment.
In addition to the trio of Silver Stars — the military's third-highest personal award for combat bravery — officials also presented seven Bronze Stars for valor and 17 Army Commendation medals. The 27 valor awards were presented during the ceremony at Eglin Air Force Base, Fla., officials said.
"This is a reminder that even in the modern age, warfare is still about courage under fire," said Col. Steven M. Marks, deputy commander of 1st Special Forces Command (Airborne), in a 7th Group statement. Marks presented the medals at Eglin's Liberty Chapel.
The unit's soldiers also earned 21 Purple Hearts during the combat zone deployment, a 1st Special Forces Command (Airborne) spokesman told Stars and Stripes.
The decorations were awarded to the soldiers of 7th Group's 2nd Battalion for actions during a six-month deployment in late 2018.
The Bronze Star is for acts of heroism of a lesser degree than the Silver Star, which is awarded for acts of gallantry of a higher degree than those meriting any other U.S. combat decoration except the Medal of Honor or service crosses. The Army Commendation medal ranks below the Bronze Star.
Four Green Berets who had earned additional valor awards — two Bronze Stars and two Army Commendation medals — were absent. Twenty-six soldiers earned valor awards, with five of them earning two valor awards and six earning both an award for valor and the Purple Heart for being wounded in action.
"The valor we are recognizing today happened at the most tactical level — face to face fighting, close quarters combat, hand grenade-range," Marks said.
The 7th Group statement did not provide details of the specific acts that were recognized, which occurred during a war that has largely faded from public view during which most offensive operations are carried out by shadowy commando units.
A relative few U.S. troops, typically special operations forces, have gone into combat or served on the front lines in Afghanistan since 2014, often as part of unilateral or joint operations with their Afghan counterparts during separate U.S. counterterrorism mission.
During 2nd Battalion's deployment from September 2018 to February 2019, some 14,000 U.S. troops were deployed to the country, most as part of a NATO mission training, advising and assisting Afghan security forces for battling a Taliban insurgency against the Kabul government.
The Special Forces battalion was tasked with operations to help shore up stability during parliamentary elections and try to gain momentum as part of an effort to bring the Taliban to the negotiating table, the statement said.
A nearly yearlong series U.S.-Taliban peace talks began in the final month of the battalion's deployment. In the time since, the on-again, off-again discussions have progressed further than previous attempts to negotiate a peaceful resolution to America's longest war, now in its 19th year.
Shortly before the battalion deployed, Taliban militants stormed the capital of Ghazni province, forcing Afghan and U.S. special operations troops, aided by coalition air support, to rush in to repel the attack. Nine Americans were medically evacuated from that battle, Time Magazine reported.
However, 2nd Battalion's efforts helped prevent enemy forces from seriously threatening or capturing any provincial capital during its deployment, 7th Group's statement said.
Battalion commander Lt. Col. Edward, J. Sanford also recognized the sacrifice of the soldiers' families at the ceremony, the statement said.
The unit was supported by elements from 3rd Special Forces Group (Airborne) and the Fort Campbell, Ky.-based 717th Ordnance Company.
The valor medals underscore the importance of "having the mental sharpness to operate with expertise in the worst of times," Marks said. "And taking action to protect your brother, your team and your partners."
garland.chad@stripes.com Twitter: @chadgarland
---
---
---
---