COMMENTARY
After my colleagues died covering the war in Afghanistan, my wife begged me to quit. Here's why I won't.
by
Zubair Babakarkhail
May 6, 2018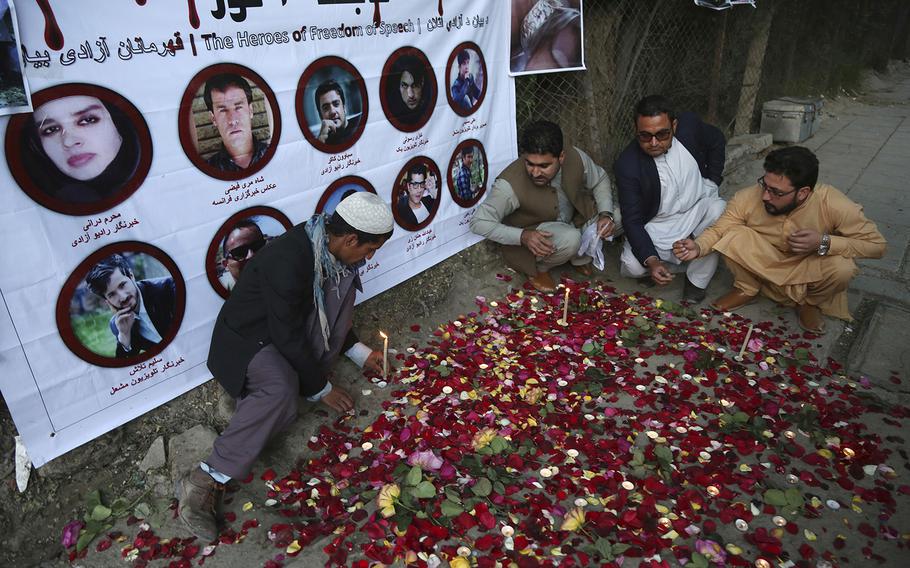 KABUL, Afghanistan — When a suicide bomber targeted a group of journalists on April 30, it was yet another day that I had to answer dozens of calls and messages from family and friends checking on me, as I scrambled to help Stars and Stripes report on the carnage.
"Yeah, I'm safe so far," was my repeated answer. The "so far" meant that as a journalist working in Afghanistan, I didn't know what would happen next.
The day turned out to be the deadliest for the Afghan media since 2001, with nine dead and six wounded in Kabul, plus an Afghan BBC reporter killed in Khost province. The industry is still mourning the deaths, but whatever happens next, I believe the events of that tragic day and other attacks will not stop us from our mission.
The Kabul attack came after reporters had gathered to report on a suicide bombing by a motorcyclist in the Shash Darak area of the Afghan capital, just on the edge of the green zone where U.S. troops and international diplomats reside. After about half an hour, a second suicide bomber posing as a reporter detonated his bomb among a crowd of journalists at a security cordon a few hundred yards away. Dozens of other civilians were also killed in the twin attacks, which Islamic State claimed was its work.
I knew two of the fallen reporters very well. We used to have long discussions regarding the ongoing war. Many years ago, at a press conference in the presidential palace, my friend Shah Marai said this war will make us old, but it wouldn't end. Marai, 41, who had worked his way from driver to chief photographer at Agence France-Presse, was killed in the attack. I wish the war had made him old instead.
When I got home that day, my wife kept flipping through all the TV channels showing families of the journalists mourning beside their loved ones' bodies.
One of the slain journalists was supposed to marry soon. Images on TV showed his newly decorated would-be bedroom and the household items he and his fiancee had bought for their future life.
At Marai's home, the atmosphere was more upsetting. The man, who for decades had captured thousands of images to help the world see his country, had left behind two blind sons, one of whom is mentally disabled, and four other children. His three brothers are also blind.
Like most of the other reporters killed in the attack, Marai was the primary breadwinner for his family.
After seeing this, my wife begged me to quit my permanent job, in which I have helped Stars and Stripes reporters cover my country for the better part of a decade. We would instead live off my part-time job, which allows me to work from home but pays far less. She cited the Dari proverb "Bokhor wa nameer," which means "eat just enough that you don't die of hunger."
But for me, it wasn't an issue of money. If all the doctors, teachers, humanitarian aid workers, engineers and others resigned after seeing their colleagues innocently killed during this war, we would not have any of these institutions left in our lives.
It is not a good solution to surrender to the problem, even if it is life-threatening. In fact, it is giving more power to those who have taken the lives of your friends and colleagues. So the best way is to challenge the threat and keep going.
Living in Kabul and working as a journalist is not an easy thing to do. In 2004, while I was working for Pajhwok Afghan News, a foreign trainer advised our female colleagues not to wear high heels and told men not to carry heavy bags while reporting so we could run faster if we were in danger.
My colleagues at the time poked fun at this advice, but 14 years on, the country remains a place where the longer you work as a journalist, the more valuable such simple tips become.
At least 16 journalists have been killed in the country since the withdrawal of most foreign troops at the end of 2014, according to Reporters Without Borders, an organization that tracks measures of press freedom.
And yet, despite the danger, independent media here have flourished, one of the few bright spots in the nearly 17-year war.
There wasn't a single independent local publication during the civil war that began in 1992 or under the Taliban regime that took hold in 1996. There are now dozens of private TV stations, about 150 private radio stations and more than 100 print outlets.
In 2002, when state-run Radio Television Afghanistan was the country's only TV broadcaster, it ran commercials that promoted the cheap cost of airtime to potential advertisers. Now, a single second on Afghan television can cost hundreds of U.S. dollars.
Reporters Without Borders ranked Afghanistan 118 out of 180 countries in terms of press freedom in its 2018 report, up from 129 five years ago. But the group cited continuing suppression and violence against the media from both the government and insurgents.
After the April 30 attack, journalists will likely live in great fear for a while, but it does not mean they will give up. The worldwide reaction to this incident shows there is still strong support for what we do daily.
For me, the anger Afghans have shown after the attack is motivation to continue my job.
Whenever I tell someone I'm a journalist, they say they are happy to meet me and praise the role of the media in Afghanistan. Some say it's the backbone of our society.
Zubair Babakarkhail is a contributor to Stars and Stripes based in Kabul, Afghanistan.