Afghans vote in final round of presidential elections
---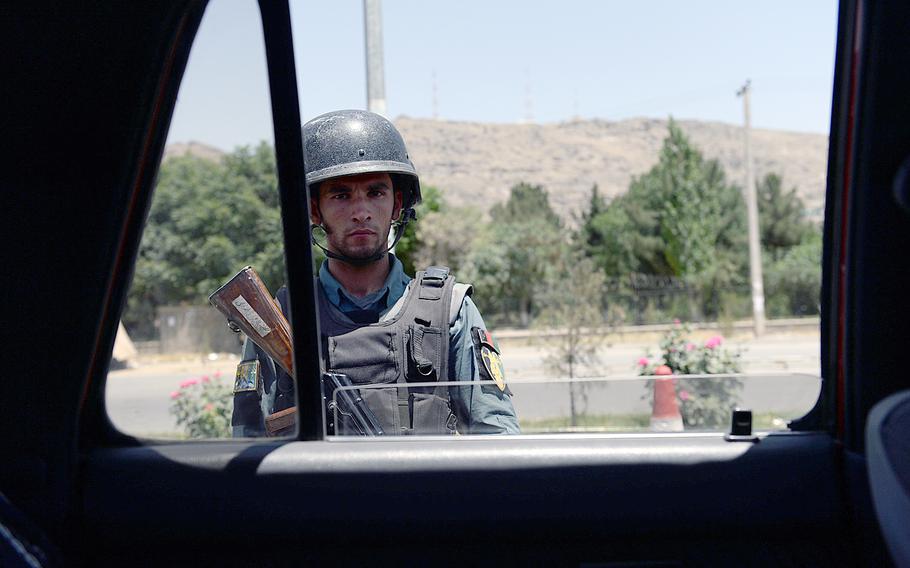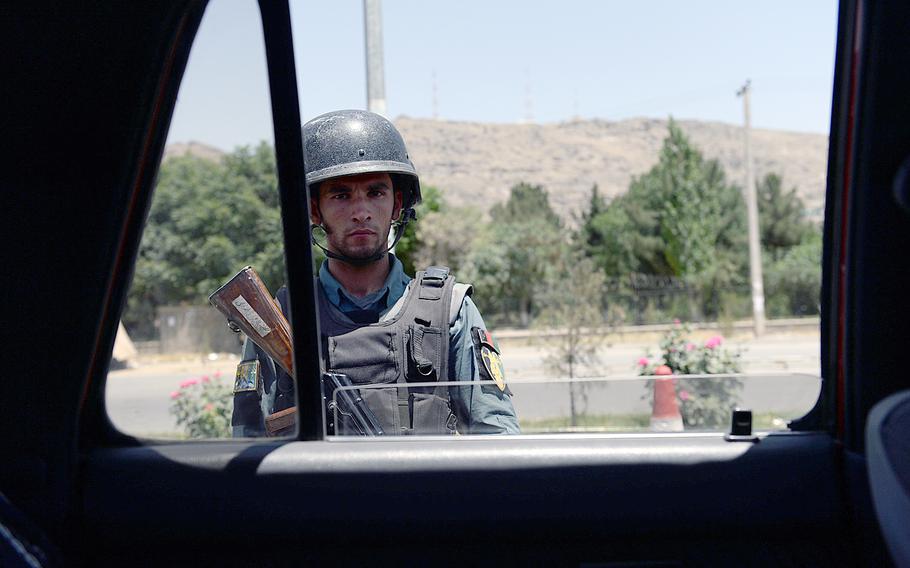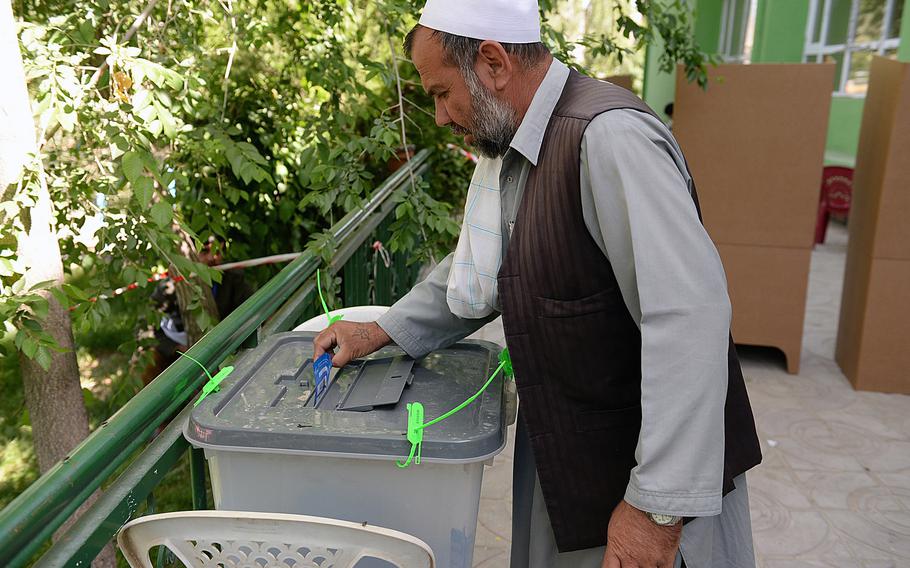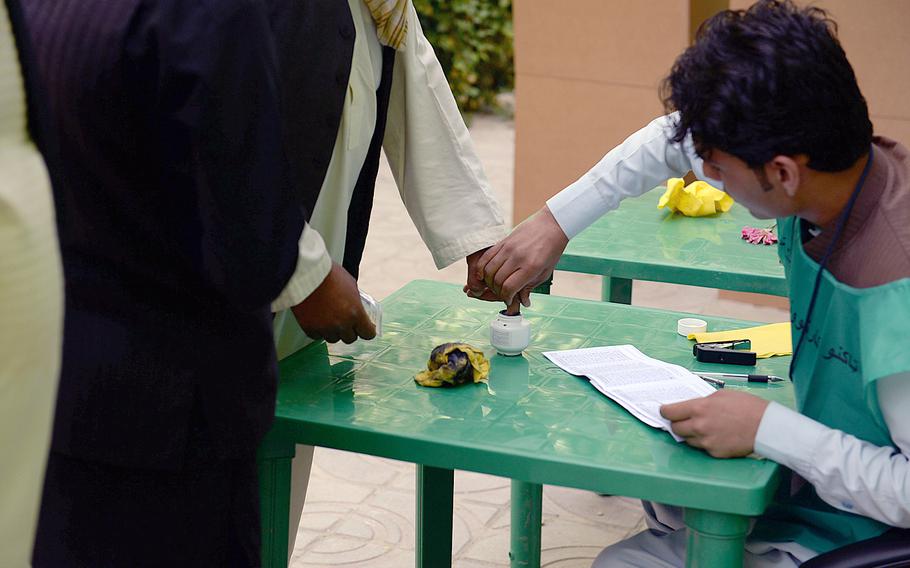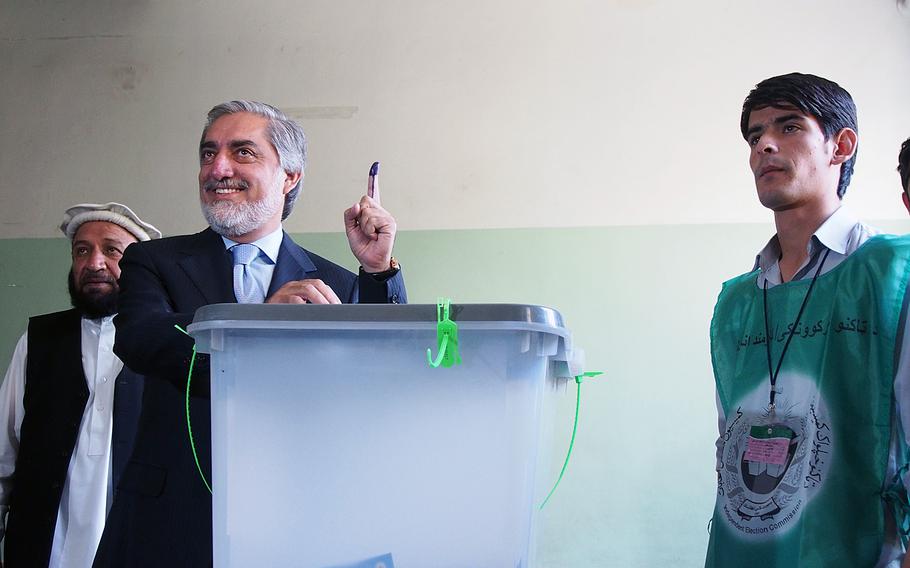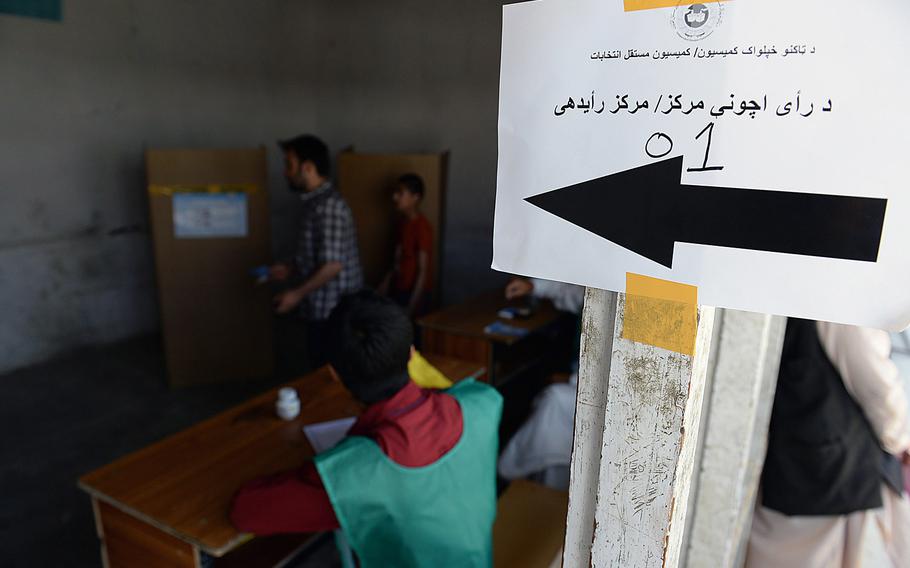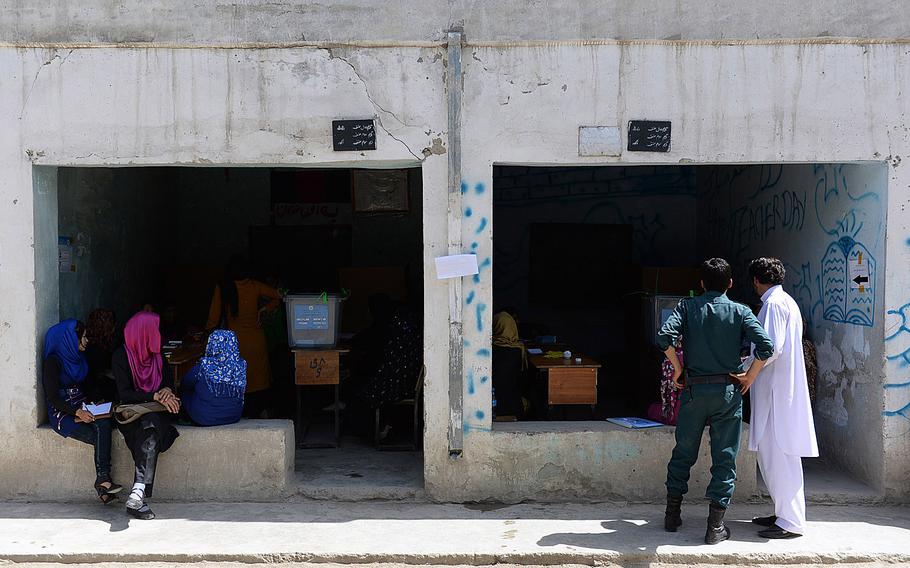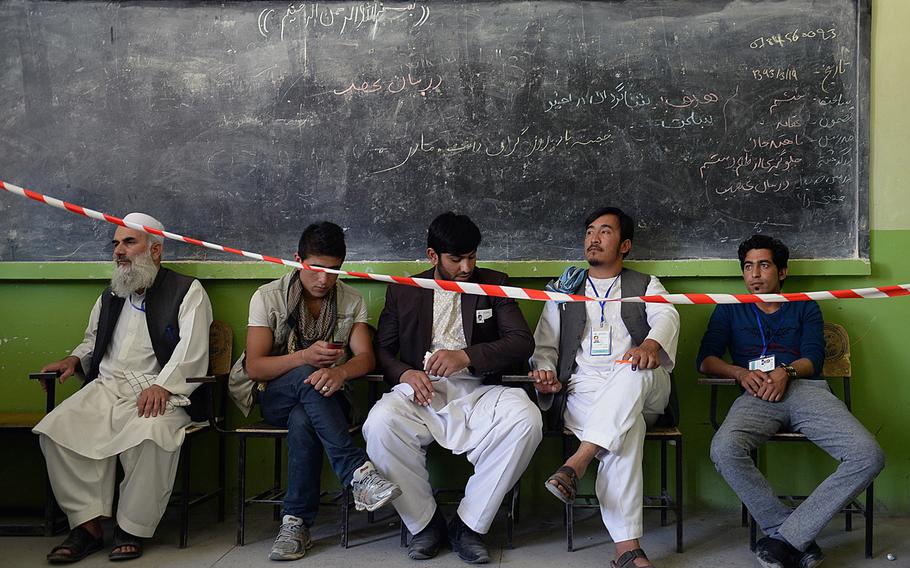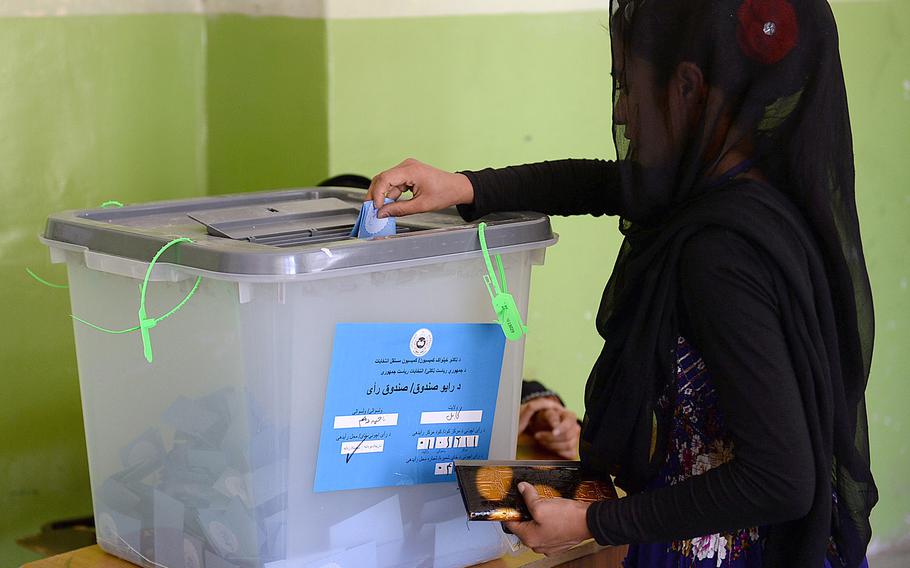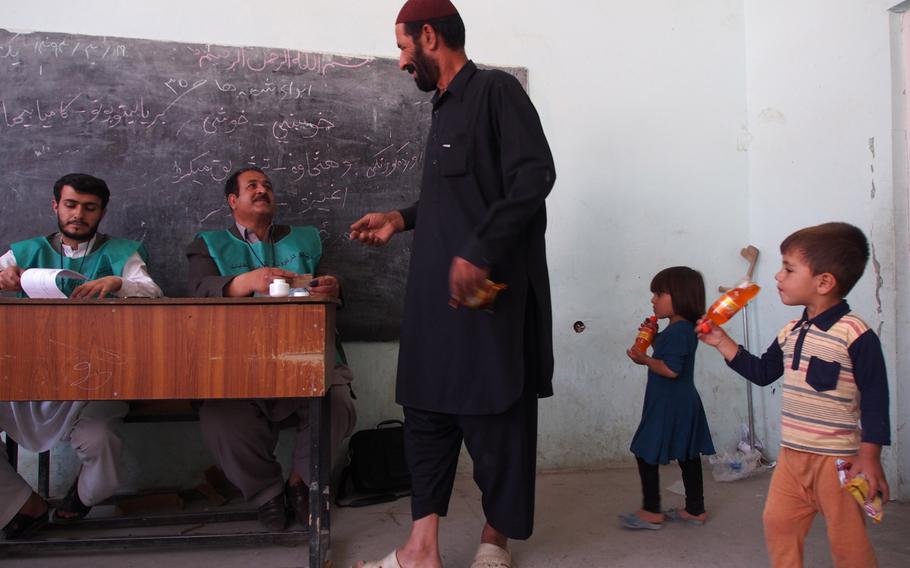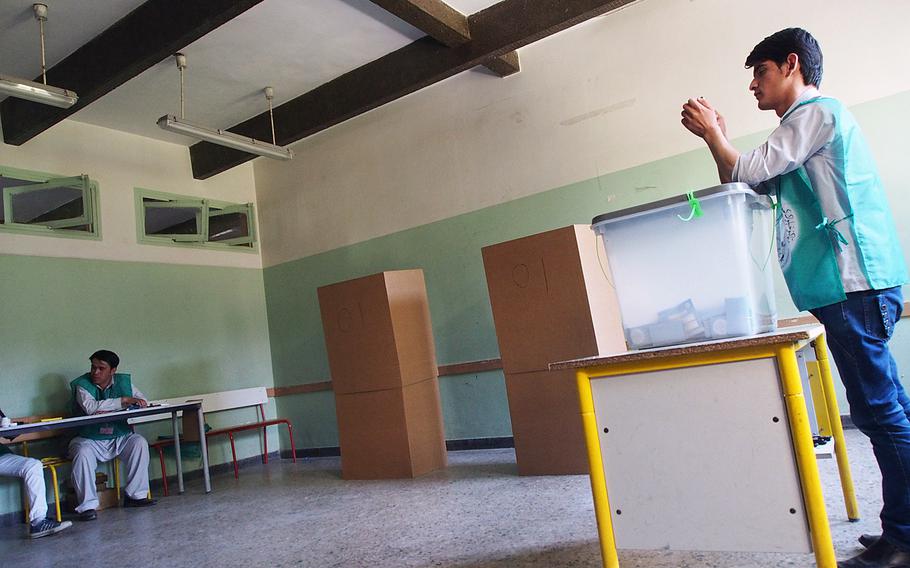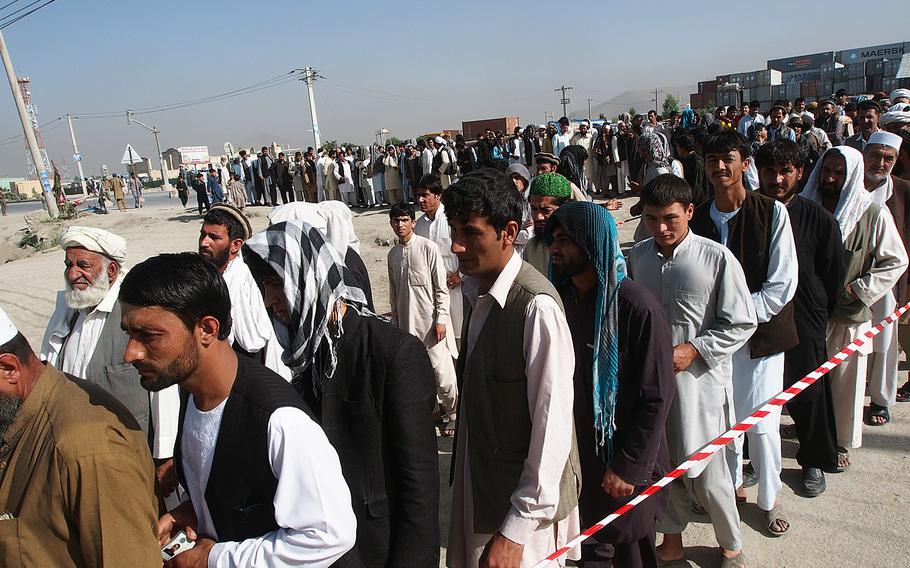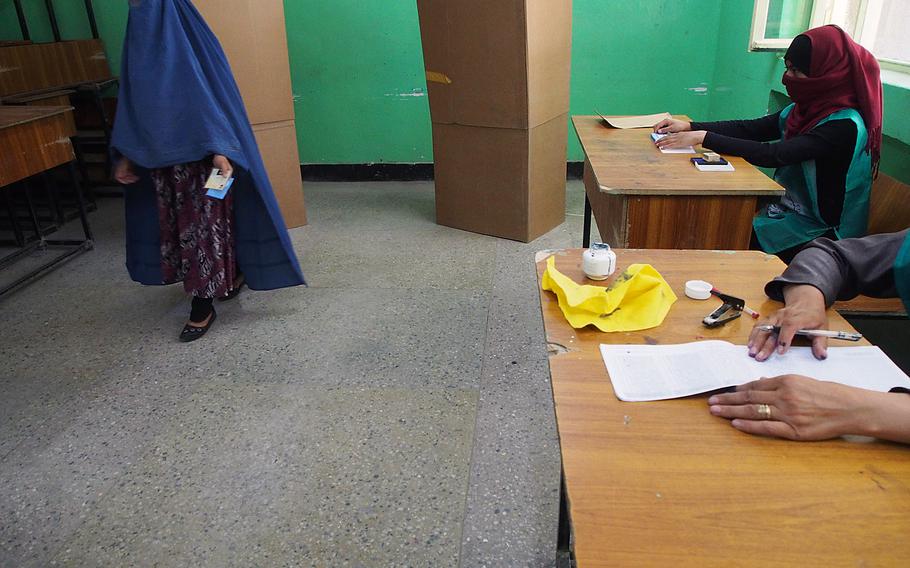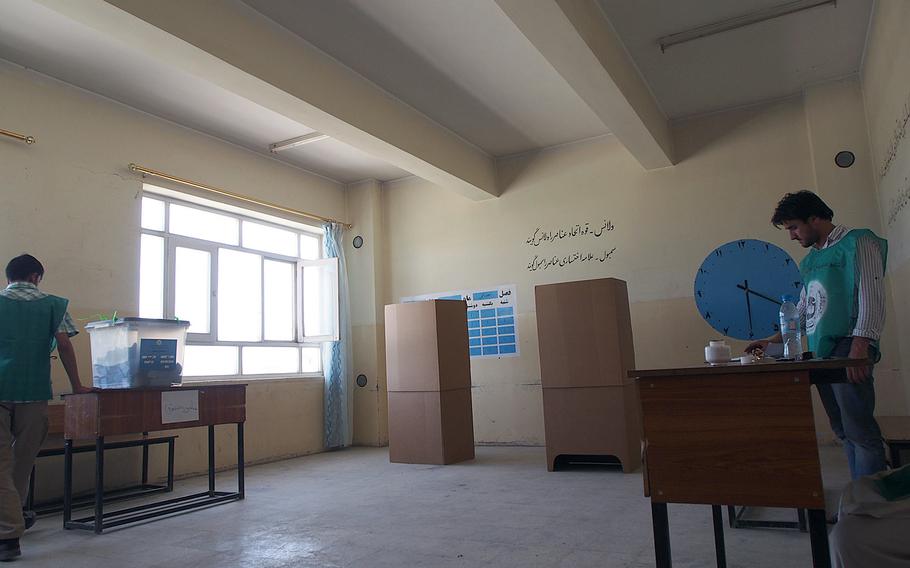 KABUL — As Afghans turned out for the final round of the country's historic presidential ballot on Saturday, electoral enthusiasm seemed to be dampened in the capital with many polling stations nearly empty in stark contrast with the April poll that saw voters wait in hours long lines to participate.
As with the last first round of voting, there were reports of widespread violence in rural areas, with Minister of the Interior Mohammed Daudzai saying 26 police and soldiers and at least 20 civilians were killed in attacks across the country, with that number expected to rise with further reporting. The capital was mainly peaceful, although several rockets hit the city in the early morning, and some people said they were scared to vote after hearing the blasts.
The election, which pit former foreign minister Abdullah Abdullah against former finance minister Ashraf Ghani, would mark the first democratic transfer of power in the country's history. The two men were the biggest vote-getters on a crowded ballot in the initial round of voting April 5, but neither secured a majority, triggering Saturday's run-off election.
Ahmad Yousef Nuristani, head of the Independent Election Commission, the Afghan government's main election body, estimated that 7 million people went to the polls, which would equal the total for the first round. However, election observers and poll workers interviewed by Stripes said they saw significantly fewer voters this round and Nuristani said the estimate is based on anecdotal evidence of higher turnout in rural areas than in the first round.
Polls closed at 4 p.m. Saturday and vote-counting began immediately after. But Afghans won't know who their next president is for a while — preliminary results aren't scheduled to be announced until July 2, with a final result expected July 22. In between, there likely will be political wrangling over allegations of fraud, voter intimidation and ballot stuffing.
After the first round of voting, the government's two main election bodies invalidated about 400,000 ballots out of 7 million cast.
Both candidates have already complained bitterly about unfair treatment and bias by the country's main election bodies, which will decide which votes to count and which to reject.
Pushing those arguments too far in the post-election period, though, could weaken the next government, said Kate Clark, analyst with the Kabul-based Afghanistan Analysts Network.
"One of the dangers is that the more the campaign teams complain about the process and the institutions, the more they delegitimize the position of the next president," she said.
Another worry is a close vote with the loser rejecting the results, which some fear could lead to street protests and unrest.
"The candidates need to take responsibility, manage their teams and supporters, and accept the outcome with cool heads," said Ghafoor Liwal, an Afghan political analyst and head of the Afghanistan Center for Regional Studies.
The success of the election is key to Afghanistan's future, with many aid organizations and donor country's watching the vote closely before deciding their future involvement in the country.
It is important, too, for the legacy of the nearly 13-year-old U.S.-led military operation, which has cost more than 2,300 American lives and hundreds of billions of dollars. President Hamid Karzai, who has ruled the country since shortly after the U.S. invaded in 2001, has refused to sign a security agreement the U.S. has said is necessary to keep a follow-on military training force in the country past Dec. 31, the deadline for all international combat troops to withdraw. Both presidential candidates have said they will sign the agreement.
Plans call for about 9,800 U.S. troops and advisers, and several thousand more from NATO countries, to remain in Afghanistan in 2015. The issue of continued training and mentoring for the Afghan forces is seen as critical, especially in view of the quick collapse in recent days of the U.S.-trained Iraqi army, which was left without American military advisers following the U.S. pullout in 2011.
Security was tight across Afghanistan, with all of the roads into Kabul closed to regular traffic and beefed up checkpoints and car searches throughout the city. The security forces even called in recruits who had not yet completed their basic training to bolster their numbers.
Long stretches of the main road between Kabul and the adjacent Wardak province were empty of almost all vehicles except for those of security forces, which ranged from uniformed police to special operations soldiers riding in all-terrain vehicles.
In many parts of Kabul, scant crowds lined up to vote, in contrast to the long lines seen in the last round. Without an unwieldy provincial council candidate list to sort through, a quicker voting process may partly explain the shorter lines, although election observers and polling station managers reported fewer voters this time around.
Those who did cast their ballots issued a defiant message, saying they weren't afraid of Taliban threats to violently disrupt the election.
"We should come out and vote, no matter what happens to us," said Aziza, a 40-year-old housewife.
But some were kept away from the polls by fears of violence, compounded by the mornings rocket attacks.
"People are worried about security," one Western Kabul resident said. "We'll see if its quiet and then maybe we'll vote."
At a polling station in Maidan Shar, the capital city of restive Wardak province, a slow stream of voters trickled even as at least a dozen rockets or mortar rounds exploded nearby.
Like much of eastern Afghanistan, Wardak saw high levels of violence on April 5. Security forces say they prevented many attacks from actually affecting polling stations, but many residents said at the time that they feared what would happen after the army left.
The whistle and thump of the explosions Saturday did not deter Anayat Nasrat, who nevertheless admitted that he was nervous to be there.
"As a young person, we are the ones who will have this country, so it is important that we be brave enough to vote," said Nasrat, his index finger showing the distinctive indigo ink used mark someone who has already voted.
Other young people were more cautious. Nineteen-year-old Sher Rachman was one of a small group of friends who said they had planned to vote in the morning, but were scared off by the sounds of fighting. "We'll try again this afternoon, if it's safe," he said.
Those attitudes mirrored the assessment of Col. Abdul Sami Bakhshi, who commands army troops in Wardak. He said whether or not residents choose to vote would often depend on the security situation.
Sitting in the ANA base in Maidan Shar with a reporter, Bakhshi watched as an improvised explosive device exploded across the valley in the middle of the city. While he said he was confident of his forces' ability to secure the election, the colonel had scaled back plans to personally visit polling sites because of a lack of troops and counter-IED equipment, electing instead to stay at an operations center.
"The Taliban are indiscriminately killing men, women, and children to send the message that they shouldn't participate in the government," he told Stars and Stripes. "So it makes sense that they are afraid."
To address that Bakhshi said Afghan security forces are focusing on reducing that fear by planning operations that will continue after election day itself. "It is clear that today is an important day for the country," he said. "But we will continue to conduct operations until people are safe."
Clashes were also reported across Kunar province, a Taliban stronghold in easter Afghanistan, according to provincial police chief Abdul Habib Saidkhail. He said one woman was killed and that four other civilians and two Afghan troops were wounded in the fighting.
In Laghman province, a local official said two women and two children were killed when a rocket slammed into their home.
Josh Smith reported from Wardak province, Afghanistan. Zubair Babakarkhail and Naiemullah Sangen contributed to this report.
druzin.heath@stripe.com Twitter: @Druzin_Stripes
smith.josh@stripes.com Twitter: @joshjonsmith
---
---
---
---