Analysis
Afghans mull trading 'worse for bad' in potential deal with Taliban
by
Phillip Walter Wellman J.P. Lawrence
January 27, 2019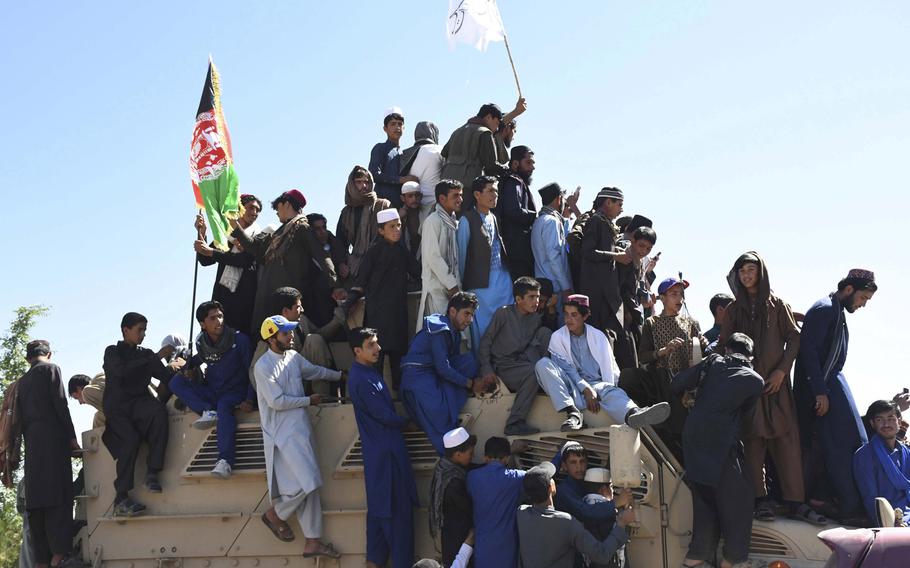 KABUL, Afghanistan — If peace talks between the U.S. and the Taliban continue to progress, Afghans and Westerners alike will have to come to terms with a group whose societal views and bloody tactics have clashed diametrically with their own for decades.
While top U.S. negotiator Zalmay Khalilzad publicly has announced "significant progress on vital issues" and the Taliban also spoke of making headway at the end of six days of talks on Saturday, the details of troop exits, power-sharing and other points have both sides simultaneously expressing caution.
Power-sharing would require Afghans to make undetermined concessions to the Taliban, which previously had banned music and dancing, as well as radio, television, movies, the internet and a host of other things under their interpretation of Islam.
Some in Kabul who have grown used to their freedoms say they are ready to compromise.
"People who have more cosmopolitan views realize that they have a choice between a bad and a worse situation," said Intizar Khadim, an independent political analyst in Kabul. "They are very happy if there are no nightclubs in Kabul, in exchange for it being safe."
Intellectuals like Khadim, small business owners and women in urban areas have seen significant advances since the Taliban was overthrown in 2001, though in many rural areas, little has changed.
However, Khadim and two others here who spoke with Stars and Stripes agreed that having the Taliban in government didn't worry them because they don't believe it would lead to a loss of their fundamental rights.
It's unknown whether the Taliban would renounce a power-sharing agreement and attempt a takeover if given the opportunity. Afghanistan's record of maintaining peace following the end of civil and international wars is poor. Nearly every leader of its government in the 20th century was either killed or exiled, the last of whom fled from the Taliban following their takeover in 1996.
But at least one female Afghan lawmaker said the Taliban wouldn't have enough public support.
The group's overall appeal remains relatively weak, said Shenkai Zaheen Karokhil, a member of Afghanistan's parliament and former ambassador to Canada. Their presence in Kabul likely would have no major impact on the lifestyles many Afghans have grown accustomed to, she said.
However, she emphasized that any peace deal allowing their return would have to be approved by the Afghan government and not the U.S. alone.
"We all support peace, but Afghans should take part in every part of the peacemaking effort; otherwise, it is a concern," Karokhil said.
The U.S. repeatedly has voiced similar sentiments, which highlights another sticking point of the preliminary negotiations: getting the insurgents to hold direct discussions with the government in Kabul, which they have long refused.
Among the remaining issues likely to require Kabul's involvement are discussions about the release of prisoners, the removal of Taliban leaders from international blacklists and the creation of an interim government that could give the insurgent group a legitimate political role. Peace talks can take years, if not decades, some experts cautioned.
While the Taliban adhered to a brief cease-fire last summer, it's unclear whether they would hold to a longer-term truce, said Michael Kugelman, deputy director of the Asia program at the Wilson Center in Washington.
"Who's to say the Taliban won't go back on their commitment?" Kugelman said.
However, Kugelman said, there is reason for optimism following reports that the Taliban have offered to renounce ties with al-Qaida and have agreed to keep extremist groups from using the country to launch attacks on America.
"That's been one of the big asks of the U.S. and the Afghan government for some time, and for the Taliban to agree so quickly is somewhat surprising," Kugelman said.
Though it's unclear how the U.S. would enforce the Taliban pledge to keep their country from being used as a platform for launching attacks on the West, in principle, it achieves a key aim of the war.
That's significant for Christopher D. Kolenda, a retired Army colonel who led four combat tours in the country and served as a Pentagon adviser.
"I've lost soldiers fighting the Taliban, I'm responsible for killing a lot of Taliban," Kolenda said. "At the end of the day, you can't afford to lose sight of why you've gone to war. It's not just to perpetuate a cycle of violence, it's to accomplish legitimate national aims."
Last year, Kolenda's discussions with Taliban officials in Qatar helped kick off the latest round of peace negotiations, the first serious discussions since an earlier effort fell apart in 2015.
"At some point, all wars have to end," he said. "There is no perfect justice and retribution; if all you want is absolute justice and retribution, you'll never get an end to war, and if all you want is an end to war, you'll never get any justice."
lawrence.jp@stripes.com Twitter: @JpLawrence3
wellman.phillip@stripes.com Twitter: @pwwellman