Afghan-Pakistani troops clash again near disputed border post
By
Cid Standifer standifer.cid@stripes.com
May 6, 2013
---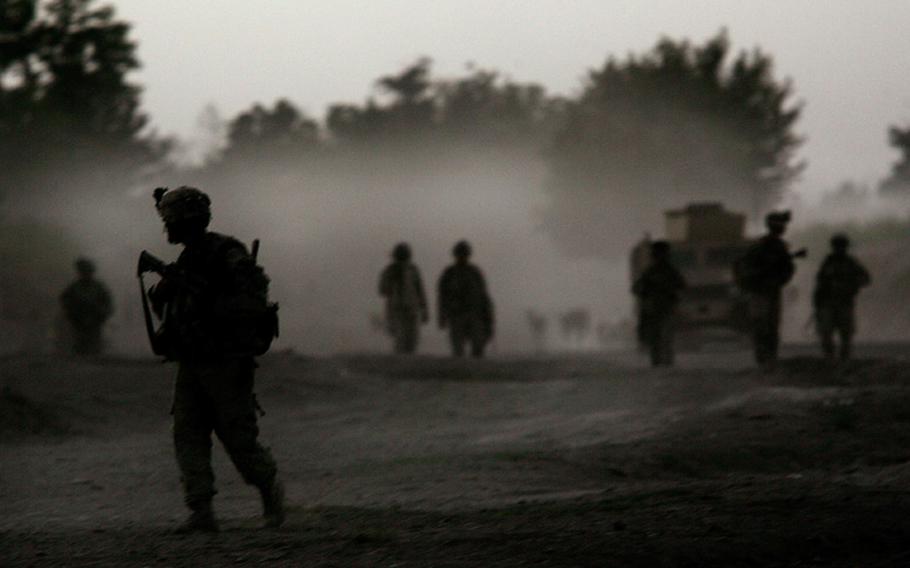 KABUL — Afghan and Pakistani troops clashed for the second time in less than a week along a contested stretch of the border in Nangarhar province Monday, according to border police.
Fighting broke out around 8:30 a.m. Monday when the Pakistani military began repairing the border post and checkpoints destroyed by Afghan forces last week, said an official with the Afghan Border Police. The post is near the disputed Durand Line separating the two countries; Afghan officials claim it is on Afghan territory.
The official said three Afghans were injured in the latest skirmish.
The Border Police declared a ceasefire in the afternoon at the request of the NATO-led International Security Assistance Force, the official said, adding Pakistan agreed not to construct any more checkpoints in the area as a condition of the ceasefire.
ISAF spokesman Maj. Bryan Purtell could not confirm the coalition intervened to stop the dispute, but said it is talking to both Afghanistan and Pakistan and hopes they find a peaceful solution.
Afghanistan's Ministry of Foreign Affairs complained to the Pakistani charge d'affaires in Kabul about the incident, describing it as an "unprovoked attack by Pakistani forces." A statement said Pakistan will have to bear the consequences unless it removes all installations from Afghan territory.
Pakistani Foreign Ministry spokesman Aizaz Ahmad Chaudhry told RFE/RL's Radio Mashaal that firing started from the Afghan side and the Pakistanis returned fire.
During an overnight clash Thursday, Afghan troops destroyed the Pakistani post. Each side blamed the other for starting that skirmish, in which one Afghan soldier was killed.
Since then, there have been anti-Pakistani protests in Afghanistan.
At a news conference Monday morning, ISAF spokesman Brig. Gen. Gunter Katz encouraged Pakistan and Afghanistan to appeal to the United Nations for judgement on the disputed border.
Although tensions along the border have been high for years and rocket attacks from the Pakistan side of the border are relatively common, infantry clashes are extremely rare. Afghanistan has long accused Pakistan's secret service of funding, training and giving safe-haven to the Afghan Taliban, while Islamabad contends fighters from the Pakistani Taliban find refuge on the Afghan side of the border.
Zubair Babakarkhail contributed to this report.
---
---
---
---