Afghan opium cultivation likely to rise, UN reports
By
Heath Druzin druzin.heath@stripes.com
April 15, 2013
---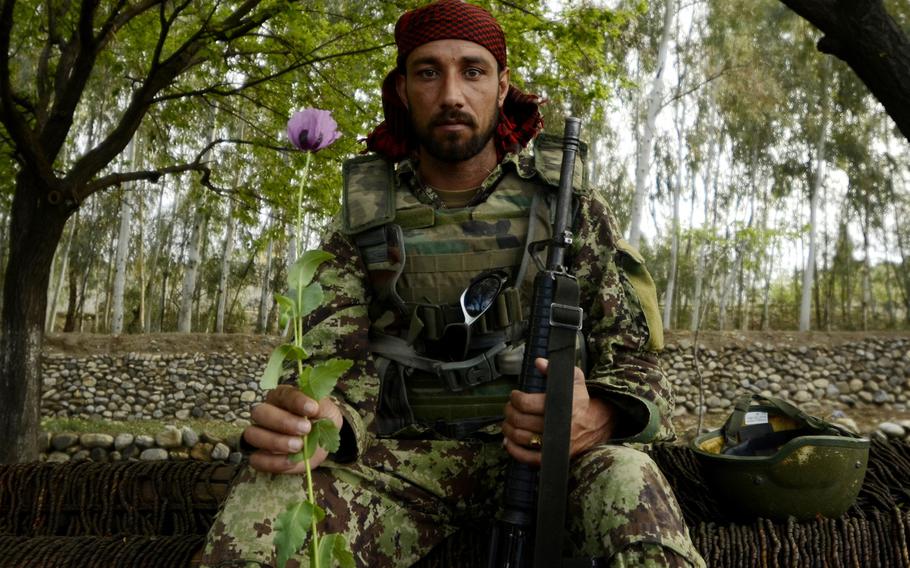 KABUL — Opium cultivation is expected to increase across Afghanistan, and in several areas where the crop had previously been eliminated production has resumed, according to a U.N. report released Monday.
Despite years of efforts by the NATO-led military coalition and the Afghan government, only the western province of Herat is expected to see a decrease in production this year, according to the report. Afghanistan is the world's main producer of poppy, which is used to make heroin and provides significant funding for insurgent groups.
"The findings of the 2013 Opium Risk Assessment in the Southern, Eastern, Western and Central regions points to a worrying situation," the report says.
The harvest in two key southern provinces is expected to rebound after disease and poor weather affected cultivation in 2012. Kandahar and Helmand provinces, which make up the heartland of the Taliban, are both expected to see increased cultivation. The two provinces make up the largest opium-producing region in the country and have been far and away the deadliest province for coalition troops over the course of the 11½-year war in Afghanistan.
While the Taliban regime ruled much of Afghanistan prior to the U.S.-led invasion in 2001, poppy production was dramatically slashed. But it rose quickly after 2002 as a result of the warfare, corruption and lawlessness that gripped many parts of the country, and is now estimated to account for about 90 percent of world production of opium.
The report points to insecurity and lack of agricultural assistance as two main factors in the expected bump in cultivation and found that awareness campaigns can be an effective tool to combat opium production.
Much of the money spent on efforts to combat the drug trade in Afghanistan has been wasted or siphoned off by corrupt politicians, hampering efforts to fight opium cultivation, Afghanistan Analysts Network co-director Thomas Ruttig said.
Ruttig said the international community should recommit to fighting opium, as the effects of the trade are felt well beyond Afghanistan.
"Drugs are harming our people and increasingly Afghans, too, whose addictions rates are rising," he said. "But it is a political decision, whether you want to be serious about eradication — which then requires opening markets for alternative crops and a lot more — or whether it is mainly (paying) lip service."
In several northern provinces where coalition troops have left or have a limited presence, opium cultivation has resumed after the provinces had previously been designated "poppy-free." In Faryab, Takhar, and Badakhshan provinces, all of which have no coalition military presence, cultivation is expected to increase and Faryab and Takhar are in danger of losing their poppy-free status. Balk province, too, which includes the major northern city of Mazar-e Sharif, is in danger of losing poppy-free status.
Despite the dire report, Zabiullah Dayam, a spokesman for the Afghan Ministry of Counter Narcotics, said the Afghan security forces are able to fight the drug trade in their country on their own and that their focus is on the southwestern provinces, especially Helmand.
Dayam said continuing violence in the region has hampered counter-narcotics efforts and that the Afghan government needs more financial support from countries affected by the drug trade.
"We want all the people in the world to help us address the problem because they are affected by Afghan poppy, not just European and Western countries, but Asian countries, too, should come forward to help us with this problem," he said.
Zubair Babakarkhail contributed to this report.
---
---
---
---