Afghan government backs down on tariffs
By
Cid Standifer standifer.cid@stripes.com
August 1, 2013
---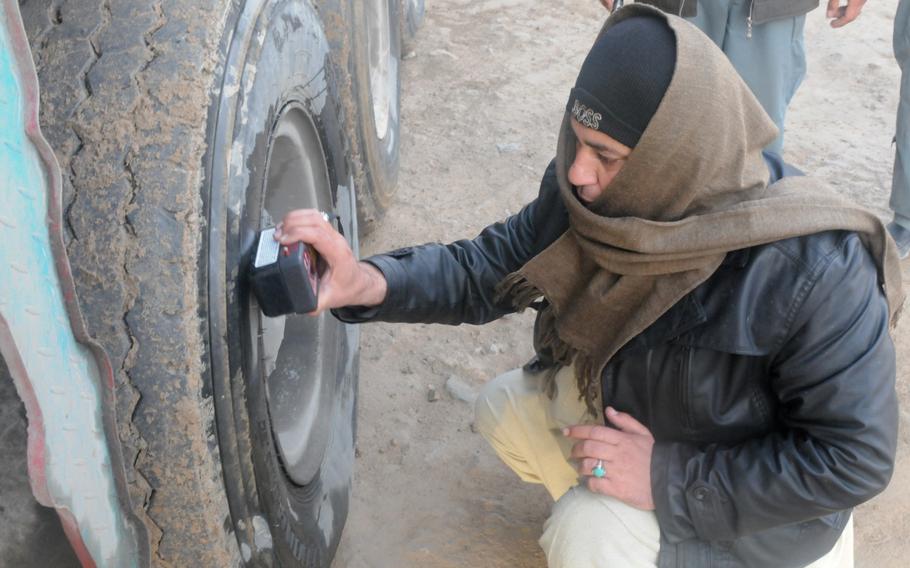 KABUL — NATO forces and the Afghan government have reached an understanding over the touchy issue of customs tariffs, which could have cost the U.S. and its allies hundreds of millions of dollars as it ships equipment out of the country.
Last month, The Washington Post reported that the government was fining the U.S. military $1,000 for each shipping container that didn't have a validated customs form. However, a Military Technical Agreement signed between ISAF and Afghanistan's interim government in 2002 stipulates that ISAF is exempt from providing routine customs documentation on materiel.
The dispute over customs tariffs essentially halted ISAF shipping over Afghanistan's borders, and could have forced NATO partners to airlift all their supplies into and out of the country. The Post said that could have added hundreds of millions of dollars to retrograde costs as the U.S. prepares to withdraw all combat troops by the end of 2014.
Najeeb Manaly, spokesman for the Ministry of Finance, said the Military Technical Agreement was signed when the Afghan government was weak and willing to accept any of ISAF's demands.
He said the government had given every ISAF military vehicle entering the country a receipt that had to be validated and returned to the government within 21 days, or they would face a $1,000 fine. But ISAF failed to get validation for 70,000 trucks, racking up a bill of $70 million.
Manaly also said the government merely wanted a letter vouching for the validity of each container of military goods passing over the border.
"We just want some paperwork, because if they are taking out a container there should be a letter telling us what this container contains," he said. "Because it's military goods, we cannot open it to check what's there."
However, the Military Technical Agreement states that "ISAF will be exempt from providing inventories or other routine customs documentation on personnel, vehicles, vessels, aircraft, equipment, supplies, and provisions entering and exiting or transiting Afghanistan territory in support of the International Security Force."
ISAF spokesman Lt. Col. Will Griffin said the dispute was essentially a misunderstanding.
"This issue basically was rooted in interpretation of the Afghan customs process," he said. "We were encouraged by developments in the last couple of days."
According to an ISAF news release issued Thursday, the Afghan Ministry of Finance recommended the government waive all the penalties and fines related to ISAF customs paperwork. President Hamid Karzai's Cabinet approved the recommendation.
"We appreciate the government's adherence to the Military Technical Agreement," the release quotes ISAF commander Gen. Joseph Dunford as saying. "This agreement provides our forces with the freedom of movement necessary to effectively support our Afghan counterparts as they secure the Afghan people."
The new understanding does not, however, mention Afghan taxes on contractors working for ISAF. In May, the Special Inspector General for Afghanistan Reconstruction reported contractors working for the U.S. had paid nearly a billion dollars in Afghan taxes and penalties.
Zubair Babakarkhail contributed to this report.
---
---
---
---