A sailor who helped save a child spreads the word on bone marrow donation
---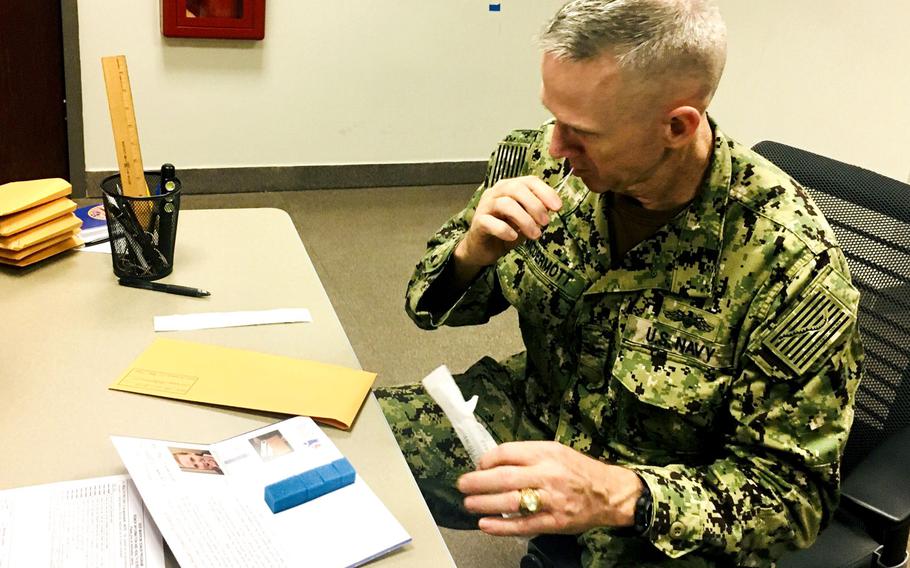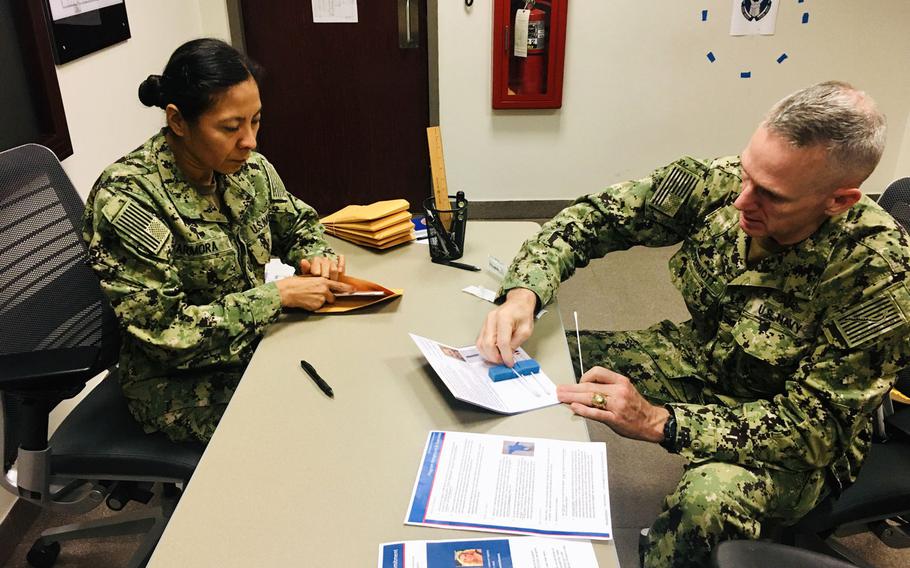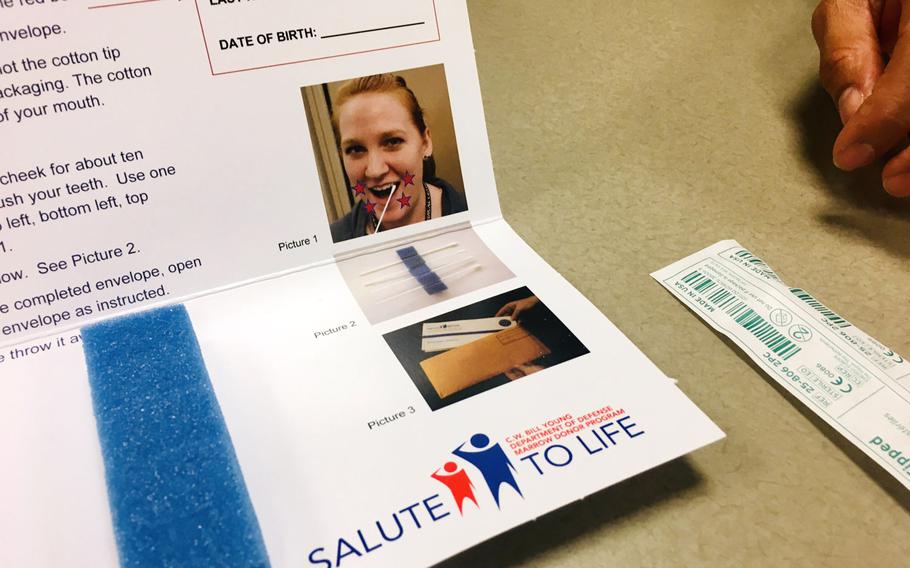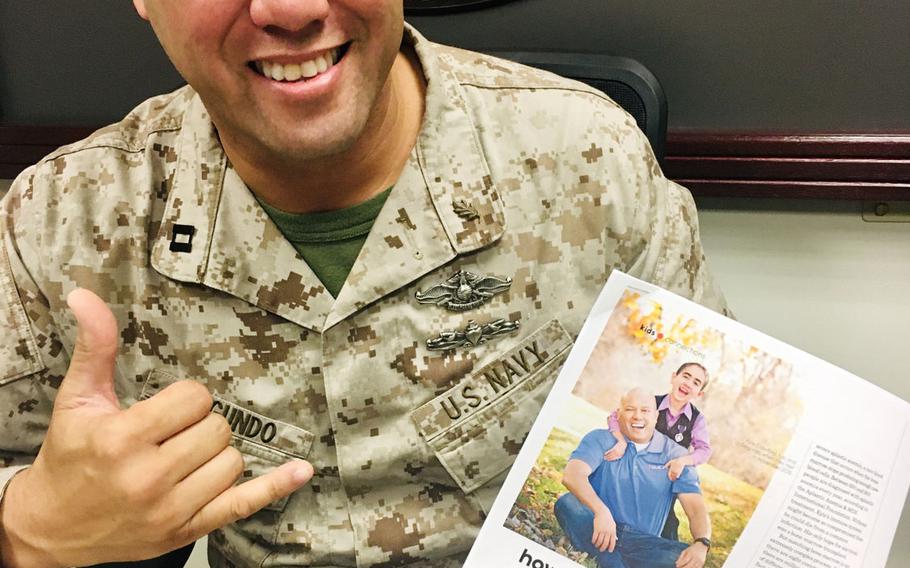 MANAMA, Bahrain — Navy Lt. Kawika Segundo's bone marrow had less than a 4% chance to match with a terminally ill 7-year-old, but that slim chance turned out to be enough.
Segundo's marrow donation five years ago saved the life of Kyle Crawford, who had suffered from severe aplastic anemia. That experience has spurred Segundo to push for more bone marrow donor registrations at the U.S. Navy base in Bahrain, a place where he says that sailor turnover and diversity could improve the odds of finding more matches.
"All the technology we have, all the great doctors and medicine — and there's nothing that can cure a child except for one donor," said Segundo, a Maui-raised medical planner, who is also a Purple Heart recipient for his service in Iraq.
A weeklong bone marrow registration drive at the Naval Amphibious Force 51/5 command netted more than 50 volunteer donors, and Segundo is trying to set up a similar drive at the Navy Exchange. All it takes to join the C.W. Young Bone Marrow Donor Program's rolls is about 10 minutes and a cheek swab.
Segundo registered for the program while stationed at Annapolis, Md., in 2009. His sample was stored in a nationwide repository affiliated with the civilian Be The Match organization.
Five years later, he received a call asking for his help.
Segundo said he had initially grown determined to donate bone marrow once he learned about the lack of multiracial donors in the registry.
Segundo's European, Hawaiian and Chinese ancestry was at first considered a roughly 4% likelihood of a match for Kyle, who has a European and Chinese background.
But when further tests showed a match, Segundo traveled to MedStar Georgetown University Hospital in 2014 for the surgical procedure.
Doctors use needles to withdraw liquid marrow — where the body's blood-forming cells are made — from the pelvic bone. The donor is anesthetized during the donation, but common side effects afterward include temporary back or hip pain, throat and muscle pain, Be The Match's website says.
Segundo spent a couple of days in the hospital for observation and felt some fatigue, but said the recovery was easy.
Kyle received Segundo's donation at Lucile Packard Children's Hospital Stanford soon afterward and fully recovered from his life-threatening illness.
"I am so grateful to (Kawika). I am so grateful for my son … being grateful has helped us stay focused on what is truly important in life," Kyle's mother, Angie, said at a Be The Match ceremony honoring the Segundo and Crawford families in 2015.
Segundo now shares his story everywhere he goes and conducts registration drives wherever base leadership will allow.
Earlier this month, Navy Capt. Charles McDermott donated a swab simply because he was asked to while walking by the amphibious command's drive.
"I wear the uniform and that's what we do," McDermott said. "We volunteer for whatever the requirement is. I can spare the 10 minutes."
Marine Staff Sgt. Jose Beltran was motivated once he heard that a young kid's life was saved.
"I'm a father and when I heard that he saved a child's life, it reminded me that if my child needed help, I would want someone to help," he said.
Beltran, a former Marine recruiter, added that he was so motivated to help that he walked around base "snatching up" more Marines to volunteer. "It's easy for me to ask them to join, and if they have questions, I can send them to get all the answers that they're looking for."
The donor program has been around since 1991 and has since "recruited more than 1 million new potential donors and coordinated more than 8,000 cellular donations" according to the Salute to Life website, which includes information on how to register and start drives.
Segundo will lead another drive at 5th Fleet's Marine Corps antiterrorism company Thursday morning and is planning another in Bahrain during the holiday season.
"Registration drives are rare," Segundo said. "Let's make this a thing. I want to see more of it."
---
---
---
---