4th American killed in Niger ambush identified
---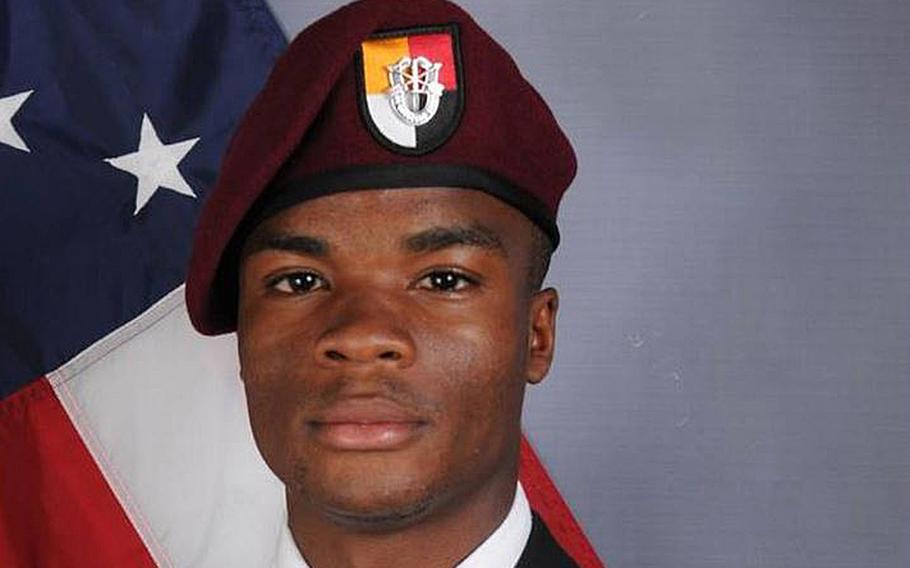 A fourth American soldier killed in an enemy ambush of a joint patrol of U.S.-Niger forces in the West African nation was identified Saturday.
Sgt. La David T. Johnson, 25, of Miami Gardens, Fla., died from wounds suffered in the surprise attack Wednesday in the southwestern part of the country, near the border with Mali.
A 40-person patrol made up of Nigerien soldiers and about 10 American advisers had been on a mission meeting with local leaders and discuss stability efforts in the region when it came under enemy fire, the Pentagon has said.
Defense officials had disclosed the deaths of three other soldiers killed in the same attack. They were identified Friday as Staff Sgts. Bryan C. Black, Jeremiah W. Johnson and Dustin M. Wright. All were assigned to Fort Bragg, N.C.-based 3rd Special Forces Group. Black and Wright were Green Berets.
News of the fourth soldier's death had been withheld until Friday, in hopes he would be found alive. Nigerian soldiers discovered Johnson's body on Friday, following a search of the area. U.S. personnel recovered his remains the same day, the Pentagon said.
In addition to the four soldiers killed, two other U.S. troops were wounded in the attack and were being treated at Landstuhl Regional Medical Center in Germany, where they were in stable condition. At least one partner-nation soldier was also killed, defense officials said Friday.
Much of 3rd Special Forces Group's operations have been focused on northern and western Africa since 2015, the Army has said. There, they work side-by-side with partner nations to promote regional stability by building their military capacity.
The four slain soldiers are the first U.S. combat fatalities in Niger, where about 800 U.S. troops are deployed, mainly to support local forces combatting extremist groups such as Boko Haram and al-Qaida in the Maghreb, which operate in the region.
It remained unclear what group was responsible for Wednesday's assault. Defense officials on Friday declined to comment on the record, though one official, speaking on condition of anonymity, said a local Islamic State affiliate was suspected.
Johnson enlisted in the Army in January 2014 as a wheeled vehicle mechanic and was assigned to 3rd Special Forces Group, according to the U.S. Army Special Operations Command. His awards and decorations include the Army Achievement Medal, the Army Good Conduct Medal, the Global War on Terrorism Medal, the Army Service Ribbon, the Army Parachutist Badge, the Army Air Assault Badge, the Driver and Mechanic Badge, and the Marksmanship Qualification Badge - Sharpshooter with Rifle.
Nearly two dozen friends on Saturday had expressed their grief on Johnson's Facebook page where he describes himself as just "a dude who love to ride bikes!" Several voiced condolences for Johnson's family.
"I honestly was hoping it wasn't true," a friend named Perkins Edric said in a post. "You had a promising career, a beautiful family, and you finally made it from the 305 (Miami and Miami-Dade County area code). ... Our prayers go out to your family and close friends."
Johnson leaves behind a wife and two children, whose names, the Miami Herald reported, were tattooed on his chest under his Army uniform.
"The Bush Hog formation was made better because of Johnson's faithful service," said Lt. Col. David Painter, Commander of 2nd Battalion, 3rd Special Forces Group, using the unit's nickname. "We are focused on caring for the Johnson family during this difficult period."
garland.chad@stripes.com Twitter: @chadgarland
---
---
---
---