Nearly 200 Americans and thousands of Afghans who seek visas remain in Afghanistan nearly two months after US troops pulled out
By
Stars and Stripes
October 26, 2021
---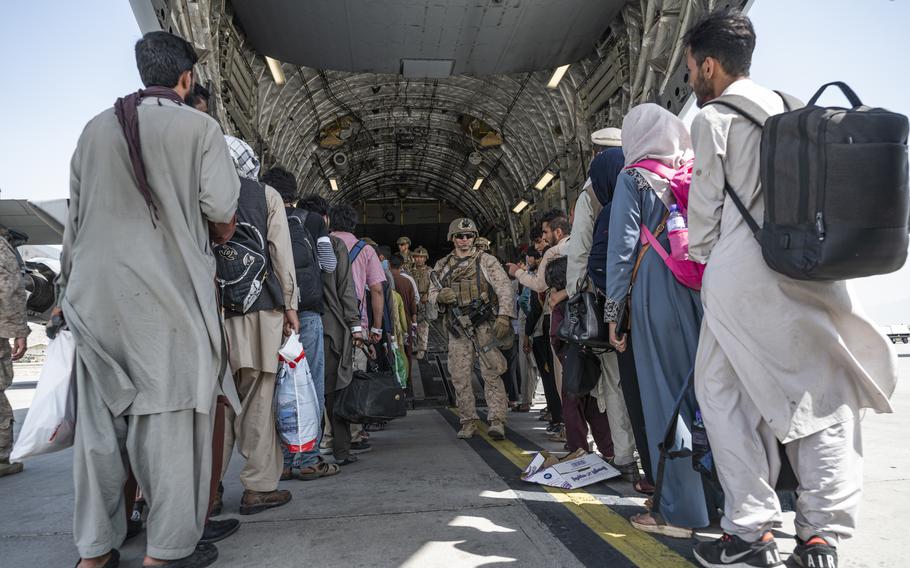 WASHINGTON – Nearly 200 Americans who want to leave Afghanistan remain in the country nearly two months after the U.S. military's evacuation mission ended at the Kabul airport, Pentagon officials told senators Tuesday.
The State Department is now making arrangements to move the roughly 196 Americans from Afghanistan "either via air or over ground," Undersecretary of Defense for Policy Colin Kahl said at a Senate Armed Services Committee hearing on security in Afghanistan. Since Sept. 1, about 240 American citizens and 57 U.S. green card holders have left the country.
On Aug. 30, Secretary of State Antony Blinken said between 100-200 — "but likely closer to 100" — Americans who wanted to leave Afghanistan remained there when the last U.S. troops withdrew from the Hamid Karzai International Airport in Kabul. However, Blinken noted his agency was still "trying to determine exactly how many" Americans remained there.
The State Department also has contacted another 244 U.S. citizens in Afghanistan who "are not ready to depart either because they want to stay or aren't ready" to leave yet, Kahl said.
Republican senators such as Jim Inhofe of Oklahoma have questioned the administration of President Joe Biden over its tallies of Americans in Afghanistan, claiming "we really don't know how many Americans were left in Afghanistan."
"The administration by its own account left 600 Americans behind — over 400 of whom want to leave — not the 100 to 200 that has been referred to several times," Inhofe, the ranking Republican on the committee, said at the hearing. "At the very least, it's confusing."
Inhofe also criticized the military's decision to leave Afghanistan before all Americans were evacuated.
"During the Aug. 18 interview with ABC, George Stephanopoulos asked President Biden whether US troops would stay beyond Aug. 31 if there were still Americans to evacuate. President Biden responded — and this is a quote — 'if there are American citizens left, we are going to stay to get them out,' " Inhofe said. "Of course, this didn't happen."
However, defense leaders have said staying any longer would have put more lives at risk as the Taliban pledged to restart its attacks on Americans if troops remained in the country past the promised Aug. 31 withdrawal date.
"It was the consensus of civilian and military leadership at the Department of Defense that we should stick to the Aug. 31 deadline that extended risk to mission enforcement would make it harder to get American citizens out beyond that date," Kahl said.
In addition to the hundreds of Americans, thousands of vulnerable Afghans also remain in Afghanistan while they await special immigrant visas, which are given to allies who helped U.S. forces during their time in that country, Kahl said.
"The total number of SIV's in the pipeline is 28,000, according to our records, of which 8,555 have come out with their family members," he said. "So that would suggest there's a significant number of SIVs still in Afghanistan."
Kahl said the Biden administration is trying "to get them out and hold the Taliban to their pledge for safe passage with people with documents which should include SIVs."
The problem, however, is "the SIV process was not designed for an emergency — it's very slow," he said. "Typically it took a year or two [and] nothing was done in the previous administration to speed that up. At the beginning of the Biden administration, the State Department took some steps that shrunk the time to about eight months — still way too long."
The Pentagon has also taken steps to help the State Department process SIV applications faster, creating "an enormous database … to try to speed up the confirmation of employment" necessary for special immigrant visas, Kahl said.
Meanwhile, about 53,000 Afghans are awaiting visa processing at eight military installations in the United States and about another 3,500 at bases in the Middle East and Europe, chief Pentagon spokesman John Kirby said Monday.
More than 6,000 have completed the process and have resettled in the U.S. since evacuation efforts began in late July, Kirby said.
---
---
---
---