Soldiers watch the US withdrawal from Bagram Airfield through the lens of Pokemon Go
by
J.P. Lawrence 
Stars and Stripes
July 2, 2021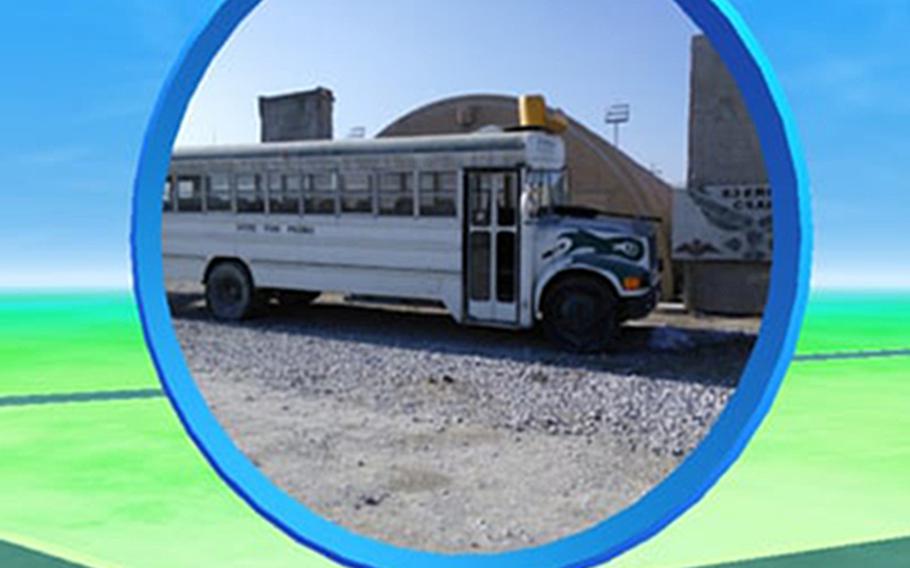 KABUL, Afghanistan — Digital rodents and abandoned Pokemon presided over the streets of Bagram Airfield on the day news broke that U.S. troops had left the base.  
All U.S. forces have left Bagram, which for much of the past 20 years was the largest military base in Afghanistan, U.S. defense officials announced Friday. But the animated critters and some of what's left on base are visible in digitally animated form through the game app Pokemon Go. 
The game allows players to walk to real-life locations and catch or battle digital monsters, who can be found using the app's barebones version of Google Maps. Some of the Pokemon left by U.S. soldiers remain at their posts.  
Normally, players must be physically in the area to use their Pokemon. But Stars and Stripes obtained screenshots from a hacked version of the game in which the user changed the game's GPS coordinates to Bagram.  
Bagram once had a thriving Pokemon Go community of troops, contractors and civilians who played the game while exercising and after work.  
"We weren't expecting Pokemon Go to be thriving in Bagram, and yet it was," recalled U.S. Army Spc. Corey Olsen, an electrical technician for attack helicopters who played the game with others from his shop in 2019.  
Playing the game offered a chance to catch Pokemon in Afghanistan that can't be caught in America, as some monsters can only be found in certain regions. 
The game was also a chance to socialize, seven players who spoke to Stars and Stripes said.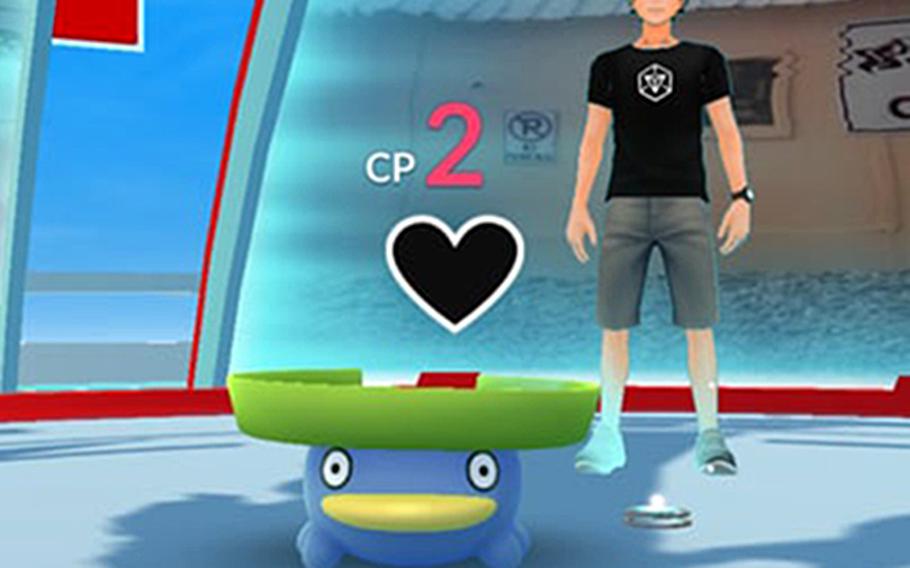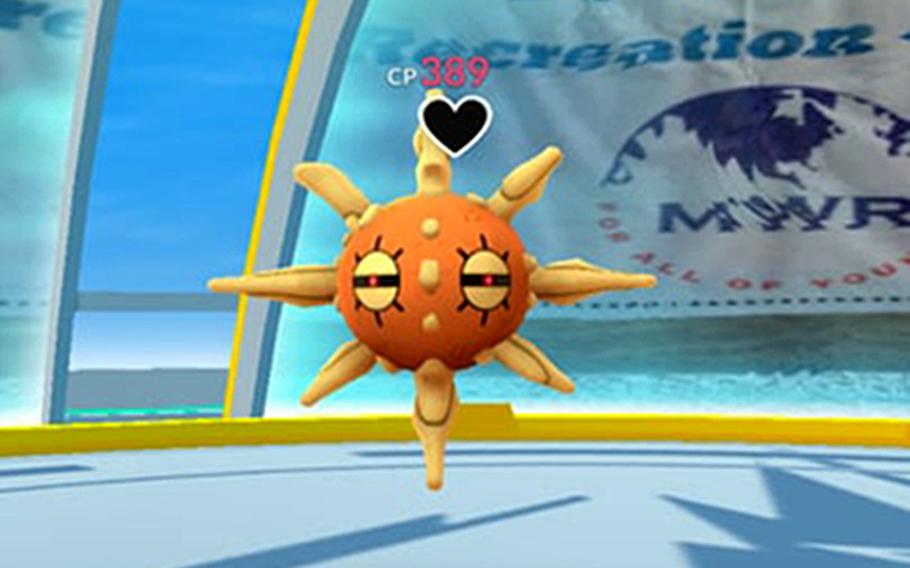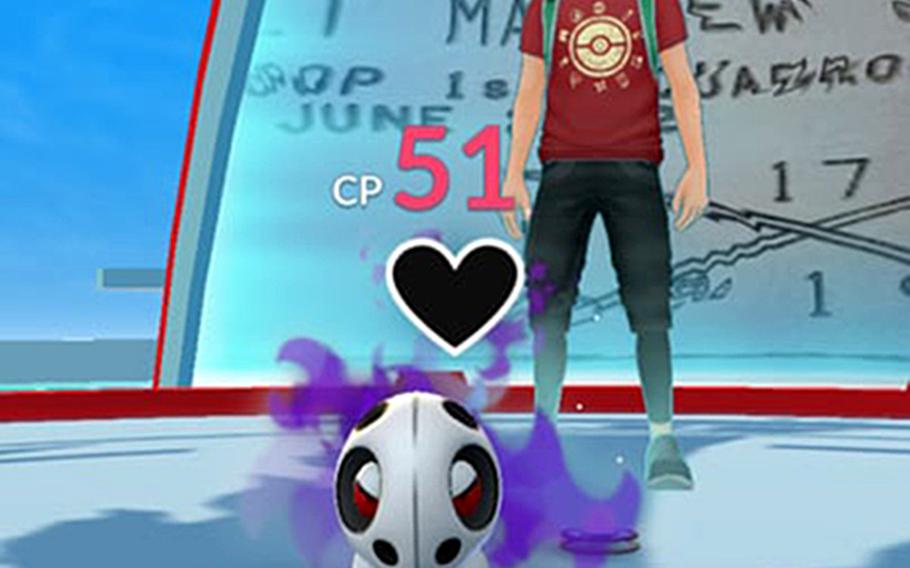 Troops and civilians would drive around the base visiting Pokemon "gyms," said Wilbur Landaverde, a contractor who played while working at the base in 2020.  
"Being able to start a conversation with a complete stranger in the middle of a war zone about something like Pokemon was a great way to stay social," Landaverde said.  
Some said the game offered a respite from the war.  
"School and video games got me through my deployment," said Air Force Staff Sgt. Naomi Sosa, who played there in late 2019 and early 2020.  
In the game, players fight to control gym locations by placing a Pokemon to do battle. If one player's creature is stronger, they can kick out the defeated Pokemon and install their own.  
John Sutter played Pokemon Go at Bagram and at New Kabul Compound while deployed in 2019 as a captain with the Alaska National Guard.  
He saw his base had a Pokemon Gym occupied by a Voltorb, a creature known for blowing itself up.  
"I thought…. '(we) can't have no IED Pokemon on the FOB,'" Sutter recalled, using an acronym for forward operating base.  
Sutter said he battled the Voltorb and won, only to see others reclaim control.  
"You develop rivals who would take over your gym," Sutter recalled.  
Gyms changed hands constantly when thousands of U.S. and coalition troops remained in Afghanistan, players who spoke to Stars and Stripes said.  
But when the withdrawal from Bagram accelerated, some Pokemon reigned far longer than ever before. 
Pokemon left at a gym can only return to their owners after being defeated in battle by enemy players.  
Screenshots of Bagram after the troops left show low-level Pokemon, normally easily defeated, stuck guarding locations, perhaps indefinitely. A tiny Lotad has defended the former Warrior Chapel at Bagram for 10 days, while a lowly Aron has defended a memorial to a fallen servicemember for about two weeks.  
Still, Sutter said he assumes someone from Afghanistan will take over his gym, someday, if they haven't already.  
"I'm sure somewhere in Afghanistan, some kid is bragging about how he took control of an American Pokemon gym," he said.  
Like other veterans, he said he is pessimistic about the future of Afghanistan after the U.S. withdrawal. But he hopes the situation improves one day, to the point he can once again play Pokemon Go there.  
"Maybe in 20 years I can ride a motorcycle south and reclaim that Pokemon gym again," he said.  
Twitter: @jplawrence3