Pentagon orders drawdown of air defense systems, troops from Middle East 
by
Chad Garland
Stars and Stripes
June 20, 2021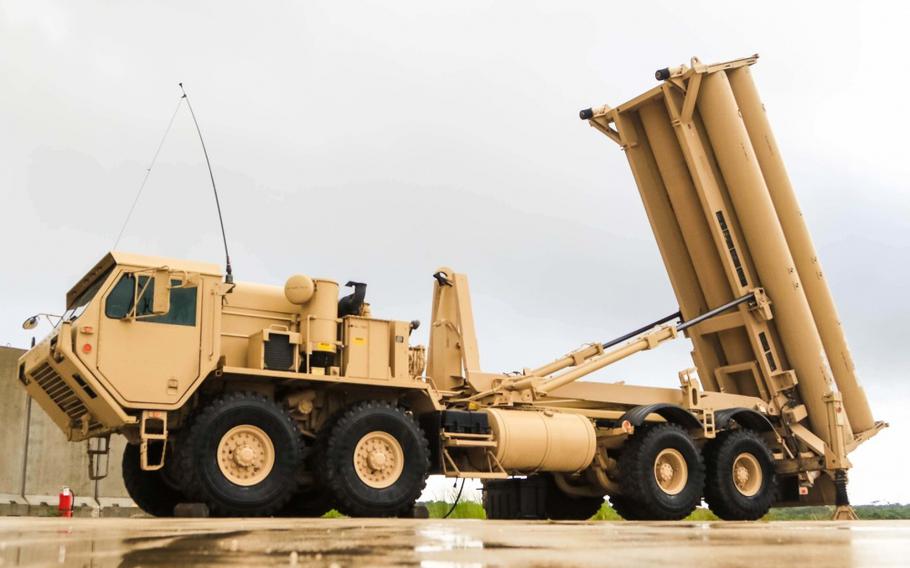 The U.S. is cutting air defense systems and force levels in the Middle East as the Biden administration realigns its military posture to focus on countering China and Russia. 
Cmdr. Jessica L. McNulty, a Pentagon spokesperson, confirmed the plans but would not provide specific details, after the Wall Street Journal reported Friday that eight Patriot antimissile batteries were being withdrawn from countries including Iraq, Kuwait, Jordan and Saudi Arabia. 
A Terminal High Altitude Area Defense system, or THAAD, also was being pulled from Saudi Arabia and fighter jet squadrons were being reduced, unnamed administration officials told the news organization. Troops were also being reduced in Iraq, where the U.S. already cut its presence in half to 2,500 early this year, the report said. 
"The Secretary of Defense directed the Commander of U.S. Central Command to remove from the region this summer certain forces and capabilities, primarily air defense assets," McNulty said in an email to Stars and Stripes on Saturday. "Some of these assets returned to the United States for much needed maintenance and repair. Some of them will be deployed to other regions." 
The Pentagon is focused on making sure the high-demand assets are ready in case of a contingency, she said. Citing coordination with regional partners and operational security concerns, she said the Pentagon would not provide details on locations, dispositions or timelines of the withdrawals. 
But officials told the Journal that the reductions began earlier this month and are mostly coming from Saudi Arabia. Defense Secretary Lloyd Austin informed Saudi Crown Prince Mohammed bin Salman of the drawdown in a June 2 phone call, officials told the paper. 
"The decision was made in close coordination with host nations and with a clear eye on preserving our ability to meet our security commitments," McNulty said. 
The realignment of forces comes as the U.S. continues to wind down its two-decade war in Afghanistan and seeks to shift its military focus from counterinsurgency to competing powerful rivals, mainly China. 
Some Patriot systems, fighter squadrons and thousands of added troops were ordered to the region under the Trump administration in late 2019, after Iran-backed Houthi militants attacked a Saudi oil field. 
More batteries and troops were sent in January 2020 after Iran fired ballistic missiles on al-Asad Air Base and a compound in northern Irbil where U.S. troops were housed. Days earlier a U.S. drone strike in Baghdad had killed a top Iranian military leader, Maj. Gen. Qassem Soleimani. 
Tensions between the U.S. and Iran ratcheted up following Washington's withdrawal from an Obama-era international nuclear agreement with Tehran and as the Trump administration sought to pressure Iran into renegotiating it. 
But Pentagon officials see a diminished threat from Tehran as the Biden administration focuses on negotiating a U.S. reentry into the 2015 pact, the Wall Street Journal reported. The latest drawdown follows the removal of at least three Patriot systems earlier this year. 
Former defense officials told the Journal that the circumstances have changed since the U.S. decided to increase its defenses in the region. 
"To the extent that Saudi Arabia has improved its own defensive capabilities and the United States seeks to resolve tensions with Iran using diplomatic tools, this decision makes sense," said Kathryn Wheelbarger, former acting assistant secretary of defense during the Trump administration and a fellow at the Washington Institute for Near East Policy. 
Meanwhile, Iran-backed militias continue to pose a threat to U.S. forces in Iraq, where they have been blamed for dozens of rocket attacks targeting bases housing American troops and contractors. In recent months, the militias appear to have shifted to using small, low-flying drones armed with explosives in both Iraq and Saudi Arabia. 
The Patriot batteries capable of shooting down ballistic missiles do not provide defenses against the small rockets or drones, but counter-rocket, artillery and mortar systems, or C-RAMs, deployed to protect the antimissile systems are capable of shooting down what have typically been barrages of Katyusha rockets fired from makeshift truck or ground launchers. 
McNulty did not respond to a question about whether the C-RAMs would remain in place in Iraq, or what the U.S. is doing to bolster its defenses against the small drones. 
Earlier in the week, however, the Marine Corps showcased its Marine Air Defense Integrated System, or MADIS, a vehicle-mounted low-altitude air defense system with counter-drone capabilities, deployed to Saudi Arabia, where the service's F/A-18D Hornets have been flying out of Prince Sultan Air Base in recent weeks. 
Also this week, the Army said the 4th Infantry Division became its first unit to undergo home-station training on countering small drones before deploying to CENTCOM. That included familiarization with the Mobile-Low, Slow, Small Unmanned Aerial Vehicle Integrated Defeat System, or M-LIDS, which is similar to the MADIS. 
The service will also send five-person teams of mobile trainers to be stationed in the region, the Army said in a Monday statement. 
The Pentagon is confident its drawdown won't negatively impact national security interests in the region, where the U.S. commitment is evident from its range of partnership activities, such as intelligence sharing, security assistance and foreign military sales, McNulty told Stars and Stripes. 
The remaining ground, air and naval footprint in the region, including tens of thousands of troops, is also significant, she said. 
"We maintain a robust force posture in the region appropriate to the threat," she said. "We also retain the flexibility to rapidly flow forces back into the Middle East as conditions warrant." 
Twitter: @chadgarland