Workouts by appointment: Military gyms reopen for some in Germany
by
Jennifer H. Svan
June 16, 2020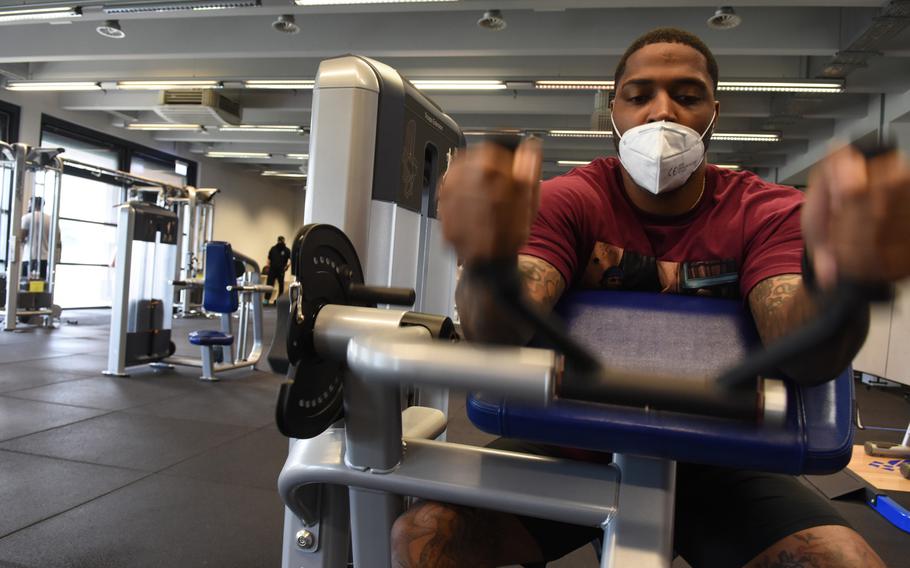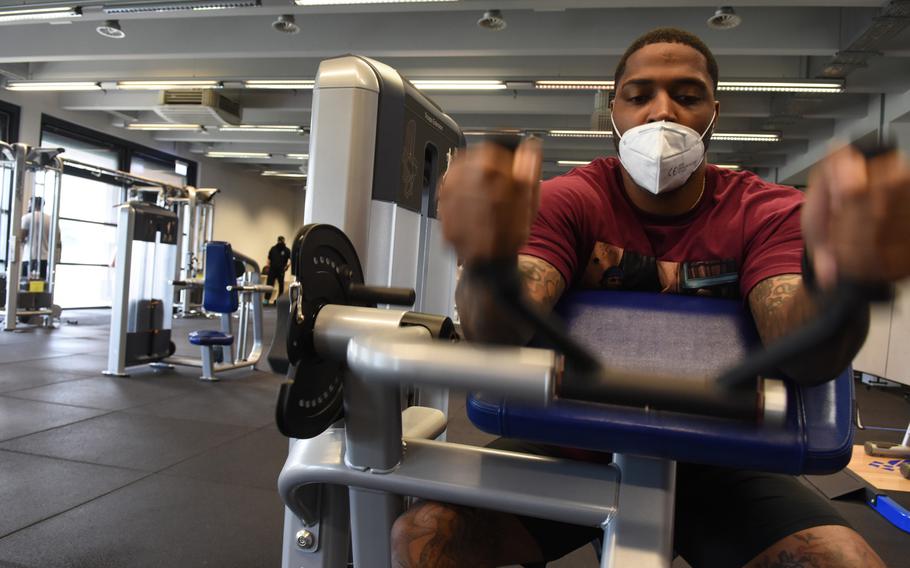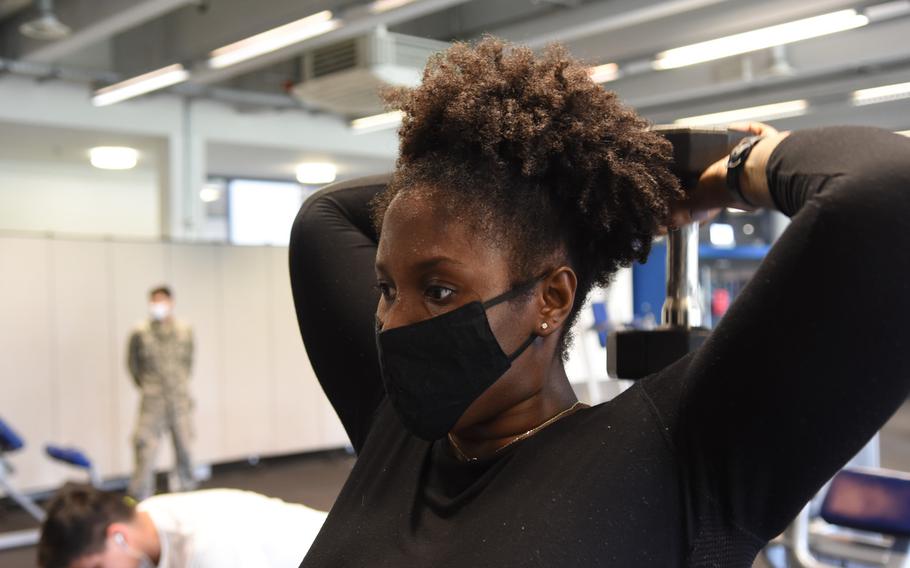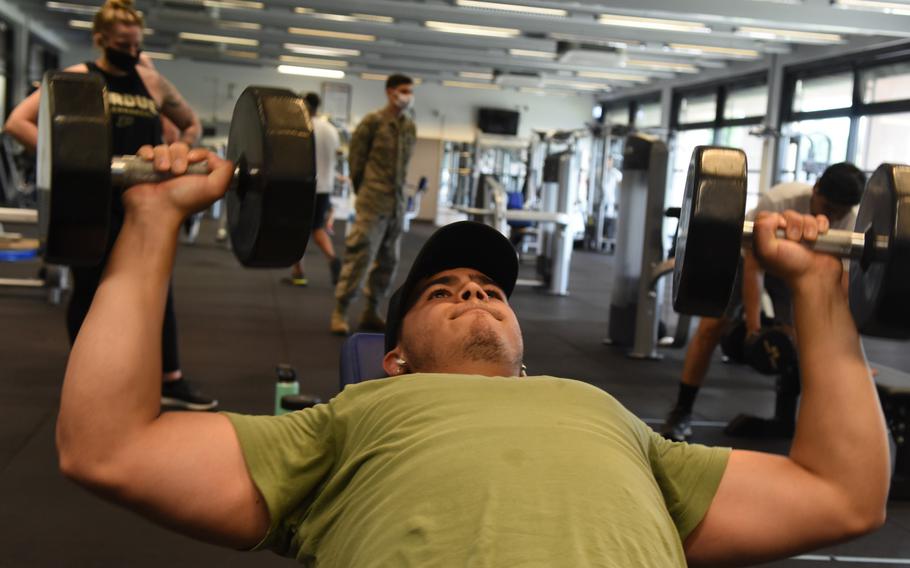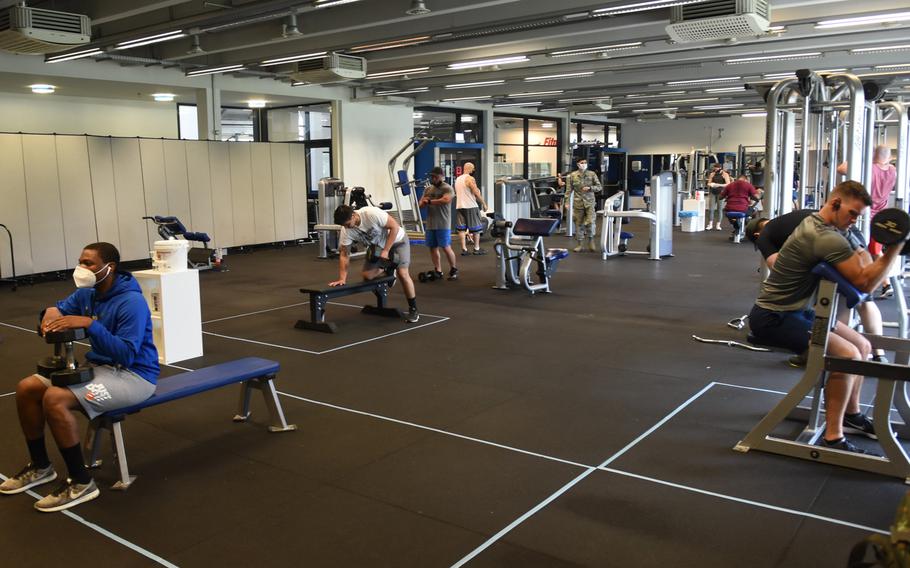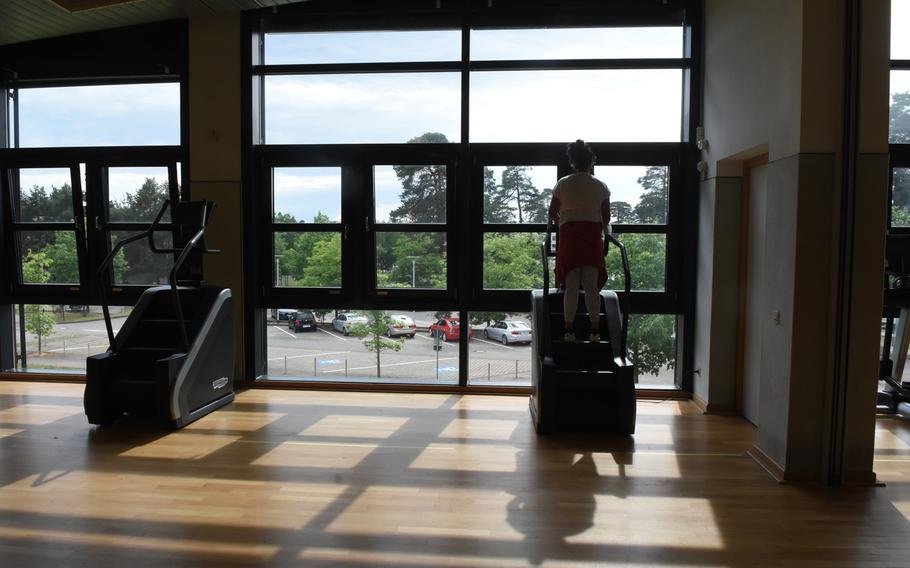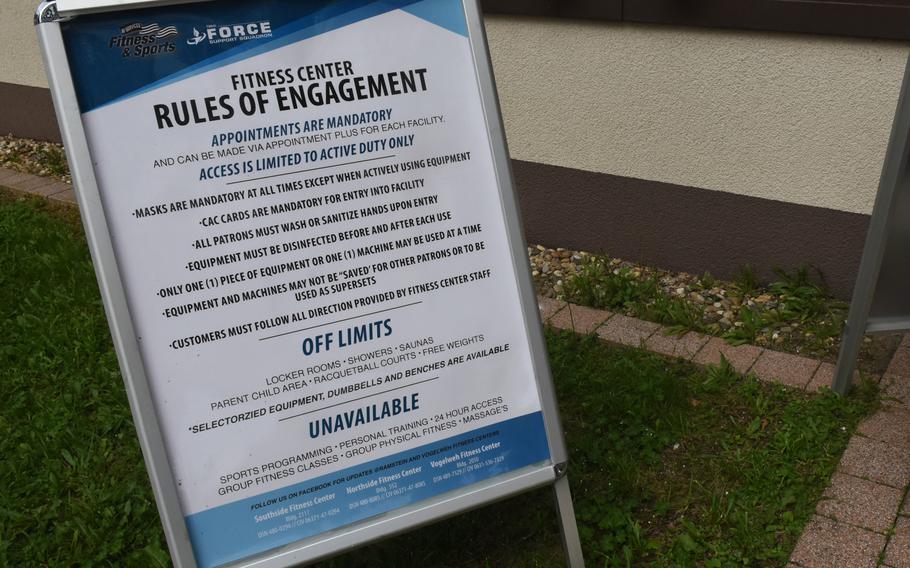 Stars and Stripes is making stories on the coronavirus pandemic available free of charge. See other free reports here. Sign up for our daily coronavirus newsletter here. Please support our journalism with a subscription.
RAMSTEIN AIR BASE, Germany — Hundreds of service members worked out by appointment as the largest gym at Ramstein reopened its doors for the first time since closing in March due to the coronavirus pandemic.
The open doors at one of the military's largest overseas bases come as gyms throughout Europe slowly reopen with strict safety and hygiene rules, coinciding with falling numbers of coronavirus cases on most of the Continent.
Airman Jared Chapa, 20, said his upper-body muscles were noticeably weaker after three months away, while he lifted 20-pound dumbbells on the incline bench press Monday at the Southside Fitness Center.
"I'm trying to get them back to what they were before," he said. "It just feels good to be back in the gym, even though it's very limited."
For now, Ramstein's southside gym is only available to active-duty service members. Patron numbers at the southside gym are capped at 60 per hour for six hourly sessions daily, Monday to Friday.
Each room has a capacity limit and equipment is spaced nearly 10 feet apart; customers are asked to keep about 5 feet apart.
Weight machines and some cardio equipment are spread across the basketball court, which isn't being used for basketball due to host-nation restrictions on group activities.
Locker rooms, showers and water fountains are closed.
Masks are mandatory except when actively working out, said Master Sgt. Daniel Whiteman, who is in charge of the Southside Fitness Center.
Frequent disinfecting is emphasized, he said. Patrons are asked to sanitize equipment before and after use, and the fitness center closes for an hour between each workout session so staff can wipe down the weights and cardio machines.
Two nebulizers are used at the end of the day for a deep cleaning that takes about an hour, Whiteman said.
"We spray the equipment with a sanitizing solution that … can kill viruses and bacteria within five minutes," he said.
An online appointment system keeps customer data for contact tracing in the event a patron is diagnosed with the virus. Customers go through screening at check in.
The timeline for opening the other Air Force gyms in the Kaiserslautern area and expanding access depends on host nation guidance, Whiteman said.
Patrons at the southside gym Monday said they welcomed the chance to work out in a gym again, after months of pushups and situps at home, mixed with running or cycling outdoors.
"I've really been waiting for this for a long time," said Air Force Tech. Sgt. Nikita Sutton, 28. "It's kind of weird how it's set up, but at least we can use some of the equipment finally."
Most said they weren't nervous about working out indoors with others during a pandemic.
"Everyone is keeping a pretty good distance and everyone is minding the rules well," said Petty Officer 1st Class Charles Husak, 31.
The first Army gyms in Germany opened June 8 — the Wiesbaden Fitness Center and the Patch, Panzer, Robinson Barracks and Kelley gyms at U.S. Army Garrison Stuttgart, officials said. Wiesbaden is by appointment only through unit representatives; the gyms at Stuttgart are open on some days to community members.
Spangdahlem Air Base's fitness center also opened Monday but with similar rules as at Ramstein. Time slots of 1.5 hours must be reserved in advance, and customers go through screening and have their temperatures taken at the door.
svan.jennifer@stripes.com Twitter: @stripesktown