'What a beautiful name': Ever the brand-builder, Trump comes up with moniker for expanded NATO
by
John Vandiver
January 10, 2020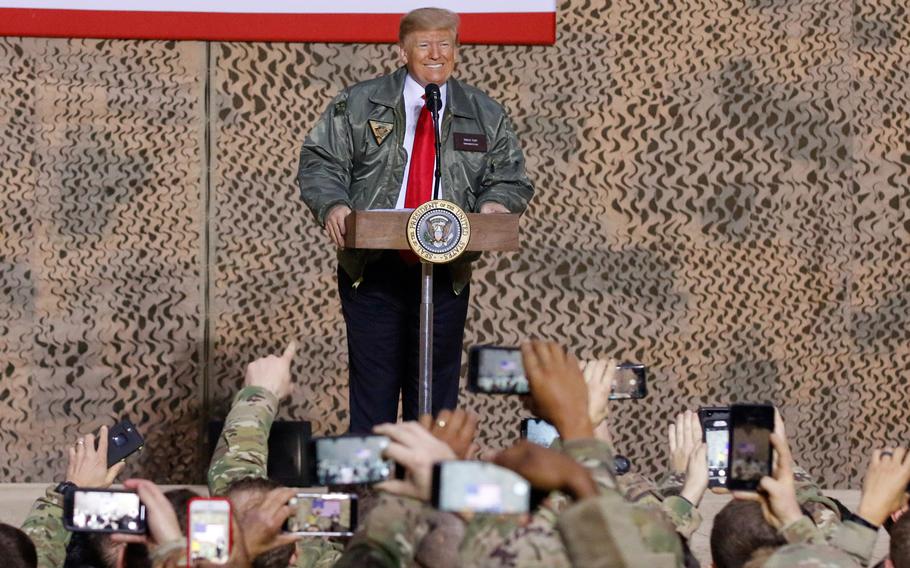 STUTTGART, Germany — A brand-builder before arriving at the White House, President Donald Trump now wants to rebrand NATO and possibly expand its purview to the Middle East. And he knows just what to call it.
"'NATO' right? And then you have 'M.E.' — Middle East. You'll call it 'NATO-ME,'" Trump said Thursday, adding: "What a beautiful name."
Speaking to reporters at the White House, Trump said he raised the idea of an expanded NATO role in the Middle East, and the idea of NATO-ME, to Secretary-General Jens Stoltenberg.
"I think he was actually excited by it," Trump said. "I'm good at names, right?"
"NATO should be expanded and we should include the Middle East," he said.
Trump's call for expanding NATO to include countries outside of Europe comes after he called on allies to do more in the Middle East, where tensions are soaring following the U.S. killing of Iranian Maj. Gen. Qassem Soleimani.
Stoltenberg on Thursday made no mention of NATO-ME but did say the alliance could do more in the Middle East and that allies would discuss how to expand NATO's role.
Trump's idea of rebranding NATO or expanding it to include partners in the Middle East will likely be dead on arrival, though. Membership in the the North Atlantic Treaty Organization is restricted to Europe and North America under the alliance's charter. Changing that would require all 29 members to agree to amend NATO's 1949 founding treaty.
While an expansion beyond Europe is nearly impossible in practice, the pressure will still be on allies to come up with ideas to satisfy Trump's demand for a higher NATO profile in the Middle East. NATO also was under pressure from Trump in 2017, when he called on alliance partners to make counterterrorism a higher priority and play an official role in the U.S. coalition against the Islamic State group. NATO responded by formally joining the coalition and expanding its training mission in Iraq.
"I think NATO should be helping us now with the Middle East," Trump said. "Having an international flavor there is good."
vandiver.john@stripes.com Twitter: @john_vandiver
---
---
---