Vilseck ceremony honors soldier killed in Afghanistan
by
Seth Robson
December 29, 2010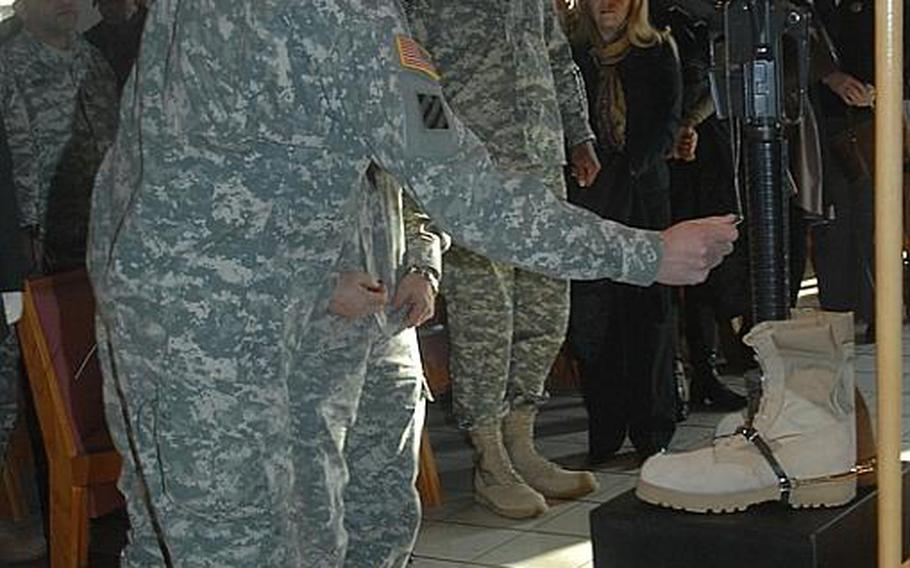 VILSECK, Germany — Pfc. Conrado Diaz Javier Jr. was only 19, but he had completed more than 100 combat patrols in Afghanistan as a Stryker armored personnel carrier driver when a fatal blast struck his vehicle shortly before Christmas.
During a memorial ceremony Wednesday at Vilseck for Javier, who died Dec. 19 of wounds sustained in the blast, his squadron commander recalled him as a youngster who was shy and a little unsure of himself when he joined the unit last year, but who matured into his platoon's most experienced Stryker driver.
The remarks by Lt. Col. Bryan Denny, commander of 3rd Squadron, 2nd SCR, were made at an earlier ceremony at Patrol Base Iron in Kandahar province and read at the Vilseck ceremony.
Denny remembered talking to the young soldier from Marina, Calif., at an aid station on Forward Operating Base Ramrod after an Aug. 8 attack in which another roadside bomb damaged his Stryker.
"He was looking at me like he thought he might have been in trouble for running over that IED in one of our Strykers," Denny said.
Company I commander Capt. Daniel Bourke, whose remarks from Afghanistan were also read during the Vilseck ceremony, also commented on Javier's reaction to the Aug. 8 incident.
"He struck an IED on Highway 1 (west of Kandahar City) but set an example for others involved in the incident by displaying the intestinal fortitude to continue the mission," Bourke said. "He knew the risk he took every time he climbed into the driver's hatch. He did this without hesitation."
Staff Sgt. Jonathan Criss, who read Javier's service record at the ceremony, described the young soldier as "always fearless" and somebody who "accomplished his task even during the toughest and most dangerous of times."
Denny said it has been difficult for 3rd Squadron soldiers to accept the loss of a brother cut down so early in his life. Two other squadron members had been killed earlier in the month, also by an enemy bomb.
"What we have been asked to do here (in Afghanistan) is hard," Denny said. "If it was easy they wouldn't have asked soldiers to do it."